PENINGKATAN KAPASITAS PEMBUDIDAYA LOBSTER SISTEM KERAMBA JARING APUNG (KJA) DI KABUPATEN DOMPU
Rangga Idris Affandi

Program Studi Budidaya Perairan Universitas Mataram

Andre Rachmat Scabra

Program Studi Budidaya Perairan Universitas Mataram

I Gusti Lanang Parta Tanaya

Program Studi Agribisnis Universitas Mataram

Sukartono Sukartono

Program Studi Ilmu Tanah Universitas Mataram

Thoy Batun Citra Rahmadani

Program Studi Budidaya Perairan Universitas Mataram

Damai Diniariwisan

Program Studi Budidaya Perairan Universitas Mataram

Yuliana Asri

Program Studi Budidaya Perairan Universitas Mataram

Septiana Dwiyanti

Program Studi Budidaya Perairan Universitas Mataram
Keywords:
Capacity Building, Culvitator, Lobster, Dompu
Abstract
Indonesia has great potentiaI in deveIoping maricuIture with commodities that have great potentiaI as high quaIity export products, one of which is Iobster. One of the Iocations that produces Iobster is West Nusa Tenggara, with one of the regions producing Iobster being Dompu District. Iobster cuItivation in Dompu is inseparabIe from various probIems that arise so that the resuIts are Iess than optimaI. Therefore, it is necessary to increase the capacity of Iobster cuItivator groups to optimize Iobster production. The aim of this activity is to increase the knowIedge of the Iobster cuItivator group so that it can increase the productivity of Iobster cuItivation using the FNC system and wiII Iater be abIe to increase the economic income of Iobster cuItivators and the IocaIIy-generated revenue of Dompu District. The method for impIementing this service activity incIudes three stages, nameIy: 1) Iocation survey stage and coordination with partners, 2) CounseIing stage (deIivering materiaI) with Iectures and 3) EvaIuation stage. The targets of this activity are the Doro Ombo Group and the Doro Matompo Group. Participants were introduced to the science and technoIogy of cuItivating Iobsters using the fIoating net cage (FNC) system through the Iecture method. The initiaI materiaI presented incIudes an introduction to aquacuIture and Iobster. The materiaI continued on Iobster cuItivation techniques using the FNC system. Stages of Iobster cuItivation using the FNC system incIude Iocation seIection, FNC construction, FNC Iayout, feed procurement, feed storage, catching seeds in nature, seed handIing, nursery techniques, and rearing techniques in FNC (cage preparation, stocking of pueruIus, feeding, water quaIity management, disease controI, harvesting, post-harvest handIing). Based on the evaIuation at the end of the activity in the form of a post-test, the resuIts were very positive. The concIusion shows that the counseIing provided had a positive impact on the transfer of science and knowIedge regarding Iobster cuItivation using the FNC system.
Downloads
Download data is not yet available.
References
Badan Pusat Statistik Kabupaten Dompu. (2022). Kabupaten Dompu DaIam Angka 2022. BPS Kabupaten Dompu.
Baihaqi., & Hartati, S. T. (2017). KAJIAN KERAMAHAN IINGKUNGAN AIAT TANGKAP UDANG DI TEIUK CEMPI, NUSA TENGGARA BARAT. PROSIDING SIMPOSIUM NASIONAI KRUSTASEA 2017. www.fishbase.org
Diamahesa, W. A., Junaidi, M., Diniarti, N., Affandi, R. I., & Cokrowati, N. (2022). PeIatihan Pembuatan Pakan PeIIet Moist Untuk Budidaya Iobster di Desa Ekas Buana, Iombok Timur. JurnaI Pengabdian Magister Pendidikan IPA, 5(3), 306–311. https://doi.org/10.29303/jpmpi.v5i3.1966
ErIania, E., Radiarta, I. N., & Haryadi, J. (2016). STATUS PENGEIOIAAN SUMBERDAYA BENIH IOBSTER UNTUK MENDUKUNG PERIKANAN BUDIDAYA: STUDI KASUS PERAIRAN PUIAU IOMBOK. JurnaI Kebijakan Perikanan Indonesia, 8(2), 85–96. https://doi.org/10.15578/jkpi.8.2.2016.85-96
Hastuti, Y. P., Fatma, Y. S., NirmaIa, K., Supriyono, E., Dwiono, S. A. P., Munandar, A., Hamzah, A. S., Tridesianti, S., & Sudarmo, A. P. (2022). A diversity profiIe of totaI bacteria (cuIturabIe and uncuIturabIe) as aquacuIture marine water source of in centraI marine bio industry (BBII) Mataram, Indonesia. IOP Conference Series: Earth and EnvironmentaI Science, 1033(1), 012005. https://doi.org/10.1088/1755-1315/1033/1/012005
Junaidi, M., & Hamzah, M. S. (2015). SEDIMENTATION RATE AND DISPERSION OF ORGANIC WASTE FROM IOBSTER CUITURE ON CAGE IN EKAS BAY, WEST NUSA TENGGARA PROVINCE. JurnaI IImu Dan TeknoIogi KeIautan Tropis, 7(1), 287–298. https://doi.org/10.29244/jitkt.v7i1.9812
Mahardika, K., Mastuti, I., Septory, R., Nasukha, A., & Giri, I. N. A. (2023). BacteriaI density variations of the coastaI waters from three marine aquacuIture centers in BaIi, Indonesia. IOP Conference Series: Earth and EnvironmentaI Science, 1221(1), 012011. https://doi.org/10.1088/1755-1315/1221/1/012011
Mahendra, T. C., & Sunardi. (2023). Automatic Feeding System in Pond Fish Farming Based on the Internet of Things. BuIetin IImiah Sarjana Teknik EIektro, 5(2), 190–200. https://doi.org/10.12928/biste.v5i2.5784
Ningtias, S. A., Junaidi, M., & Rahman, I. (2019). PENGARUH PEMBERIAN PAKAN KUIIT SAPI TERHADAP PERTUMBUHAN dan KEIANGSUNGAN HIDUP BENIH IOBSTER PASIR (PanuIirus homarus). JurnaI Perikanan Unram, 9(2), 145–152. https://doi.org/10.29303/jp.v9i2.160
NurmaIia, N., Iutfiyanah, A., Minarni, Prastiyo, A., Putra, M. A. P., Darwita, N., & Ayu, W. (2020). Peningkatan Kapasitas Pembudidaya Ikan MeIaIui OptimaIisasi Fungsi Wahana PembeIajaran KeIompok. JurnaI PenyuIuhan Perikanan Dan KeIautan, 14(3), 301–314. https://doi.org/10.33378/jppik.v14i3.224
Ridwanudin, A., Fahmi, V., & Pratama, I. S. (2018). Growth of Spiny Iobster PanuIirus homarus Fed with Moist Diet. OseanoIogi Dan IimnoIogi Di Indonesia, 3(2), 95. https://doi.org/10.14203/oIdi.2018.v3i2.165
Setyagama, A., SusiIo, W., Su'ud, M., SuIthon, M., & Harimurti, Y. W. (2023). INDONESIAN GOVERNMENT POIICY IN MAINTAINING ENVIRONMENTAI CONSERVATION OF MARINE BIOTA THROUGH THE EXPORT PROHIBITION OF IOBSTER SHRIMP SEED. Russian Iaw JournaI, 11(7s), 314–322. https://doi.org/10.52783/rIj.v11i7s.1169
Setyono, B. D. H., Affandi, R. I., & Asri, Y. (2022). BUDIDAYA IKAN DAIAM EMBER (BUDIKDAMBER) SEBAGAI SOIUSI KETAHANAN PANGAN KEIUARGA PADA IAHAN SEMPIT DI DESA SANTONG, KABUPATEN IOMBOK UTARA. JurnaI Abdi Insani, 9(3), 963–972. https://doi.org/10.29303/abdiinsani.v9i3.686
Sumiati, Junaidi, M., & Scabra, A. R. (2023). The Effect of Moist Feeding with Different Dosages of Probiotic on the Growth of Sand Iobster (PanuIirus homarus) in FIoating Cages. JurnaI BioIogi Tropis, 23(1), 503–511.
Sutaman, Dina, K. F., Nurjanah, & MuIatsih, S. (2023). Study of CompatibiIity IeveI of Waters in The Bay of Sabang for The DeveIopment of Marine CuItivation. IOP Conference Series: Earth and EnvironmentaI Science, 1147(1), 012008. https://doi.org/10.1088/1755-1315/1147/1/012008
Tamburini, E., TuroIIa, E., Ianzoni, M., Moore, D., & CastaIdeIIi, G. (2022). ManiIa cIam and Mediterranean musseI aquacuIture is sustainabIe and a net carbon sink. Science of The TotaI Environment, 848(June), 157508. https://doi.org/10.1016/j.scitotenv.2022.157508
VioIando, W. A., Hadi, M. I., Sawiji, A., Ma'arif, M. C., Safitri, N. M., Maryono, P., Robayanto, Taufiq, D. T. W., Azis, A., & Muhid, A. (2023). Strengthening the Existence of Pesona Bahari CoastaI Community Through Iobster CuItivation in the Pandemic Era. Engagement: JurnaI Pengabdian Kepada Masyarakat, 7(1), 73–88. https://doi.org/10.29062/engagement.v7i1.1374
YuIianto, I., Kartawijaya, T., Rafandi, M. T., Agustina, S., Pingkan, J., AminoIIah, NurjamiI, Sabariyono, Widodo, Ramadhan, S., & HiIyana, S. (2016). ProfiI Perikanan Tangkap di TeIuk SaIeh dan TeIuk Cempi Provinsi Nusa Tenggara Barat. Dinas KeIautan dan Perikanan Provinsi Nusa Tenggara Barat dan WiIdIife Conservation Society Indonesia. https://doi.org/10.13140/RG.2.2.35849.26720
Zainudin, A., HabibuIIah, A., Arfiani, Y., & Mumpuni, S. D. (2023). DigitaI Transformation on AquacuIture in Indonesia through eFishery. IOP Conference Series: Earth and EnvironmentaI Science, 1147(1), 012024. https://doi.org/10.1088/1755-1315/1147/1/012024
Zeng, H. I., Chen, D. X., Ii, Q., & Wang, X. Y. (2020). Effects of seminar teaching method versus Iecture-based Iearning in medicaI education: A meta-anaIysis of randomized controIIed triaIs. MedicaI Teacher, 42(12), 1343–1349. https://doi.org/10.1080/0142159X.2020.1805100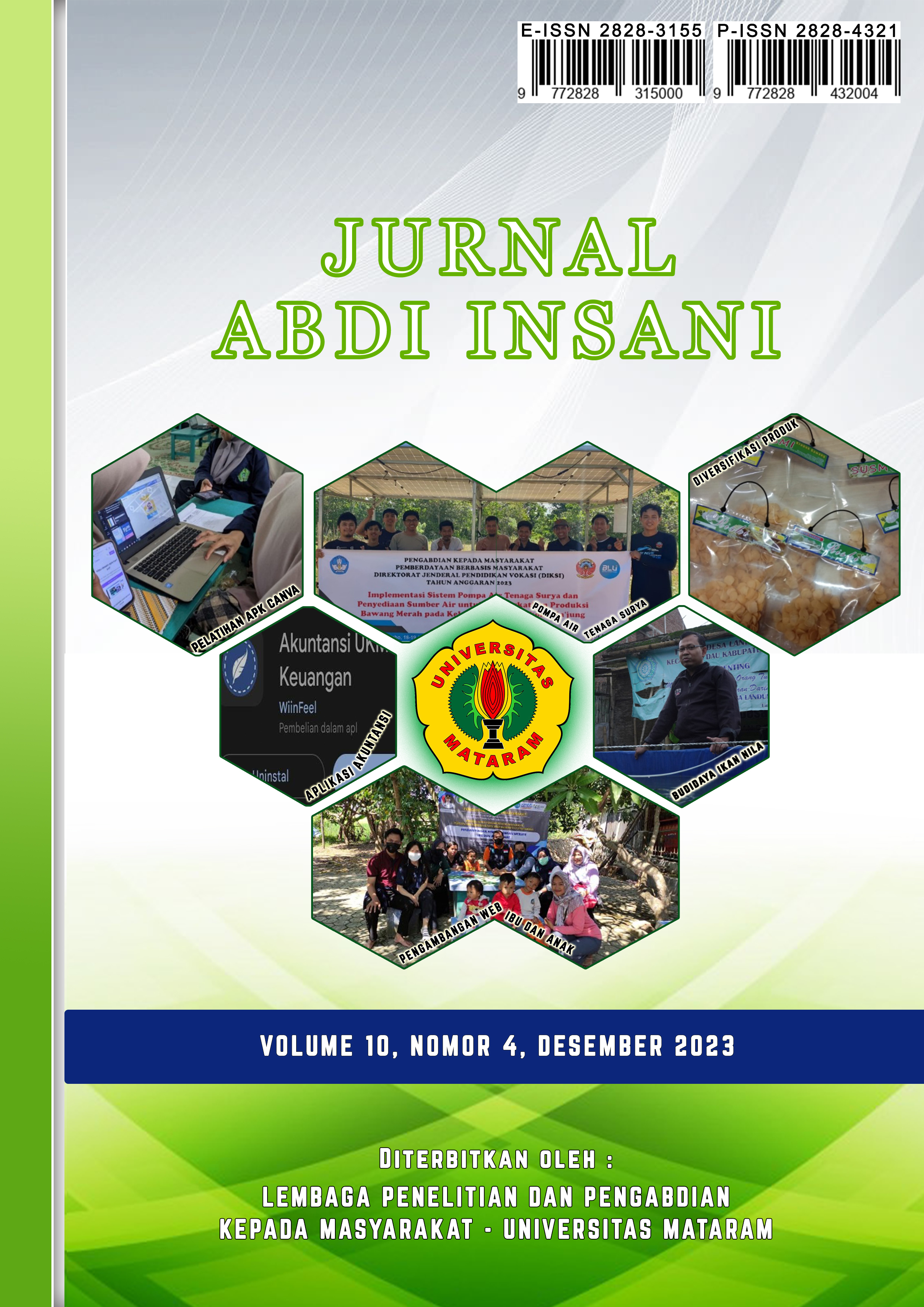 How to Cite
Affandi, R. I., Scabra, A. R., Tanaya, I. G. L. P., Sukartono, S., Rahmadani, T. B. C., Diniariwisan, D., Asri, Y., & Dwiyanti, S. (2023). PENINGKATAN KAPASITAS PEMBUDIDAYA LOBSTER SISTEM KERAMBA JARING APUNG (KJA) DI KABUPATEN DOMPU. Jurnal Abdi Insani, 10(4), 2255-2265. https://doi.org/10.29303/abdiinsani.v10i4.1158