PENYULUHAN GAMSTING (GERAKAN MEMASYARAKATKAN MAKAN IKAN UNTUK MENCEGAH STUNTING) DI PAUD RINJANI DARMA WANITA UNIVERSITAS MATARAM
Yuliana Asri

Program Studi Budidaya Perairan, Fakultas Pertanian, Universitas Mataram

Septiana Dwiyanti

Program Studi Budidaya Perairan, Fakultas Pertanian, Universitas Mataram

Alis Mukhlis

rogram Studi Budidaya Perairan, Fakultas Pertanian, Universitas Mataram

Andre Rachmat Scabra

Program Studi Budidaya Perairan, Fakultas Pertanian, Universitas Mataram

Laily Fitriani Mulyani

Program Studi Budidaya Perairan, Fakultas Pertanian, Universitas Mataram

Wastu Ayu Diamahesa

Program Studi Budidaya Perairan, Fakultas Pertanian, Universitas Mataram

Nuri Muahiddah

Program Studi Budidaya Perairan, Fakultas Pertanian, Universitas Mataram

Muhammad Sumsanto

Program Studi Budidaya Perairan, Fakultas Pertanian, Universitas Mataram

Lalu Hizbulloh

Program Studi Budidaya Perairan, Fakultas Pertanian, Universitas Mataram
Keywords:
Stunting, Fish, Tuna, Nutrition, Children
Abstract
Stunting is a condition of nutritional status in children under five years of age with low height compare to age. The data from the National Nutrition Status Survey (SSGI) of 2022 shows that one out of every five children in Indonesia is stunted. The Movement to Popularize Eating Fish to Prevent Stunting (GAMSTING) is an effort to reduce stunting prevalence in Indonesia. Children, especially those in the pre-school period such as in day care, early childhood education and kindergarten, are an important target in stunting prevention education. This service activity aims to provide education to teachers, parents and students at Kindergarten DW Rinjani University of Mataram about the importance of nutrition fulfillment from an early age to prevent stunting, one of which is by consuming fish. This service uses the counseling method with material on the introduction of types of sea fish and fresh fish, as well as the importance of eating fish for the health and fulfillment of children's nutrition. The second counseling material is the hands-on practice of cooking tuna. Students and parents who attended the activity were enthusiastic in participating in the activity both in material presentation and in tasting the fish dishes from the cooking demonstration. Collaboration among children, parents and teachers at school in introducing and increasing fish consumption is expected to be an important measure to prevent stunting. Diet is very influential on the growth and development of children so that the toddler period is most appropriate for parents to introduce and get used to their children consuming fish.
Downloads
Download data is not yet available.
References
Ardian, I. L., Puspareni, L. D., Fauziyah, A., & Ilmi, I. M. B. (2022). Analisis Kandungan Gizi Dan Daya Terima Cookies Berbahan Dasar Tepung Bekatul Dan Tepung Ikan Tuna Untuk Balita Kurang Gizi. Journal Of Nutrition College, 11(1), 42–50.
Arfiyanti. (2021). Cookies Untuk Mencegah Stunting. J Kim Saintek dan Pendidik, V, 121-132.
Arthatiani, F. Y., & Zulham, A. (2019). Konsumsi Ikan Dan Upaya Penanggulangan Stunting Di Provinsi Daerah Khusus Ibukota Jakarta. Buletin Ilmiah Marina Sosial Ekonomi Kelautan dan Perikanan, 5(2), 95-104.
Demirchyan, A., Petrosyan, V., Sargsyan, V., & Hekimian, K. (2016). Predictors Of Stunting Among Children Ages 0 To 59 Months In A Rural Region Of Armenia. Journal of Pediatric Gastroenterology and Nutrition, 62, 150–156.
Diamahesa, W. A, Rahmadani, T. B. C., Dwiyanti, S., Asri. Y., Muahiddah, N., Affandi, R. I., Alim, S., Sumsanto, M., Setyono, B.D.H., Lestari, D. P., Lumbessy, S. Y., Diniarti, N., Andre, R. S., & Diniariwisan, D. (2023). Edukasi Pentingnya Nutrisi Ikan Untuk Mencegah Stunting Di Pondok Perasi, Kecamatan Ampenan, Mataram. Jurnal Abdi Insani, 10(2), 1032 – 1040.
Direktorat Pendidikan Anak Usia Dini. (2023). Prevalensi stunting tahun 2022 di angka 21,6%, protein hewani terbukti cegah stunting. https://paudpedia.kemdikbud.go.id/kabar-paud/berita/prevalensi-stunting-tahun.
Febrian, F., & Yusran, R. (2021). Koordinasi Dalam Implementasi Kebijakan Pencegahan Di Kota Padang. Jurnal Manaj dan Ilmu Adm Publik, 3(1), 11–21.
Gat-Yablonski, Pando, G., & Phillip, M. (2013). Nutritional Catch-Up Growth. World Review of Nutrition and Dietetics, 106, 83–89.
Hadinoto, S., & Idrus, S. (2018). Proporsi dan Kadar Proksimat Bagian Tubuh Ikan Tuna Ekor Kuning (Thunnus albacares) Dari Perairan Maluku. Majalah BIAM, 14-51.
Haschke, F., Haiden, N., Detzel, P., Yarnoff, B., Allaire, B., & Haschke, B. E. (2013). Feeding Patterns During The First 2 Years And Health Outcome. Annals of Nutrition and Metabolism, 62, 16–25.
Ibrahim, P. S., & Nento, W. R. (2017). Analisa Kualitas Nugget Ikan Tuna ( Thunnus Sp .) Selama Penyimpanan Beku. Journal of Agritech Science, 1(2), 75 – 81.
Kirana, R., Aprianti., & Hariati, N. W. (2022). Pengaruh Media Promosi Kesehatan Terhadap Perilaku Ibu Dalam Pencegahan Stunting Di Masa Pandemi Covid-19 (Pada Anak Sekolah Tk Kuncup Harapan Banjarbaru). Jurnal Inovasi Penelitian, 2(9).
Sicca, S. P. (2023). Cara Pemprov NTB Turunkan Angka Stunting. https://health.kompas.com/read/23B11140000468/cara-pemprov-ntb-turunkan-angka-stunting?page=all
Nirmalasari, N. O. (2020). Stunting Pada Anak : Penyebab Dan Factor Risiko Stunting Di Indonesia. Journal For Gender Mainstreaming, 14 (1), 19-28. DOI: 10.20414/Qawwam.v14i1.2372
Ruswati., Leksono, A. W., Prameswary, D. K., Pembajeng, G. S., Inayah., Felix, J., Dini, M. S. A., Rahmadina, N., Hadayna, S., Aprilia, T. R., Hermawati, E., & Ashanty. (2021). Risiko Penyebab Kejadian Stunting Pada Anak. Jurnal Pengabdian Kesehatan Masyarakat: Pengmaskesmas, 1(2), 34 – 38. DOI: doi.org/10.31849/pengmaskesmas.v1i2/5747
Utami, N. D., Ratnaningsih, N., & Lastariwati, B. (2021). Uji Kesukaan Gizi Tuna Mentai Sebagai Alternatif Main Course Untuk Mencegah Stunting. Jurnal Teknologi Industri Pertanian, 15(1), 382 – 388.
Wahida, N., & Moedjiono, A.I., (2022). Penyuluhan GAMSTING (Gerakan Memasyarakatkan Makan Ikan Untuk Mencegah Stunting) Di Kabupaten Polewali Mandar. Jurnal Pengabdian masyarakat Hasanuddin, 3 (2).
Yudaa, A. P., Septinaa, Z., Maharania, A., & Nurdiatamia, Y. (2022). Tinjauan Literatur : Perkembangan Program Penanggulangan Stunting Di Indonesia. Jurnal Epidomologi Kesehatan Indonesia, 6(2).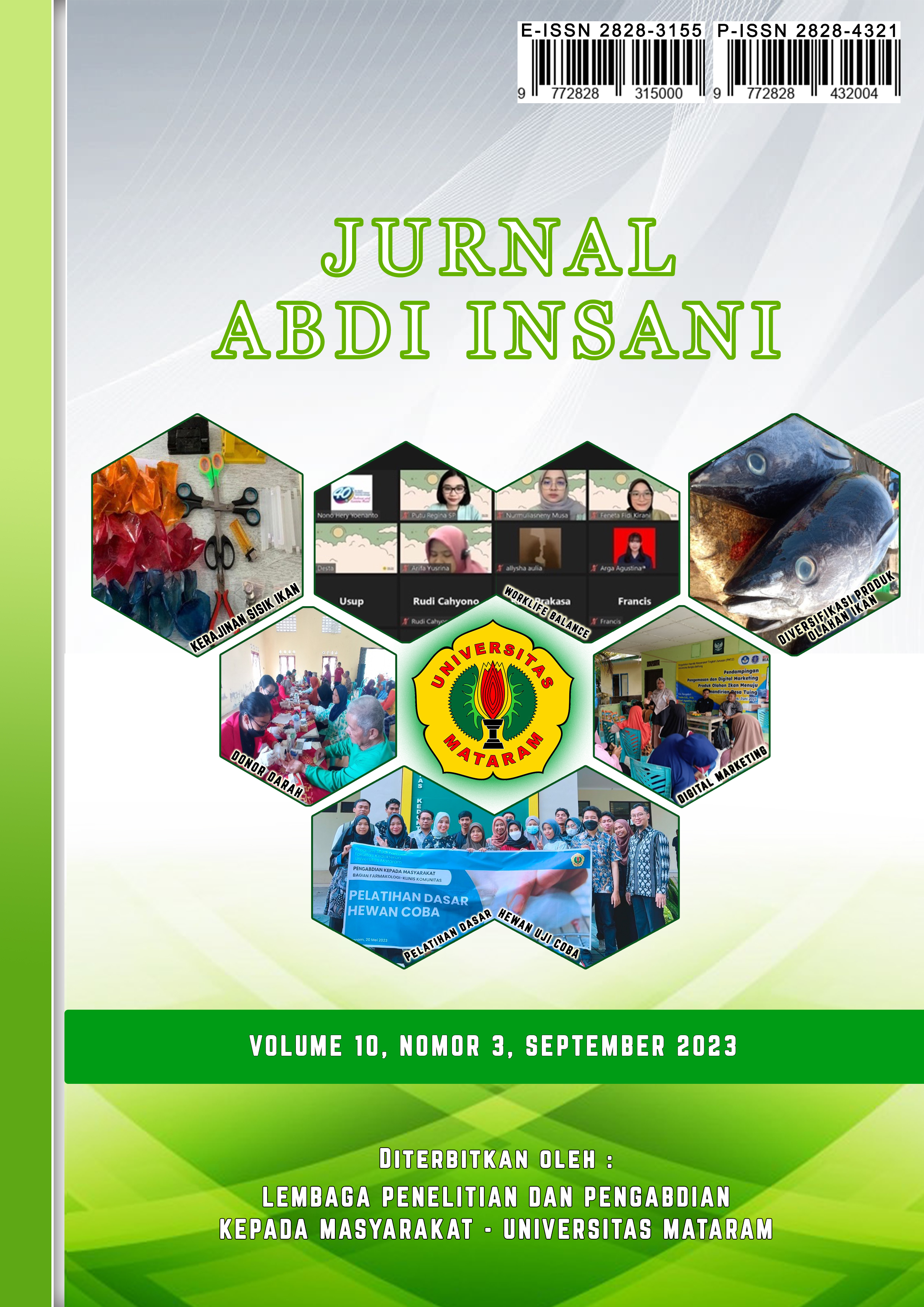 How to Cite
Asri, Y., Dwiyanti, S., Mukhlis, A., Scabra, A. R., Mulyani, L. F., Diamahesa, W. A., Muahiddah, N., Sumsanto, M., & Hizbulloh, L. (2023). PENYULUHAN GAMSTING (GERAKAN MEMASYARAKATKAN MAKAN IKAN UNTUK MENCEGAH STUNTING) DI PAUD RINJANI DARMA WANITA UNIVERSITAS MATARAM. Jurnal Abdi Insani, 10(3), 1707-1714. https://doi.org/10.29303/abdiinsani.v10i3.1027