PENGEMBANGAN DIRI DALAM STANDARDISASI DUNIA USAHA DAN INDUSTRI MELALUI KEGIATAN TALKSHOW
Dian Nugraha

Program Studi Teknik Informatika, Jakarta Global University

Mohamad Zaenudin

Program Studi Teknik Mesin, Jakarta Global University

Safira Faizah

Program Studi Teknik Informatika, Jakarta Global University
Keywords:
Talkshow, Self-Development, Industry Standardization, Hardskills, and, Softskills
Abstract
In the era of fierce global competition, rapid changes within the business and industrial landscape present increasingly intricate challenges for students. Self-development at both academic and professional levels has become essential in shaping characters capable of navigating these dynamics. The significance of mastering hard skills, reinforced by ISO certification and national standards, is paramount. Enriching soft skills through holistic education and real-world practice is crucial to confront the dynamic work environment. Recognizing these imperatives, a talkshow was organized to delve into self-development and comprehend the importance of self-development in conjunction with the significance of standardization in the world of business and industry. Through an interactive format, the talkshow introduced the concept of self-development, identification of hard and soft skills, self-development practices, and adaptation to evolving standards and technologies in the workplace. This material was delivered by trainers from Makara UI Academy and the National Standardization Agency (BSN) of Indonesia. The outcomes of the talkshow portray significant positive effects, with a majority of participants experiencing a notable improvement in understanding the essential role of self-development and certification in enhancing competitiveness within the challenging realms of busineAss and industry. Attendees also demonstrated a heightened awareness of the urgency of self-development in achieving success in the complex domains of business and industry. These results reflect the profound impact of the knowledge imparted by speakers, propelling participants toward deeper understanding and readiness to face contemporary challenges in an increasingly dynamic professional environment. Shaping character and acquiring hard skills are essential in confidently confronting the dynamics of industry standards.
Downloads
Download data is not yet available.
References
Aminullah, M., & Ali, M. (2020). Konsep Pengembangan Diri Dalam Menghadapi Perkembangan Teknologi Komunikasi Era 4.0. KOMUNIKE: Jurnal Komunikasi Penyiaran Islam, 12(1), 1–23.
Brown, K. (2022). Personal Development in a Changing Business Landscape. Journal of Professional Growth, 40(3), 215-227.
Damanhuri, E. (2020). The Impact of ISO 9001 on Organizational Performance: A Survey in Manufacturing Companies in Indonesia. International Journal of Business and Management, 15(6), 175-184.
Johnson, R. (2022). The Role of Self-Development in Business and Industry. Journal of Professional Development, 38(2), 125-138.
Kartono, A., & Soediantono, D. (2022). Application Suggestion of ISO 9001: 2015 Quality Management System in the Defense Industry: A Literature Review. International Journal of Social and Management Studies, 3(3), 27-38.
Khoiroh, M., & Prajanti, S. D. W. (2018). Pengaruh Motivasi Kerja, Praktik Kerja Industri, Penguasaan Soft Skill, Dan Informasi Dunia Kerja Terhadap Kesiapan Kerja Siswa Smk. Economic Education Analysis Journal, 7(3), 1010-1024
Laksamana, A. (2018). Public Relations in the Age of Disruption: 17 Pengakuan Professional PR & Kunci Sukses Membangun Karier pada Era Disrupsi. Bentang B first.
Peoni, H. (2014). Pengaruh karakteristik individu dan lingkungan kerja terhadap kinerja karyawan (Studi Pada PT. Taspen (Persero) Cabang Manado). Jurnal Administrasi Bisnis (JAB), 3(001).
Said, A. A. (2023). Pentingnya Kompetensi Pada Dunia Pendidikan Berbasis Information & Communication Technology (ICT). uwais inspirasi indonesia.
Sinaga, J., Woran, R., & Sinambela, J. L. (2022). Pendidikan Karakter Dalam Era Milenial: Menjawab Tantangan Global Dan Lokal. Populer: Jurnal Penelitian Mahasiswa, 1(1), 01-13.
Smith, A. (2023). The Role of ISO Standards in Enhancing Business Competitiveness. International Journal of Business Standards, 15(1), 45-58.
Suarjana, A. A. G. M., Wahyuni, L. M., & Putra, I. K. M. (2022). Pengaruh Kompetensi terhadap Kinerja Dalam Upaya Mewujudkan Integrasi Kompetensi Hard skill, Soft Skill Lulusan Akuntansi. Jurnal Bisnis Dan Kewirausahaan, 18(2), 125-137.
Sulistyanto, S., Mutohhari, F., Kurniawan, A., & Ratnawati, D. (2021). Kebutuhan kompetensi dalam pasar tenaga kerja di era revolusi industri 4.0 bagi siswa SMK. Jurnal Taman Vokasi, 9(1), 25-35.
Wello, M. B., & Novia, L. (2021). Developing Interpersonal Skills (Mengembangkan Keterampilan Antar Pribadi). CV. Beta Aksara.
Yusuf, M. (2019). Strategi Manajemen Perubahan Pola Pikir SDM Guna Menghadapi Persaingan Era Industri 4.0 Pada Industri Manufaktur. Seminar Nasional Dan The 6th Call For Syariah Paper (SANCALL) 2019.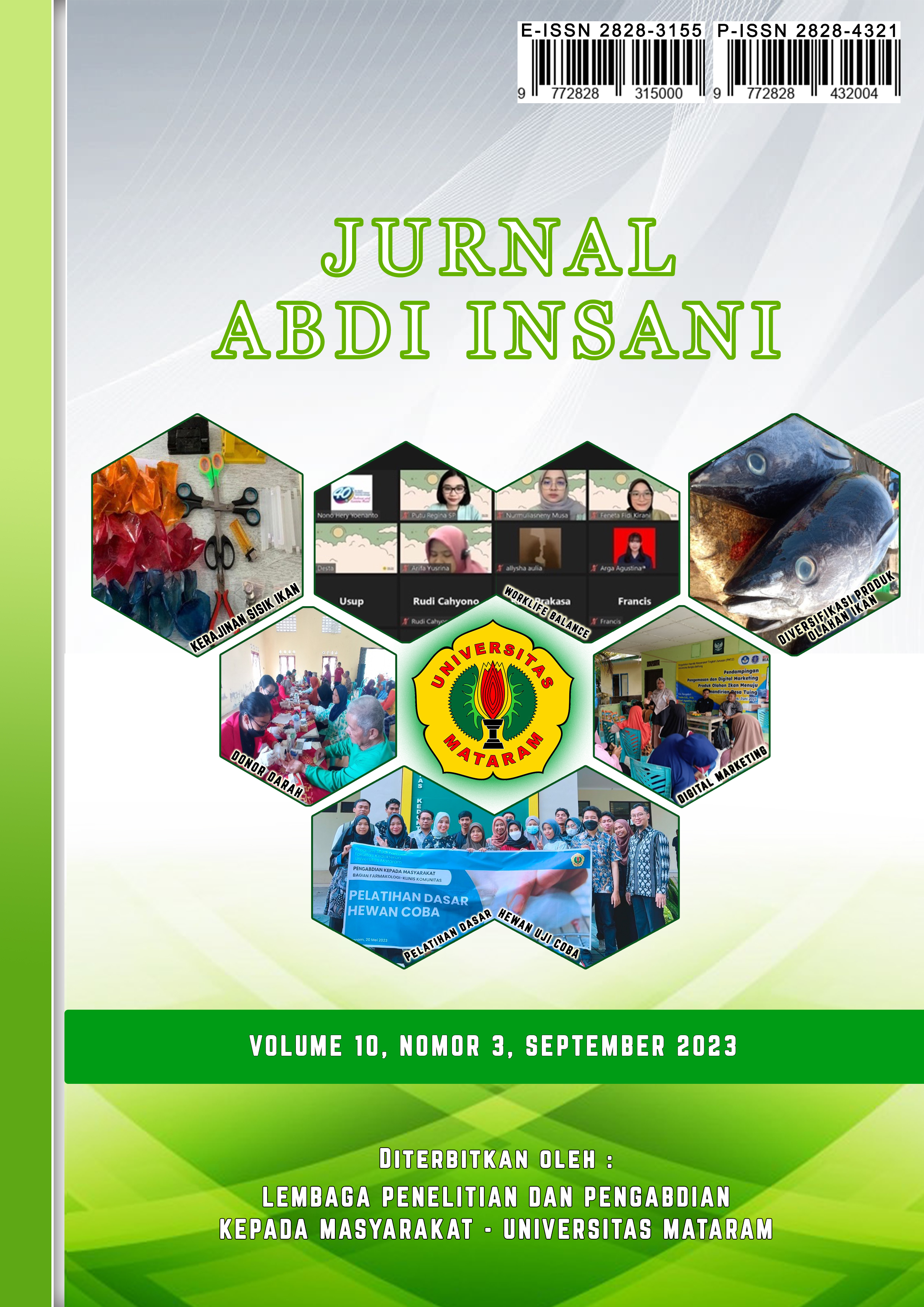 How to Cite
Nugraha, D., Zaenudin, M., & Faizah, S. (2023). PENGEMBANGAN DIRI DALAM STANDARDISASI DUNIA USAHA DAN INDUSTRI MELALUI KEGIATAN TALKSHOW . Jurnal Abdi Insani, 10(3), 1616-1627. https://doi.org/10.29303/abdiinsani.v10i3.1078