PEMBERDAYAAN WARGA BINAAN LEMBAGA PEMASYARAKATAN (LP) PEREMPUAN KELAS III PANGKALPINANG MELALUI KEGIATAN KEWIRAUSAHAAN "CUSTOM BOUQET HANDICRAFT"
Duwi Agustina

Program Studi Akuntansi Universitas Bangka Belitung

Hamsani Hamsani

Program Studi Manajemen Universitas Bangka Belitung

Ayu Wulandari

Program Studi Ekonomi Universitas Bangka Belitung

Ineu Sulistiana

Program Studi Matematika Universitas Bangka Belitung
Keywords:
Lembaga permasyarakatan, kewirausahaan, Kerajinan bouquet
Abstract
Correctional institutions (prisons) or known as prisons are a place of coaching and mentoring for inmates to further improve themselves both mentally and physically so that they can re-engage in society and not commit social deviations again. This service activity aims to provide motivation and entrepreneurship training as an alternative to additional family income. The education program at the Correctional Institution is more focused on coaching and training activities for prisoners. The implementation of this service activity was carried out at the Class III Pangkalpinang Women's Correctional Institution by providing an understanding of entrepreneurship and training in making various forms of bouquet crafts to 30 female inmates. Based on the results of the implementation of the service that entrepreneurship is a mental attitude and soul that is always active, creative, empowered, creative, initiative and humble in business in order to increase income in its business activities. During the training process, the inmates of the Correctional Institution were very enthusiastic and followed in detail the stages in the making of the bouquet. So that in this training the inmates can produce various types of bouquet crafts, such as flower bouquets, money bouquets, snack bouquets, and hijab bouquets. Community Service Activities initiated by the service team from UBB do not end here, the service team is committed to continuing to hold similar activities but with different partners, so that community empowerment can be carried out evenly and sustainably. Based on the service activities that have been carried out, this activity can form/develop community groups that are economically and socially independent, and can improve business management skills for the inmates.
Downloads
Download data is not yet available.
References
Astuti, I. P., Buntoro, G. A., & Ariyadi, D. (2019). Pelatihan Pemanfaatan Barang Bekas Untuk Pembuatan Buket Bunga Dan Cara Pemasarannya. Warta LPM, 22(1), 6-15.
Hadiyati, E. (2011). Kreativitas dan Inovasi Berpengaruh Terhadap Kewirausahaan Usaha Kecil. Jurnal Manajemen dan Kewirausahaan, 13 (1) hal: 10-25. https://doi.org/10.9744/jmk.13.1.8 - 16.
Hamalik, Oemar. 2007. Manajemen Pelatihan Ketenagakerjaan Pendekatan Terpadu, Cetakan Ketujuh. Jakarta: Bumi Aksara.
Januarwati, R., & Poernomo, E. (2014). Analisis Strategi Bisnis Usaha Mikro Kecil Menengah Toko Bunga 'Cindy' Surabaya. Jurnal Bisnis Indonesia, 5(2), 155–164.
Ladeska, V. et. al (2021) "Pelatihan Pembuatan Minuman Kesehatan dari Bahan Alam Bagi Warga Binaan Lapas Perempuan Kelas II A Pondok Bambu Jakarta Timur," Solma, 10(1).
LPPPKP (2022a) Lembaga Pemasyarakatan Perempuan Kelas III Pangkal Pinang, Kantor Wilayah Kementerian Hukum dan HAM Bangka Belitung. Tersedia pada: https://lpppkp.kemenkumham.go.id/ (Diakses: 9 Februari 2022).
LPPPKP (2022b) Pembinaan Kemandirian Narapidana, Kantor Wilayah Kementerian Hukum dan HAM Bangka Belitung. Tersedia pada: https://lpppkp.kemenkumham.go.id/informasi-publik/program-pembinaan/pembinaan-kemandirian-narapidana (Diakses: 9 Februari 2022).
LPPPKP (2022c) Pembinaan Kepribadian, Kantor Wilayah Kementerian Hukum dan HAM Bangka Belitung. Tersedia pada: https://lpppkp.kemenkumham.go.id/informasi-publik/program-mbinaan/pembinaan-kepribadian?searchword=&ordering=newest&searchphrase=all (Diakses: 9 Februari 2022).
Ratnasari, Sri Langgeng. 2013. Pengaruh Faktor-Faktor Pelatihan Terhadap Prestasi Kerja Karyawan Departemen 3 Volume 5No.2 Tahun 2018 PrintISSN 25031546 Produksi PT. X Batam. Jurnal Buletin Studi Ekonomi. Vol.18, No.1, Februari 2013.
Ridwan, M. I., Asfar, A. M. I. T., Erwing., & Jamaluddin. (2020). Pelatihan Pembuatan Buket Bunga dan Snack Sebagai Kado Wisuda di Perpustakaan Bone. Prosiding Seminar Nasional Pengabdian Kepada Masyarakat Universitas Lancang Kuning, 51-58.
Setiorini, I. L. (2018). Pemanfaatan Barang Bekas Menjadi Kerajinan Tangan guna Meningkatkan Kreativitas Masyarakat Desa Paowan. Integritas, 2(1), 243-258. https://doi.org/10.36841/integritas.v2i1.212.
Ukkas, I. (2018), Faktor-faktor yang mempengaruhi Produktivitas Tenaga Kerja Industri Kecil Kota Palopo. Journal of Islamic Education Management, 2(2), 187 -198.
Widyaningsih, N., Marwanti, S., & Awami, Sn N. 2014. ANALISIS USAHA RANGKAIAN BUNGA (Studi Kasus Pada Florist Kalisari Semarang). Mediagro, 10(1). 31-41.
Gusmania, Y., & Amelia, F. (2019). Pendampingan Pembuatan Kerajinan Tangan dari Kain Flanel Sebagai Usaha Kecil Menengah (UKM) Masyarakat Di Kelurahan Sei Langkai. Minda Baharu, 3(1). https://doi.org/10.33373/jmb.v3i1.1908.
Zimmerer, Thomas W Dkk. 2008. Kewirausahaan Dan Manajemen Usaha Kecil Edisi 5 Buku 1. Jakarta: Salemba Empat.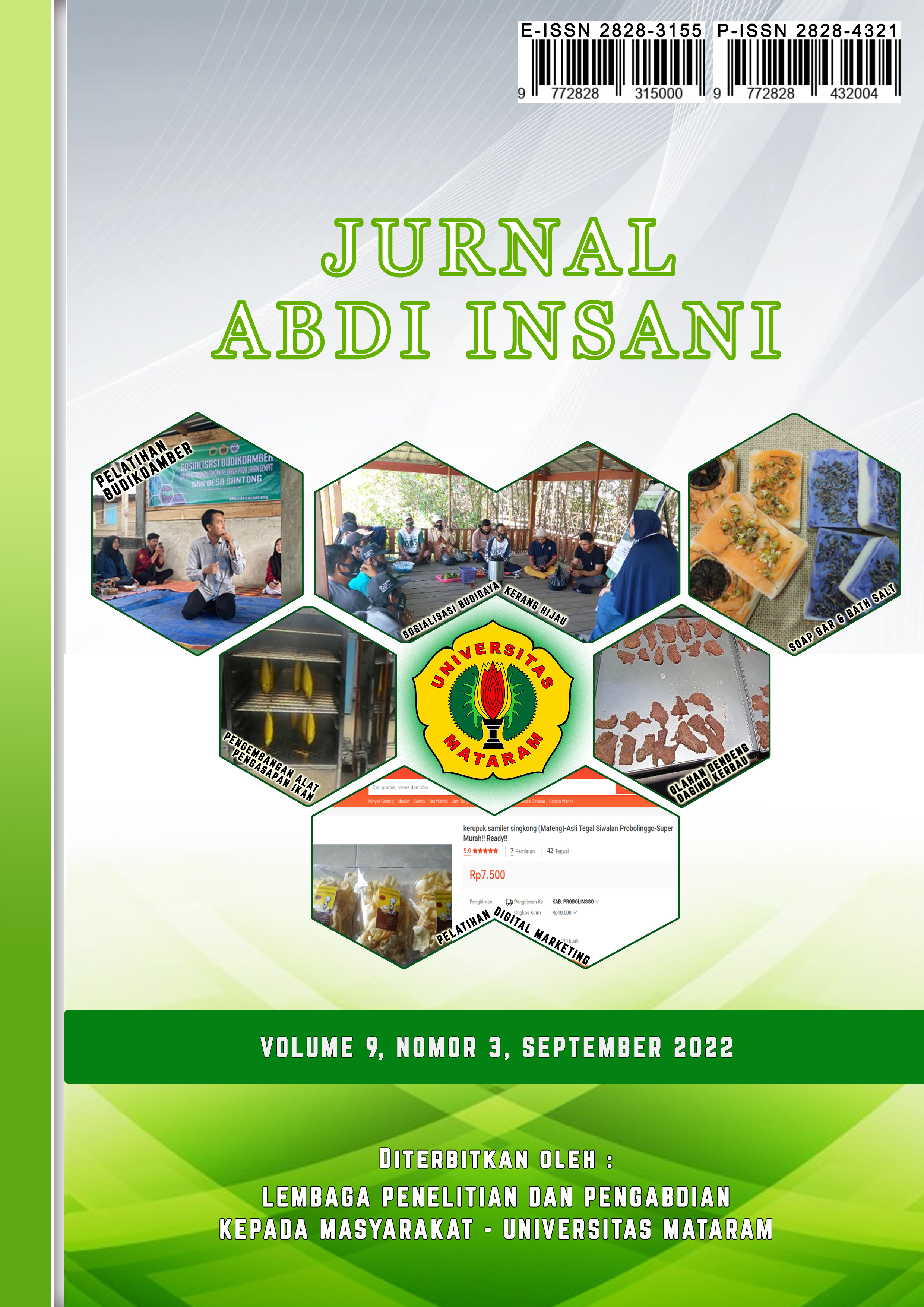 How to Cite
Agustina, D., Hamsani, H., Wulandari, A., & Sulistiana, I. (2022). PEMBERDAYAAN WARGA BINAAN LEMBAGA PEMASYARAKATAN (LP) PEREMPUAN KELAS III PANGKALPINANG MELALUI KEGIATAN KEWIRAUSAHAAN "CUSTOM BOUQET HANDICRAFT". Jurnal Abdi Insani, 9(3), 896-905. https://doi.org/10.29303/abdiinsani.v9i3.664