PENGEMBANGAN PRODUK OLAHAN IKAN DI DESA TUING MELALUI PENINGKATAN KUALITAS PACKAGING DAN PELATIHAN DIGITAL MARKETING
Yanto Yanto

Program Studi Akuntansi Universitas Bangka Belitung

Duwi Agustina

Program Studi Akuntansi Universitas Bangka Belitung

Suhaidar Suhaidar

Program Studi Akuntansi Universitas Bangka Belitung
Keywords:
Product Packaging, Fish Processed, Digital Marketing
Abstract
Tuing Village is a village in Bangka Regency which is famous for its natural products in the form of sea fish. Currently, sea fish caught by the people of Tuing Village are processed into processed foods such as fish balls, pempek, and salted fish. However, the problem is that the people of Tuing Village have not properly packaged their processed marine fish products. In addition, their products have not been marketed to other areas in Bangka district. Therefore, we think it is important to provide knowledge about improving product quality and digital marketing training to the people of Tuing Village. The implementation of improving the quality of packaging and digital marketing training uses two stages, namely the preparation and implementation stages of activities. The stages of implementing the activity are divided into two, namely socialization and training activities. Results: The people of Tuing Village can understand the importance of improving the quality of packaging for their processed products. This important information is obtained as long as they participate in the socialization and training that we provide regarding the importance of the quality of product packaging to the durability of the product inside. Apart from that, the people of Tuing Village also understand the importance of marketing through digital marketing to reach more potential consumers, especially in the Bangka Belitung Islands Province. Conclusion: The conclusion of this activity is: increasing the skills of the Tuing village community in the form of using digital marketing and improving the quality of product packaging.
Downloads
Download data is not yet available.
References
Ananda, R. (2019). Pemanfaatan serat kelapa sebagai alternatif pengganti kemasan berbahan plastik. Jurnal Seni Dan Reka Rancang: Jurnal Ilmiah Magister Desain, 2(1), 1–14.
Anindita, G., Setiawan, E., Asri, P., & Sari, D. P. (2017). Pemanfaatan limbah plastik dan kain perca menjadi kerajinan tangan guna meningkatkan kualitas sumber daya manusia. Seminar Master PPNS, 2(1), 173–176.
Asmara Indahingwati, S. E. (2019). Kepuasan Konsumen Dan Citra Institusi Kepolisian Pada Kualitas Layanan Sim Corner Di Indonesia. CV. Jakad Media Publishing.
Charoline, R. S., Oktavianty, H., & Adisetya, E. (2023). Desain Kemasan dan Penampilan Produk Gula Kelapa Pacitan untuk Meningkatkan Daya Tarik Konsumen. Agrotechnology, Agribusiness, Forestry, and Technology: Jurnal Mahasiswa Instiper (AGROFORETECH), 1(2), 1107–1116.
Indraswati, D. (2017). Pengemasan makanan. Forum Ilmiah Kesehatan: Jakarta.
Kaihatu, T. S. (2014). Manajemen Pengemasan. Penerbit Andi.
Lestari, P., & Saifuddin, M. (2020). Implementasi strategi promosi produk dalam proses keputusan pembelian melalui digital marketing saat pandemi covid'19. Jurnal Manajemen Dan Inovasi (MANOVA), 3(2), 23–31.
Naiu, A. S., Koniyo, Y., Nursinar, S., & Kasim, F. (2018). Penanganan dan pengolahan hasil perikanan. Gorontalo: CV. Athra Samudra.
Nasution, A. P. (2018). Analisis Pengaruh Pendapatan Asli Daerah, Transfer Pemerintah Pusat Dan Efesiensi Belanja Daerah Terhadap Kemandirian Keuangan Daerah Kabupaten/Kota Di Provinsi Sumatera Utara. Jurnal Akuntansi Bisnis Dan Publik, 9(1), 192–206.
Nofreeana, A., Masi, A., & Deviarni, I. M. (2017). Pengaruh pengemasan vakum terhadap perubahan mikrobiologi, aktifitas air dan pH pada ikan pari asap. Jurnal Teknologi Pangan, 8(1), 66–73.
Samuddin, S. F., Lahi, B., Toalib, R., & Gazali, G. (2018). Sosialisasi Pentingnya Menjaga Mutu dan Daya Pikat Kemasan Produk. JCES (Journal of Character Education Society), 1(2), 18–23.
Sulaiman, I. (2021). Pengemasan dan penyimpanan produk bahan pangan. Syiah Kuala University Press.
Sulaksono, J. (2020). Peranan digital marketing bagi usaha mikro, kecil, dan menengah (umkm) desa tales kabupaten kediri. Generation Journal, 4(1), 41–47.
Syukri, A. U., & Sunrawali, A. N. (2022). Digital marketing dalam pengembangan usaha mikro, kecil, dan menengah. Kinerja, 19(1), 170–182.
Wardhana, A. (2015). Strategi digital marketing dan Implikasinya pada Keunggulan Bersaing UKM di Indonesia. Seminar Nasional Keuangan Dan Bisnis IV, 4.
Zakaria, M., Nurum, S. I. B., Pertiwi, R. A., Khusniah, A. F., Alvin, C. K., Muna, A. I., Marbiyanti, R., & Janah, S. (2023). Pendampingan Perbaikan Packaging sebagai Upaya Meningkatkan Kualitas Produk UMKM "Mak Plengeh" di Desa Blabak, Pesantren, Kota Kediri. Welfare: Jurnal Pengabdian Masyarakat, 1(1), 25–31.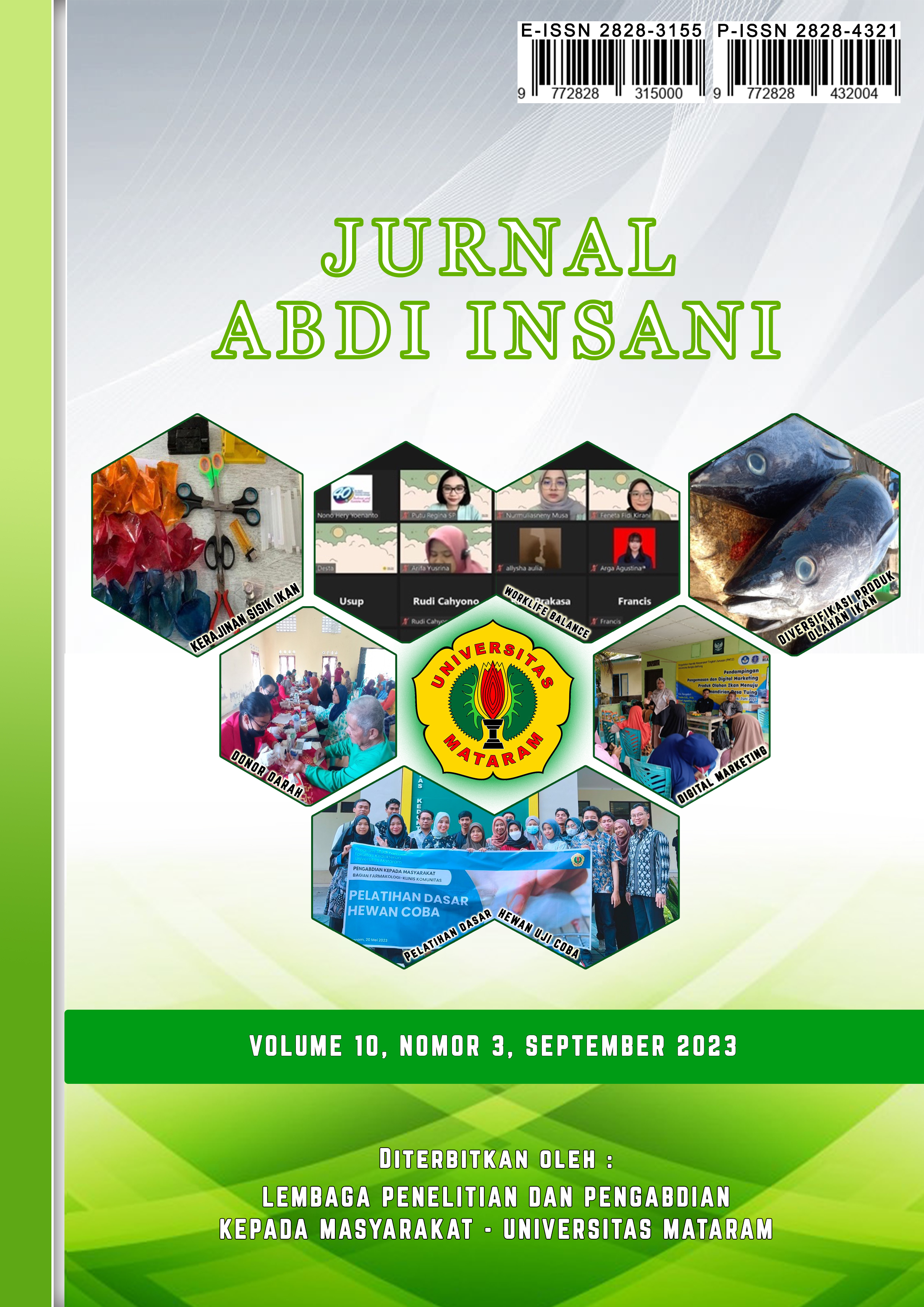 How to Cite
Yanto, Y., Agustina, D., & Suhaidar, S. (2023). PENGEMBANGAN PRODUK OLAHAN IKAN DI DESA TUING MELALUI PENINGKATAN KUALITAS PACKAGING DAN PELATIHAN DIGITAL MARKETING. Jurnal Abdi Insani, 10(3), 1244-1249. https://doi.org/10.29303/abdiinsani.v10i3.1011