KEGIATAN PENGABDIAN MASYARAKAT DOSEN PEMBIMBING LAPANGAN DALAM PROGRAM KAMPUS MENGAJAR ANGKATAN IV
Gunawan Tambunsaribu

Program Studi Sastra Inggris Universitas Kristen Indonesia
Keywords:
teaching campus, lectures as supervisors, higher education, lecturers
Abstract
Indonesia's development cannot be separated from the development of its society. People need to get services from other parties with the aim of improving their quality of life. According to the Tridharma, a lecturer as an educator at a university, one of his duties is to serve the community. The Teaching Campus Program (KM) is a program issued by the Indonesian government which aims to provide opportunities for all students to learn and develop themselves through activities outside their respective campuses. The purpose of the service of the field supervisor (DPL) in the Teaching Campus is to help students from the beginning to the end of their assignment at the school where the students are placed by the central committee implementing the Teaching Campus program. A DPL receives an assignment from the Ministry of Education, Culture, Research and Technology. DPLs are of course responsible for guiding students in each program that students will carry out at the target school so that the objectives of the campus teaching program, one of which is to increase literacy and numeracy at the target school, are realized. This educational service uses a mentoring method for students who are placed in the program's target schools. Another form of service is DPL coordinating with various parties to support the smooth running of student tasks. From the results of implementing PkM, DPL mentoring services provide several benefits for lecturers' careers in relation to their tridharma duties. The author groups these benefits into three general categories, namely benefits in the fields of education, research and community service. According to field supervisors, campus teaching programs provide significant benefits, namely increasing students' hard skills and soft skills. In terms of hard skills, students can immediately implement the knowledge they are learning on campus in the world of work. In the field of soft skills, students gain knowledge on how to solve problems, collaborate, and be responsible for the work they do in the real world of work. The author draws the conclusion that there are many benefits obtained by field supervisor lecturers (DPL) from their participation in the Teaching Campus program. The benefit felt most by DPLs is that this activity supports their duties in fulfilling the Tri Dharma of Higher Education, especially in the field of community service.
Downloads
Download data is not yet available.
References
Agaoglu, O., & Demir, M. (2020). The integration of 21st century skills into education: an evaluation based on an activity example. Journal of Gifted Education and Creativity, 7(3), 105–114.
Aminah, A., Hairida, H., & Hartoyo, A. (2022). Penguatan Pendidikan Karakter Peserta Didik melalui Pendekatan Pembelajaran Kontekstual di Sekolah Dasar. Jurnal Basicedu, 6(5), 8349-8358.
Artamevia, N. I., & Nandiyanto, A. B. D. (2021). Pioneering Teaching Campus Activities at Elementary School in Balerante, Palimanan, Cirebon, West Java, Indonesia. Indonesian Journal of Multidiciplinary Research, 1(1), 117-120.
Asrul, M. S., Ananda, R., & Rosnita, M. A. (2014). Evaluasi pembelajaran. Citapustaka Media.
Direktorat Jenderal Pendidikan Tinggi Kemendikbud RI. (2020). Panduan Merdeka Belajar-Kampus Merdeka. Direktorat Jenderal Pendidikan Tinggi Kemendikbud RI.
Kebudayaan, K. P. D. (2020). Kampus Mengajar Perintis. Jakarta: Kementerian Pendidikan dan Kebudayaan.
Kemendikbud. (2021). Buku Saku Utama Mahasiswa Program Kampus Mengajar 2021. Jakarta: Kemendikbud.
Merdeka, M. B. K. (2020). Buku Panduan Merdeka Belajar-Kampus Merdeka. Direktorat Jenderal Pendidikan Tinggi Kementerian Pendidikan dan Kebudayaan.
Nurhasanah, A. D., & Nopianti, H. (2021). Peran mahasiswa program kampus mengajar dalam meningkatkan kompetensi SDN 48 Bengkulu Tengah. In SNPKM: Seminar Nasional Pengabdian Kepada Masyarakat (Vol. 3, pp. 166-173).
Suhartoyo, E., Wailissa, S. A., Jalarwati, S., Samsia, S., Wati, S., Qomariah, N., Dayanti, E., Maulani, I., Mukhlish, I., Rizki Azhari, M. H., Muhammad Isa, H., & Maulana Amin, I. (2020). Pembelajaran Kontekstual Dalam Mewujudkan Merdeka Belajar. Jurnal Pembelajaran Pemberdayaan Masyarakat (JP2M), 1(3), 161. https://doi.org/10.33474/jp2m.v1i3.6588.
Tambunsaribu, G. (2022). Pelatihan Pelafalan Dan Kosakata Bahasa Inggris Untuk Siswa Sekolah Dasar Islam Nurul Huda Cipayung Jakarta Timur. Jurnal Abdi Insani, 9(1), 78-91.
Tambunsaribu, G. (2023). PERMASALAHAN DAN SOLUSI YANG DILAKUKAN MAHASISWA PESERTA PROGRAM KAMPUS MENGAJAR. Jurnal Abdi Insani, 10(2), 1124-1136. https://doi.org/10.29303/abdiinsani.v10i2.966.
Tupan, J., Lalopua, V. M., Latekay, V. V., Malaihollo, R., & Gai, T. A. (2023). EDUKASI PEMANFAATAN LIMBAH HASIL PERIKANAN PADA KELOMPOK PKK DI NEGERI PASSO KECAMATAN BAGUALA, KOTA AMBON. Jurnal Abdi Insani, 10(3), 1183-1192.
UUD 1945. (2003). Undang-Undang Nomor 20 Tahun 2003 tentang Sistem Pendidikan Nasional.
Widiyono, A., Irfana, S., & Firdausia, K. (2021). Implementasi merdeka belajar melalui kampus mengajar perintis di sekolah dasar. Metodik Didaktik: Jurnal Pendidikan Ke-Sd-An, 16(2).
Zain, K. R., Sepvianti, W., Rahman, A., Widyaswara, G., & Tirtana, A. (2023). Inisiasi Pengembangan Desa Siaga Donor Darah Melalui Program Pemeriksaan Dan Pendataan Golongan Darah Warga Dusun Kaliadem, Sleman, Yogyakarta. Jurnal Abdi Insani, 10(3), 1193–1202.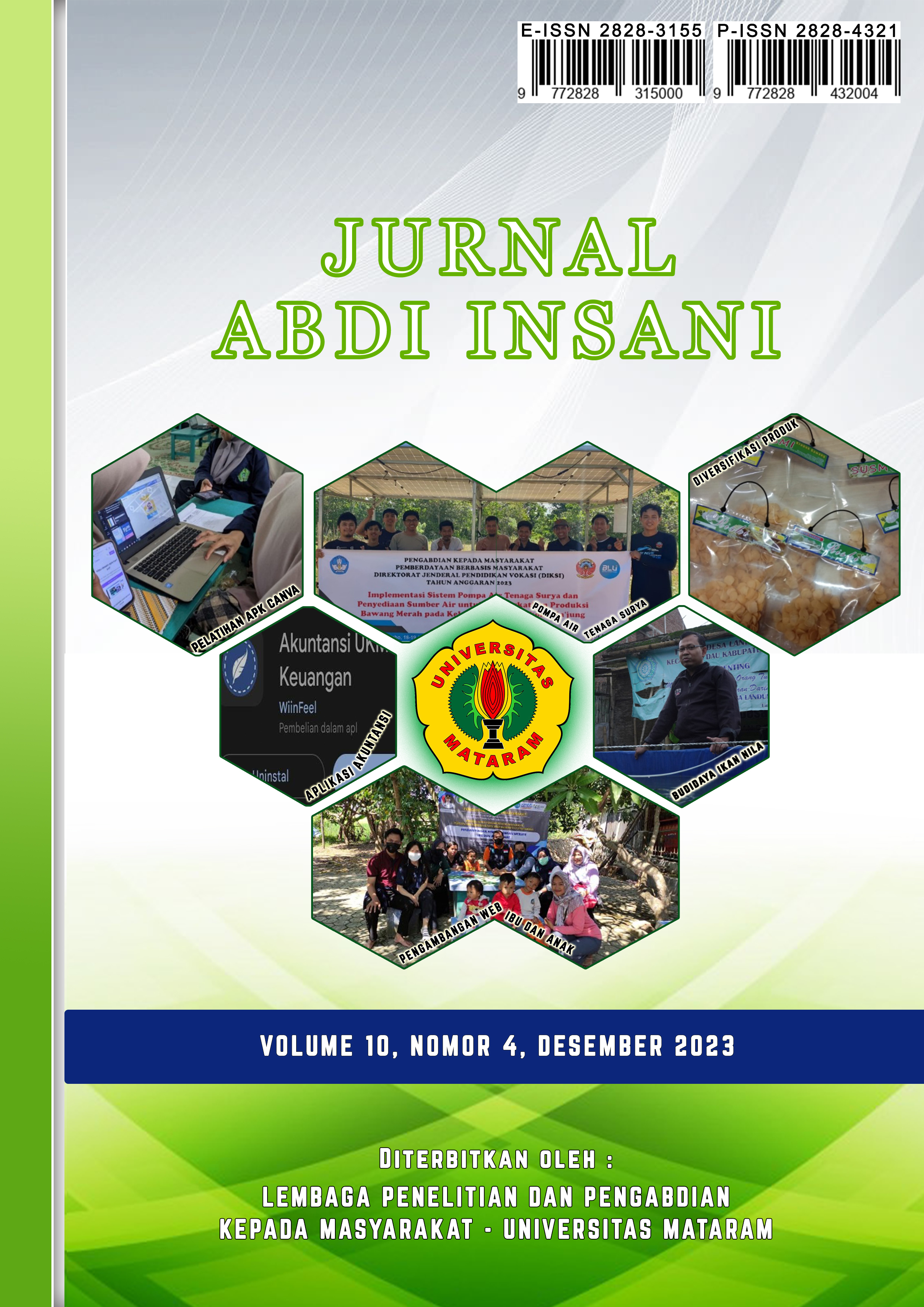 How to Cite
Tambunsaribu, G. (2023). KEGIATAN PENGABDIAN MASYARAKAT DOSEN PEMBIMBING LAPANGAN DALAM PROGRAM KAMPUS MENGAJAR ANGKATAN IV. Jurnal Abdi Insani, 10(4), 2134-2146. https://doi.org/10.29303/abdiinsani.v10i4.1126