DEVELOPING AND STRENGTHENING ENTREPRENEURSHIP INTEREST IN YOUTH IN THE NEW HABITS
Tri Sugiarti Ramadhan

Program Studi Manajeman Fakultas Ekonomi & Bisnis Universitas Islam Malang

Rizkita Oktavirana

Program Studi Manajeman Fakultas Ekonomi & Bisnis Universitas Islam Malang
Keywords:
Youth, Entrepreneurship, Business plan
Abstract
The pandemic condition opens up opportunities for teenagers to do business. Online learning makes teenagers who go to school or college have a lot of free time, especially teenagers who are very close to gadgets which are an effective medium for marketing during the current pandemic. In this condition, it is expected that teenagers can use their time positively and productively. Mental readiness and skills need to be prepared before someone enters the business world. Based on this, the objectives of entrepreneurship development for teenagers are as follows: 1) the growth of an entrepreneurial spirit, 2) encouraging in exploring entrepreneurial potential through creative ideas, 3) being able to make a business plan, 4) being able to run a business supported by creative e-marketing . The methods used are lectures, independent assignments, presentations, discussions and business practices. Activities carried out include entrepreneurship training, business planning training, use of social media, business plan presentations and business practices. After the entrepreneurship development activities are carried out, an evaluation is carried out. The results show that 100% of participants stated that they experienced an increase in knowledge and skills after participating in the activity and 90% showed a change in attitude, namely running a business.
Downloads
Download data is not yet available.
References
Ambarwati. (2020). Membangun Jiwa Kewirausahaan Di Era Milenial Bagi ahasiswa Institut Stiami Kampus Tangerang Selatan. Jurnal Komunitas : Jurnal Pengabdian Kepada Masyarakat, 2(2), 30–32.
Abram, R. (2018). Business plan in a day. Yogyakarta (ID): Kanisius.
Ardiyanto, G. (2011). Gagalnya Perencanaan Bisnis. Solo (ID): Metagraf.
Ciputra. (2018). Artpreneur Talk. Jakarta (ID) : Bisnis Indonesia.
Dewi. (2017). Konsep dan Pengembangan Kewirausahaan Di Indonesia. Yogyakarta (ID) : Deepublish.
Longenecker. J. G. (2015). Kewirausahaan Manajemen Usaha Kecil. Jakarta (ID) : Penerbit Salemba Empat Patria
Munawaroh, M., Rimiyati, H., & Hindasah, L. (2019). Perencanaan bisnis. Yogyakarta (ID) : LP3M.
Diba, M. F. (2019). Menjadi Entrepreneur di Era-Digital. Tangerang Selatan (ID) : Penerbit buku asal.
Mulyani, E. (2010). Pengembangan Pendidikan Kewirausahaan: Bahan Pelatihan Penguatan Metodologi Pembelajaran Berdasarkan Nilai-nilai Budaya Untuk Meembentuk Daya Saing dan Karakter Bangsa. Jakarta (ID) : Pusat Kurikulum Badan Pengembangan dan Pelatihan Kemendiknas.
Nitisusastro, M. (2010). Kewirausahaan dan manajemen usaha kecil. Bandung (ID): Alfabeta
Osterwalder, A., Pigneur, Y., Oliveira, M. A. Y., & Ferreira, J. J. P. (2011). Business Model Generation: A handbook for visionaries, game changers and challengers. African journal of business management, 5(7), 22-30.
Riyanto, B, 2010. Dasar-dasar pembelajaran perusahaan. Yogyakarta (ID) : BPPE.
Column, S. (2019). Era globalisasi menuntut generasi milenial berjiwa entrepreneur. Jakarta (ID) : Gudang Ilmu.
Soegoto & Soeryanto, E. (2014). Entrepreneurship Menjadi Pebisnis Ulung. Jakarta (ID) : PT ElexMedia Komputindo
Ulya. (2017). Implementasi Pengembangan Enterpreneurship Dalam Kurikulum Prodi Pgmi Institut Pesantren Mathali'ul Falah Pati-Jawa Tengah. Jurnal Pendidikan, 5(2), 21–29.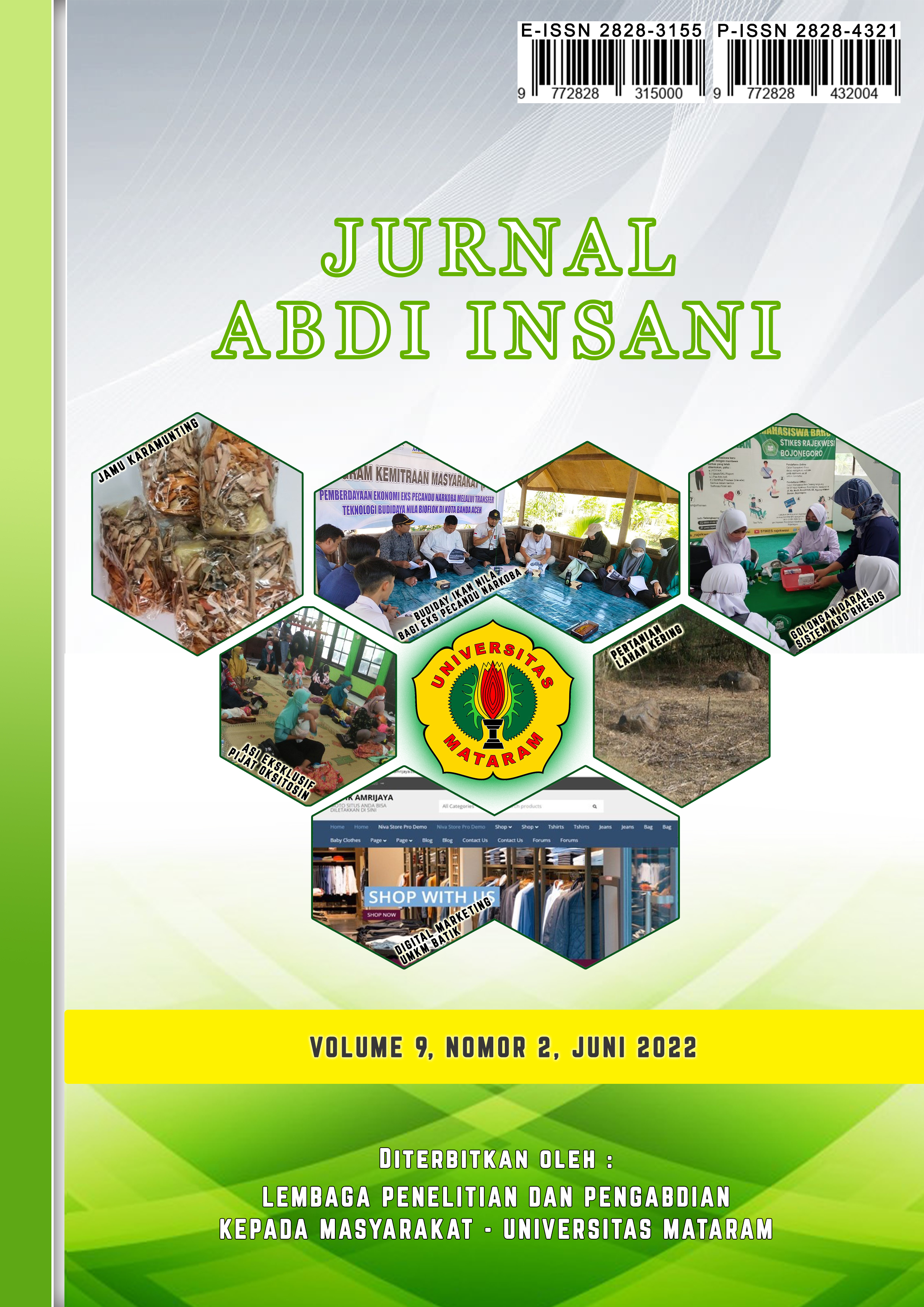 How to Cite
Ramadhan, T. S., & Oktavirana, R. (2022). DEVELOPING AND STRENGTHENING ENTREPRENEURSHIP INTEREST IN YOUTH IN THE NEW HABITS. Jurnal Abdi Insani, 9(2), 554-561. https://doi.org/10.29303/abdiinsani.v9i2.596