GERAKAN EDUKASI DAN PENYULUHAN PERILAKU PEDULI KEPADA SESAMA BERKOLABORASI DENGAN KOMUNITAS RAWI MATAHO (RM PROJECT)
Tri Sugiarti Ramadhan

Program Studi Manajemen Fakultas Ekonomi & Bisnis Universitas Islam Malang
Keywords:
Social Community, Social Concern, Education
Abstract
This community service is carried out in the context of caring for each other on the Moon Ramadhan, which was carried out by the Rawi Mataho Community (RM Project), distribution of iftar menu packages was distributed to people in two different areas, first in Kab. Dompu. West Nusa Tenggara, both of which are in the city of Malang. In East Java, iftar menu packages are given to those who need them, such as cleaners, pedicab drivers, public transport drivers, security guards, street vendors, administrators of mosques or prayer rooms (marbot), and so on. This activity was planned a week earlier by gathering donors and parasponsorship, then distributed with two schemes through fellow members Community RM Project District Kab. Dompu District and Malang City, the final evaluation was carried out and closed with a prayer. The number of packages distributed was 115 iftar menu packages. This activity aims to educate, raise awareness and share fortune. This program will be routinely planned every year to create solidarity among fellow members.
Downloads
Download data is not yet available.
References
Adler, A. (1927). Understanding Human Nature. New York (USA): Greenburg.
Agusthyo, W. (2017). Strategi Komunikasi Komunitas Retic Dalam Membentuk Perilaku Peduli Terhadap Kelestarian Hewan Berjenis Reptil Di Pekanbaru (Doctoral dissertation, Riau University).
Anwar, C. (2015). TAfsir Ayat-Ayat Ekonomi, Kepemimpinan Dan Kemasyarakatan. UIN Bandung Press
Chafid., & Harsono.2023). Kegiatan Kepedulian Kepada Masyarakat Kota Serang Banten dengan Program Pembagian Paket Dua Ton Beras Berkolaborasi dengan Jakarta Serang Community (Jaserco) Peduli. Jurnal Pengabdian kepada Masyarakat SINERGI. Vol.5 No.1 Juni 2023 ISSN : 2686-0287.
Hanggara, B. (2021). Pemberdayaan Masyarakat Melalui Gerakan Edukasi Dan Penyuluhan Perilaku Hidup Bersih Dan Sehat (Phbs) Di Kampung Serua Poncol, Sawah Baru. In Prosiding Seminar Nasional Pengabdian Masyarakat LPPM UMJ, 1 (1).
Hasanah, N. (2019). Strategi Komunikasi Persuasif Komunitas Jalan-Jalan Edukasi Lampung Dalam Menumbuhkan Empati Remaja Terhadap Anak Panti Asuhan. [Doctoral dissertation]. UIN Raden Intan Lampung.
Iriantara, Y (2004). Community Relations: Konsep dan Aplikasinya. Bandung: SimbiosaRekatama Media.
Kertajaya, H (2008). Arti Komunitas. Jakarta: Gramedia Pustaka.
Latipah, H., & Nawawi, N. (2023). PERILAKU INTOLERANSI BERAGAMA DAN BUDAYA MEDIA SOSIAL: TINJAUAN BIMBINGAN LITERASI MEDIA DIGITAL DI MASYARAKAT. Al-Isyraq: Jurnal Bimbingan, Penyuluhan, dan Konseling Islam, 6(2).
Mansyur, C. (1987). Sosiologi Msyakarat Desa dan Kota. Surabaya: Usaha Nasional.
McMillan, D. W., & Chavis, D. M. (1986). Sense of Community: A Definition and Theory.
American Journal of Community Psychology, 14 (1), 6-23.
McMillan, D. W., & Chavis, D. M. (1986). Sense of Community: A Definition and Theory.American Journal of Community Psychology, 14 (1), 6-23
Mukhlis. (2020). Bentuk Kepedulian Antara Sesama Lewat Berkah Ramadhan di tengah wabah Covid-19, Jurnal Pengabdian Masyarakat. TO MAEGA. Vol.4, No.1, Hal, 55-62.
Narwanti, S. (2011). Pendidikan Karakter. Yogyakarta: Familia.
Safitri, N. Implementasi Gerakan Sedekah Sampah sebagai upaya membangun solidaritas sosial (Studi Kasus: Remaja dan Pemuda Islam Masjid Raya Bintaro Jaya) (Bachelor's thesis, Jakarta: FITK UIN Syarif Hidayatulah Jakarta).
Sugiyono, P. (2015). Metode Penelitian Kombinasi (Mixed methods). In Bandung (ID): Alfabeta.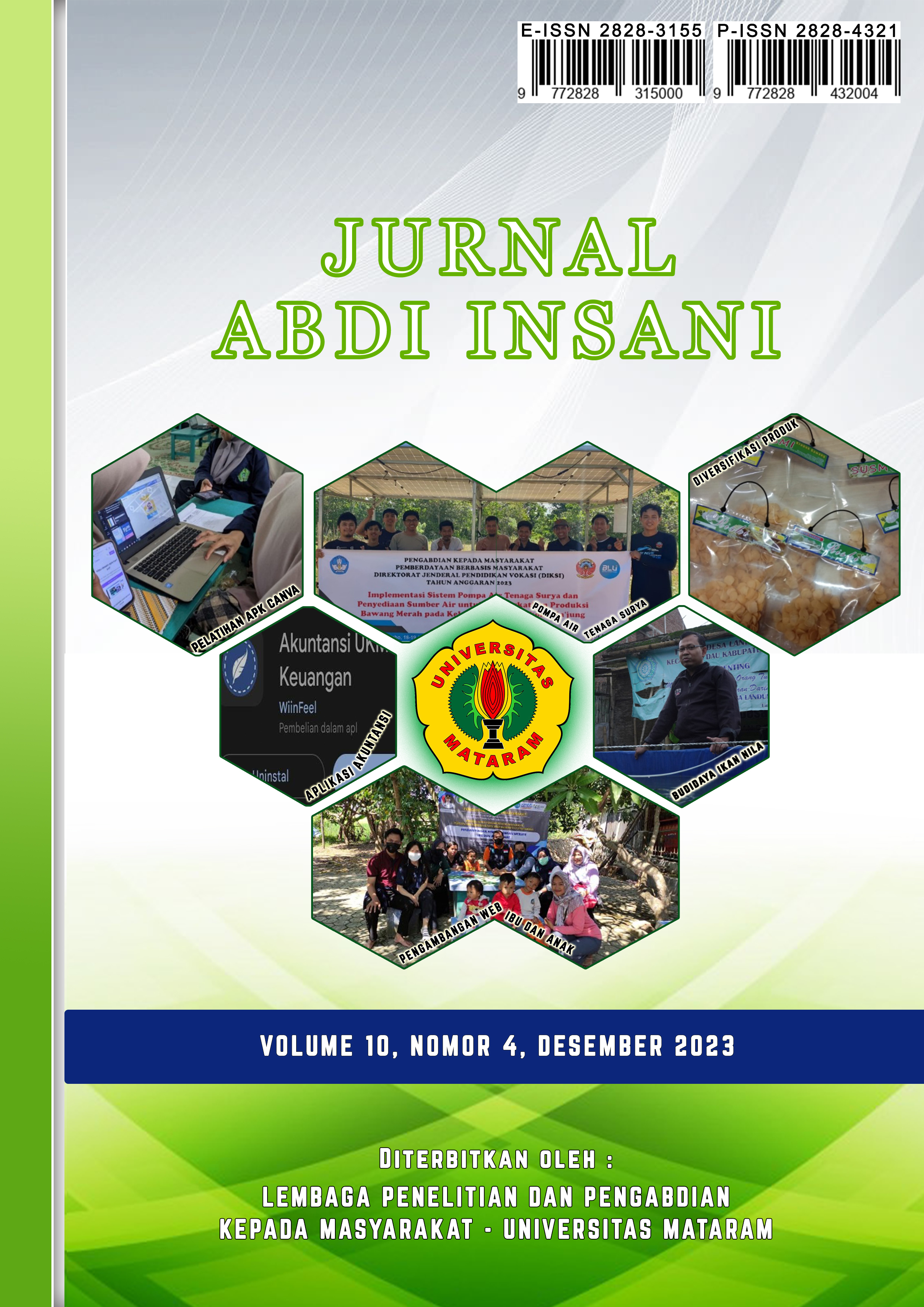 How to Cite
Ramadhan, T. S. (2023). GERAKAN EDUKASI DAN PENYULUHAN PERILAKU PEDULI KEPADA SESAMA BERKOLABORASI DENGAN KOMUNITAS RAWI MATAHO (RM PROJECT). Jurnal Abdi Insani, 10(4), 2113-2123. https://doi.org/10.29303/abdiinsani.v10i4.1121