PENDAMPINGAN PENGOLAHAN DAN PENGEMASAN DENDENG DAGING KERBAU FERMENTASI DI KELOMPOK PEMBERDAYAAN DAN KESEJAHTERAAN KELUARGA DESA BATU BULAN KECAMATAN MOYO HULU
Ihlana Nairfana

Program Studi Teknologi Hasil Pertanian, Universitas Teknologi Sumbawa

Chairul Anam Afgani

Program Studi Teknologi Hasil Pertanian, Universitas Teknologi Sumbawa

Ratna Nurmalita Sari

Program Studi Teknologi Hasil Pertanian, Universitas Teknologi Sumbawa

Veni Rori Setiawati

Program Studi Teknologi Hasil Pertanian, Universitas Teknologi Sumbawa
Keywords:
Jerky, Buffalo, Fermentation, Batu Bulan
Abstract
Local residents of Batu Bulan Village have been processing buffalo meat into traditional flavored jerky called "raret". The jerky is marinated in salt and tamarin juice therefore has a less varied taste. Besides that, the long drying time of the jerky makes the texture become tough. Therefore ready-to-eat jerky is one of the innovations to make beef jerky easier to process and maintain its nutritional content. Fermentation lactic acid bacteria (BAL) is one well-known processing technique that are considered most suitable. The aim of this program is to increase the added value of buffalo jerky through processing and packaging innovation. The method used is socialization, counseling, as well as training and mentoring. Furthermore, the implementation of the socialization event took place at the Batu Bulan Village Office which was attended by the woman empowerment and village officials. The results obtained from this activity are the increased ability of Batu Bulan woman empowerment in processing and packaging ready-to-eat buffalo jerky. There has been an increase in the ability of Batu Bulan women in developing their business from the aspect of producing and product packaging.
Downloads
Download data is not yet available.
References
Choi, J. H., Jeong, J. Y., Han, D. J., Choi, Y. S., Kim, H. Y., Lee, M. A., Lee, E. S., Paik, H. D., & Cheon, J. (2008). Effect of Pork/Beef Levels and Various Casings on Quality Properties of Semi-dried Jerky. Meat Science, 8(2), 278–286. https://doi.org/https://doi.org/10.1016/j.meatsci.2007.11.028
El-Husna, N., Asmawati, & Gunawan, S. (2014). Dendeng ikan leubiem (Canthidermis maculates) dengan variasi metode pembuatan jenis gula, dan metode pengeringan. Jurnal Teknologi Dan Industri Pertanian Indonesia, 6(3), 77–81. https://doi.org/http://dx.doi.org/10.17969/jtipi.v6i3.2316
Fattah, N., Matti, A., & Arfini, F. (2022). Penyuluhan Pembuatan Dendeng Ikan Lumat bagi Masyarakat Desa Bulo-Bulo Kecamatan Arungkeke Kabupaten Jeneponto. Jurnal Aplikasi Teknologi Rekayasa Dan Inovasi, 1(1), 71–79.
Febrina, N. (2012). Tingkat penambahan nanas (Ananas comosus) dan lama penyimpanan terhadap tingkat oksidasi lemak dan perubahan kualitas dendeng giling daging sapi. [Skripsi Program Sarjana] Universitas Hasanudin Makasar.
Handayani, B. R., Margana, C. C. E., Kertanegara, A., Hidayati, & Werdiningsih, W. (2015). The Study of Marination Time on the Quality of Traditional Dried Meat Ready to Eat. Teknol. Dan Industri Pangan, 26(1), 17–25. https://doi.org/https://doi.org/10.6066/jtip.2015.26.1.17
Indriyati, & Setyorini, A. (2010). Isolasi dan Karakterisasi Bakteri Asam Laktat (dari Susu Formula Balita yang Berpotensi Menghasilkan Substansi Antimikroba [Skripsi]. Yogyakarta (ID): Universitas Islam Negeri Sunan Kalijaga.
Ismanto, S. D., Surini, S., & Silvia, N. (2015). Effect of the addition of catfish meat on improving of jerked meat protein from cassava leaves (Manihot utilissima). International Journal on Advanced Science Engineering Information Technology, 5(2). https://doi.org/https://doi.org/10.18517/ijaseit.5.2.492
Kaban, D. H., Timbowo, S. M., Pandey, E. V, Mewengkang, H. W., Palenewen, J. C., Mentang, F., & Dotulong, V. (2019). Analisa Kadar AIR, pH, dan Kapang pada Ikan Cakalang (Katsuwonus pelamis, L) Asap yang Dikemas Vakum pada Penyimpanan Suhu Dingin. Media Teknologi Hasil Perikanan, 7(3), 72–79. https://doi.org/https://doi.org/10.35800/mthp.7.3.2019.23624
Kim, G. D., Go, G. W., Lim, H. J., Jung, E. Y., Seo, H. W., Jeong, J. Y., Joo, S. T., & Yang, H. S. (2014). Physicochemical characteristics of beef jerky cured with salted-fermented anchovy and shrimp. Korean Journal for Food Science of Animal Resources, 34(1), 98–105. https://doi.org/https://doi.org/10.5851/kosfa.2014.34.1.99
Meilitasari, W. (2016). Pengaruh Penambahan Kultur Lactobacillus plantarum Terhadap pH, Total Asam, Total BAL dan Uji Organoleptik Sosis Fermentasi Daging Kambing [Skripsi] Malang (ID): Universitas Brawijaya.
Nairfana, I. (2021). Peningkatan Nilai Tambah Produk Olahan Dendeng Daging Kerbau Fermentasi Melalui Inovasi Kemasan di Desa Pernek Kecamatan Moyo Hulu. Jurnal SIAR ILMUWAN TANI, 2(1), 26–31. https://doi.org/https://doi.org/10.29303/jsit.v2i1.39
Nairfana, I., & Afgani, C. A. (2021). The Effect of Fermentation using Lactic Acid Bacteria to Chemical and Sensory Characteristics of Sumbawa's Buffalo Jerky. IOP Conf. Ser.: Earth Environ. Sci. 913 012043. https://iopscience.iop.org/article/10.1088/1755-1315/913/1/012043
Ridhowati, S., Lestari, S., Lestari, S. D., & Sari, D. I. (2019). Physicochemical and sensory properties from Indonesian white shrimp (Penaeus merguiensis). Pertanika Journal of Tropical Agricultural Science, 42(1), 833–845. https://www.cabdirect.org/globalhealth/abstract/20193325758
Suryati, T., Astawan, M., Lioe, H. N., Wresdiyati, T., & Usmiati, S. (2014). Nitrite residue and malonaldehyde reduction indendeng-Indonesian dried meat-influenced by spices, curing methods and precooking preparation. Meat Science, 96(3). https://doi.org/1403-1408. https://doi.org/10.1016/j.meatsci.2013.11.023
Widiyanto, V., Darmanto, Y. S., & Swastawati, F. (2013). Pengaruh Pemberian Asap Cair Terhadap Kualitas Dendeng Asap Ikan Bandeng (chanos Chanos Forsk), Tenggiri (scomberomorus Sp) dan Lele (clarias Batrachus). Jurnal Pengolahan Dan Bioteknologi Hasil Perikanan, 3, 11–20. http://id.portalgaruda.org/?ref=browse&mod=viewarticle&article=145037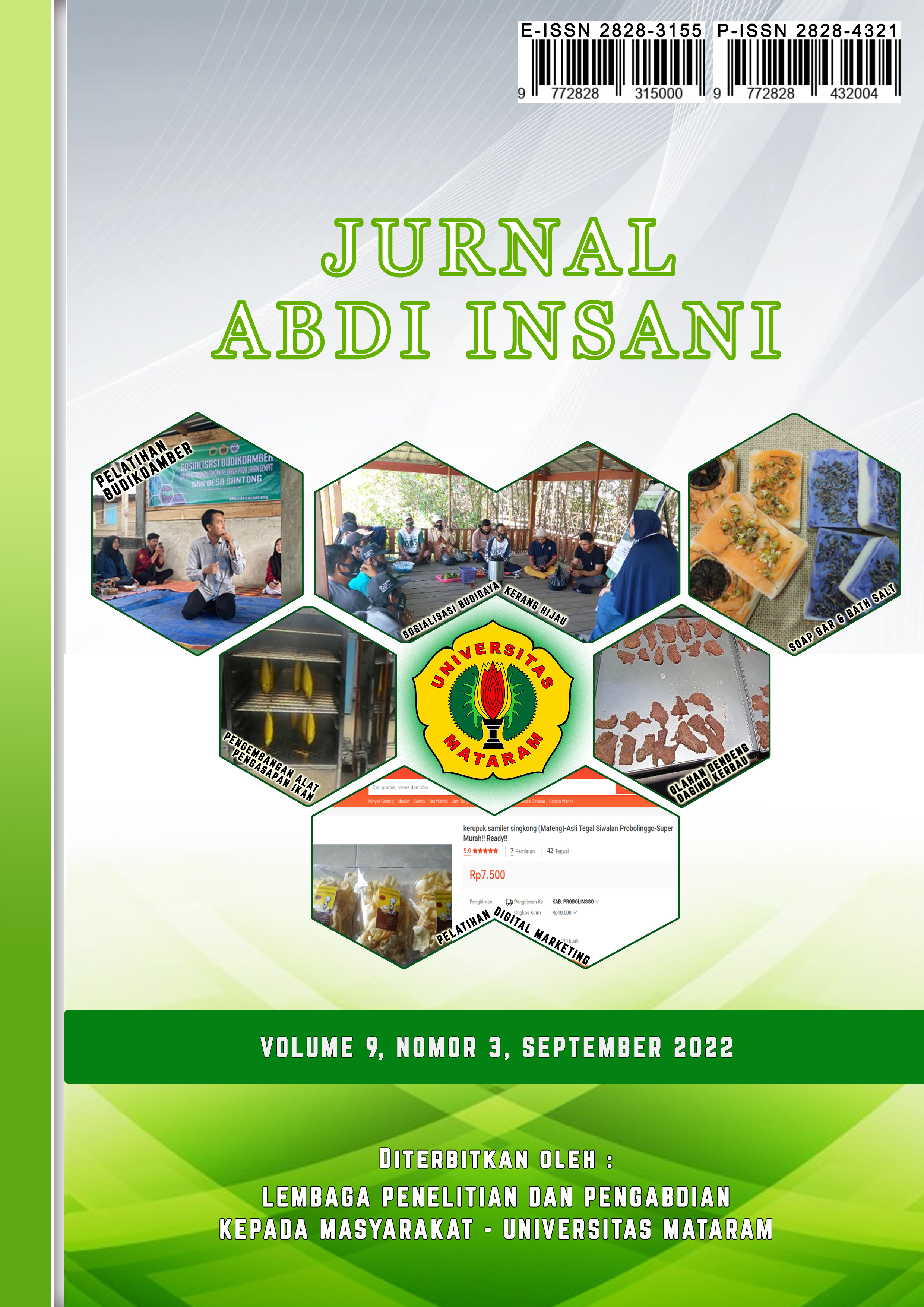 How to Cite
Nairfana, I., Afgani, C. A., Sari, R. N., & Setiawati, V. R. (2022). PENDAMPINGAN PENGOLAHAN DAN PENGEMASAN DENDENG DAGING KERBAU FERMENTASI DI KELOMPOK PEMBERDAYAAN DAN KESEJAHTERAAN KELUARGA DESA BATU BULAN KECAMATAN MOYO HULU . Jurnal Abdi Insani, 9(3), 924-932. https://doi.org/10.29303/abdiinsani.v9i3.677