PEMBERDAYAAN PENGRAJIN KERIS (EMPU) MELALUI PENGUATAN MODAL INTELEKTUAL DAN PEMASARAN DIGITAL DI DESA AENG TONG TONG KABUPATEN SUMENEP
Mohammad Herli

Program Studi Akuntansi, Universitas Wiraraja

Nur Qoudri Wijaya

Program Studi Manajemen, Universitas Wiraraja

Mar'a Elthaf Ilahiyah

Program Studi Akuntansi, Sekolah Tinggi Ilmu Ekonomi Indonesia, Indonesia
Keywords:
Empowerment, empu, keris village, intellectual capital, marketing, Madura
Abstract
This service activity aims to empower keris craftsmen (empu) in Aeng Tong Tong Village, Sumenep Regency, through strengthening intellectual capital and digital marketing. The background of this activity includes the challenges artisans face in the era of digitalization and market changes. Challenges have the weak capacity of craftsmen to manage human capital, structural capital, and relational capital. These three components are essential for keris artisans to achieve sustainable performance. This activity aims to empower keris craftsmen (empu) in Aeng Tong Tong Village by strengthening intellectual capital in managing their business. In addition, management, finance, and marketing aspects are also a concern in this community service activity. The activity implementation involves training and intensive assistance to artisans. The process includes the registration of business licenses to strengthen structural capital, followed by training and financial management assistance to enhance human capital. Then, empowerment through digital marketing training to strengthen relational capital. Community service activities include increasing the ability of artisans to understand and implement intellectual capital. First, there has been an improvement in human capital, including an understanding of business and financial management. Second, there is a strengthening of structural capital in the form of availability of business legality; and thirdly, increasing market access through digital marketing as a means of marketing products, which in this case also means strengthening relational capital. This activity contributes to maintaining local cultural heritage while adapting to changing times. This service activity contributes to improving the management of keris artisans in Aeng Tong Tong Village. This collaborative effort stimulates local economic growth and strengthens the artisan community, in line with the spirit of sustainable development.
Downloads
Download data is not yet available.
References
Abdullah, N. N., & Othman, M. B. 2019. "Examining the Effects of Intellectual Capital on the Performance of Malaysian Food and Beverage Small and Medium-Sized Enterprises." International Journal of Civil Engineering and Technology 10(2):135–43.
Adedeji, B. S., Ong, T. S., & Rahman, M. M. 2020. "Intellectual Capital as a Mediator between Corporate Governance and Sustainability Initiative: A Conceptual Review." World Review of Entrepreneurship, Management, and Sustainable Development 16(3):299–316. doi: 10.1504/WREMSD.2020.107257.
Ahmad, M., Wu, Q., & Khattak, M. S. 2022. "Intellectual Capital, Corporate Social Responsibility and Sustainable Competitive Performance of Small and Medium-Sized Enterprises: Mediating Effects of Organizational Innovation." Kybernetes. The International Journal of Cybernetics, Systems, and Management Sciences. doi: 10.1108/K-02-2022-0234.
Anekawati, A., Herli M., Purwanto E,. Rofik, M. Anita A., & Yuliastina, R. 2021. Kajian Keris Sumenep. Vol. 1. 1st ed. Sumenep: Dinas Pariwisata Kebudayaan Pemuda dan Olahraga Kabupaten Sumenep.
Beltramino., Salvador, N., Domingo., & Enrique, E. 2020. "The Structural Capital, the Innovation and the Performance of the Industrial SMES." Journal of Intellectual Capital. Doi: 10.1108/JIC-01-2019-0020.
Dal Mas, F., & Paoloni, P. 2020. "A Relational Capital Perspective on Social Sustainability; the Case of Female Entrepreneurship in Italy." Measuring Business Excellence 24(1):114–30. doi 10.1108/MBE-08-2019-0086.
Firdaus., Iqbal, M., Azizah, P. N., & Sa'adah, R. 2022. "Pentingnya Digital Marketing sebagai Strategi Pemasaran Umkm di Era 4.0." Jurnal Graha Pengabdian 4(2):154–62. doi: 10.17977/um078v4i22022p154-162.
Herli M., & Purwanto E. 2023. ‪Asal Usul Dan Karakteristik Keris Sumenep‬. Vol. 1. 1st ed. Sumenep: Wiraraja Press.‬‬‬‬‬‬‬‬
Herli, M., Tjahjadi, B., & Hafidhah, H. 2021. "Gender Diversity on Board of Directors and Intellectual Capital Disclosure in Indonesia." The Journal of Asian Finance, Economics, and Business 8(1):135–44.
Ilahiyah, M. E., & Jaya, I. M. L. J. 2020. "Realita Hambatan Pencatatan IAS 41 (Aset Biologis) Bagi UMKM Perikanan Dan Peternakan Di Jawa Timur." Gorontalo Accounting Journal 3(2):94–104. doi: 10.32662/gaj.v3i2.1001.
Inkinen., Henri., Kianto, A., Vanhala, M., & Ritala, P. 2017. "Structure of Intellectual Capital – an International Comparison." Accounting, Auditing, and Accountability Journal 30(5):1160–83. doi: 10.1108/AAAJ-11-2015-2291.
Istanti., Nurul, L., Agustina, Y., Wijijayanti, T., & Dharma, B.A. 2020. "Pentingnya Penyusunan Laporan Keuangan Umkm Bagi Para Pengusaha Bakery, Cake and Pastry (BCP) di Kota Blitar." Jurnal Graha Pengabdian 2(2):163–71. doi: 10.17977/um078v2i22020p163-171.
Kurniawati, D., Furqani, A., & Wijaya, N. Q. 2021. "Upaya Meningkatkan Nilai Ekonomi Pelaku Umkm Kerupuk Rajungan melalui Digital Marketing di Tengah Pandemi Covid-19 di Desa Kertasada." Jurnal Abdimas Sosek (Jurnal Pengabdian Dan Pemberdayaan Masyarakat Sosial Ekonomi) 1(3):12–14.
Rahayu., Duwi., Setiawan, H., & Pebrianggara, A. 2023. "Pendampingan Penggunaan Aplikasi Akuntansi Dan Pemasaran Berbasis Android (e LEATHERSGOOD.ID) pada Kelompok Umkm Tas Golf dan Kerajinan Kulit Desa Kalitengah Sidoarjo." Jurnal Abdi Insani 10(2):588–601. doi: 10.29303/abdiinsani.v10i2.657.
Santiago., David, M., & Estiningrum, S. D. 2021. "Persepsi Dan Pemahaman Pelaku Usaha Terhadap Pentingnya Laporan Keuangan Pada UMKM." Ekuitas: Jurnal Pendidikan Ekonomi 9(1):199–205. doi: 10.23887/ekuitas.v9i1.34373.
Setiawan, Budi., & Saputra, T. S. 2021. "Literasi Keuangan Pelaku Usaha Mikro, Kecil Dan Menengah (Umkm) Kota Palembang." Jurnal Abdimas Mandiri 4(2).
Sudrajat, U. 2018. "Perajin Keris Wanita: Pemberdayaan Wanita Di Tengah Budaya Patriarki Madura."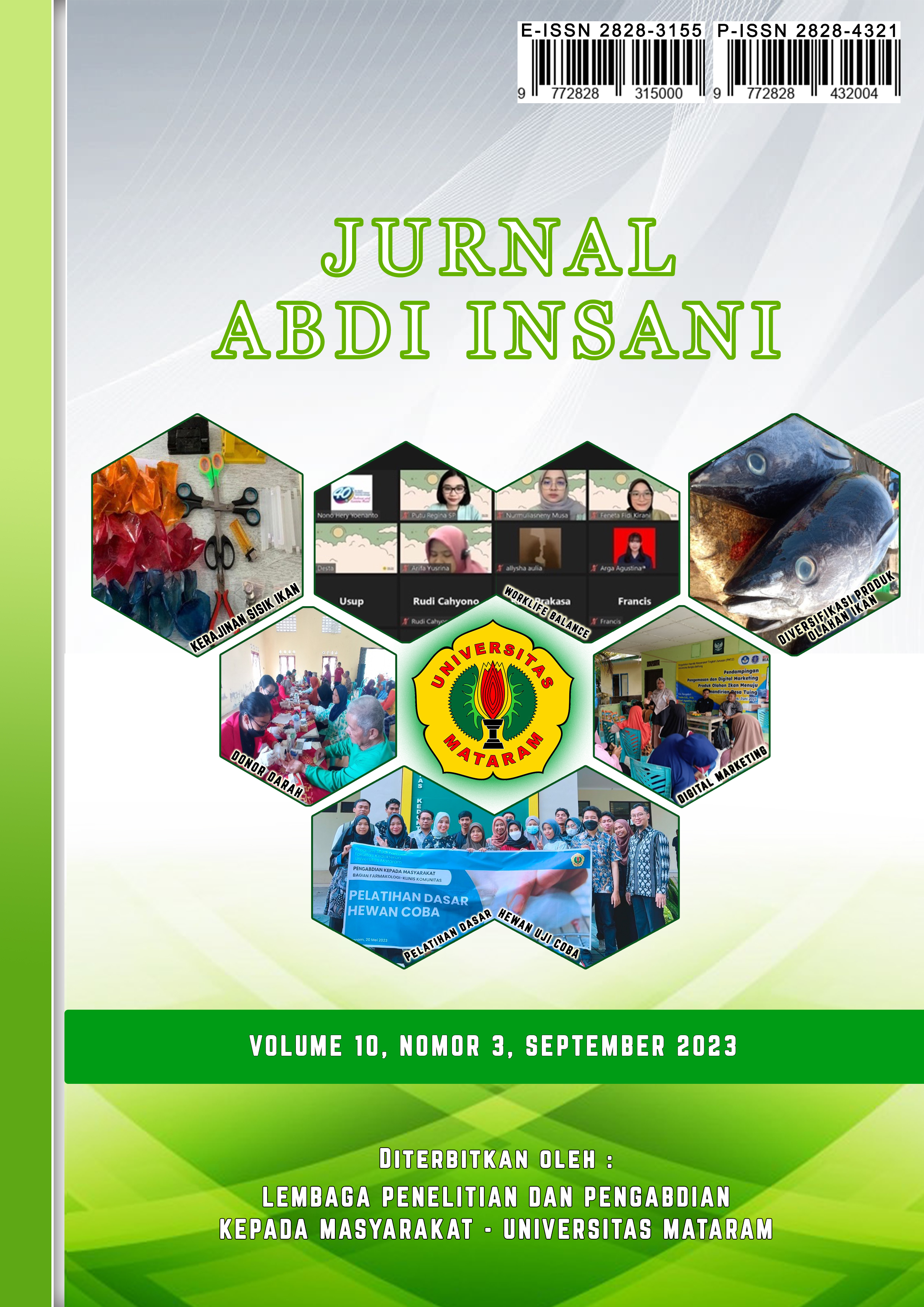 How to Cite
Herli, M., Wijaya, N. Q., & Ilahiyah, M. E. (2023). PEMBERDAYAAN PENGRAJIN KERIS (EMPU) MELALUI PENGUATAN MODAL INTELEKTUAL DAN PEMASARAN DIGITAL DI DESA AENG TONG TONG KABUPATEN SUMENEP. Jurnal Abdi Insani, 10(3), 1587-1597. https://doi.org/10.29303/abdiinsani.v10i3.1072