PENERAPAN TEKNOLOGI PENGOLAHAN SAGU UNTUK DIVERSIFIKASI PRODUK OLAHAN BERBASIS SAGU DI KECAMATAN MALANGKE BARAT KABUPATEN LUWU UTARA
Andi Mangnguntungi Sudirman

Pendidikan Bahasa Inggris, Fakultas Keguruan dan Ilmu Pendidikan, Universitas Cokroaminoto Palopo

Andi Jumardi

Informatika, Fakultas Teknik Komputer, Universitas Cokroaminoto Palopo

Fitrah Al Anshori

Pendidikan Biologi, Fakultas Keguruan dan Ilmu Pendidikan, Univeristas Cokroaminoto Palopo

Irmayani Irmayani

Teknik Sipil, Akademi Teknologi Industri Dewantara Palopo
Keywords:
Technology, Diversification, Sago
Abstract
Sago has excellent potential as a food source but has yet to be utilized optimally. Sago processing in Pao Village, West Malangke District, North Luwu Regency, is still managed using traditional methods. Several problems were found, including the absence of appropriate technology in the sago production process, the need for partners' knowledge for sago diversification, and processed sago products packaged in ordinary containers or plastic bags, causing partners to be unable to meet market demand. The purpose of implementing this PKM is to provide technical skills in using sago processing equipment, increase the ability of partners to diversify processed sago into food ingredients and increase partners' understanding of brands and product labels. At this stage, the PKM implementing team provides outreach to increase partners' knowledge. The second stage is training and assistance in direct practice using tools from executors and materials from partners by demonstrating how to make processed sago products. The results of this PKM implementation: 1) Partners become more knowledgeable and gain new knowledge in making various processed sago diversifications such as sago sticks, brownies and bagea. 2) It becomes easier for partners to use technological tools in making various processed sago diversifications. 3) Partners acquire knowledge on using more hygienic packaging and have branding for sago-based processed products. In addition, 4) Partners become more knowledgeable and gain knowledge in making more modern financial accounting and new knowledge about the Plan business, which can be marketed digitally. Socialization and training in this activity positively influenced participants' knowledge, especially in making processed sago and using packaging.
Downloads
Download data is not yet available.
References
Al-Anshori, F., Hidayat, W., & Sohriati, E. (2022). PKM UMKM Singkong Keju Beku Melalui Alih Teknologi Untuk Meningkatkan Kualitas dan Kuantitas Produk. Madaniya, 3(4), 752–761.
Alfons, J. B., & Rivaie, A. A. (2011). Sagu Mendukung Ketahanan Pangan Dalam Menghadapi Dampak Perubahan Iklim. Perspektif, 10(2), 81-91.
Asriany, A., & Nurlinda, N. (2018). Diversifikasi Olahan Sagu (Metroxylon sagu) dalam rangka Pemberdayaan Ekonomi Keluarga Pra Sejahtera. Prosiding, 4(1).
Darmawan, D., Alamsyah, T., & Rosmilawati, I. (2020). Participatory Learning and Action untuk Menumbuhkan Quality of Life pada Kelompok Keluarga Harapan. Journal of Nonformal Education and Community Empowerment, 4(2), 160-169.
Irnawati., Muhammad, S., Marlinda., & Indah, E. B. (2018). Studi Pengolahan Sagu (Metroxylon sp) oleh Masyarakat Kampung Malawar Distrik Makbon Kabupaten Sorong. Jurnal Pengabdian kepada Masyarakat, 2 (1).
Gaspersz, N., Ubwarin, E., & Rijoly, J. C. D. (2020). Penerapan Teknologi Pengolahan Sagu Untuk Meningkatkan Produksi Sagu Merah-Putih Di Desa Porto. LOGISTA-Jurnal Ilmiah Pengabdian kepada Masyarakat, 4(2), 70-77.
Maine, S. (2014). How Product Packaging Affects Buying Decisions. Artikel online. http://www.creativebloq.com/ graphic-design/how-productpackaging-affects-buyingdecisions-91412911 (diakses 21 Agustus 2023)
Nugrahani, R. (2015). Peran Desain Grafis Pada Label Dan Kemasan Produk Makanan UMKM. Imajinasi: Jurnal Seni, 9(2), 127-136.
Nurhikmah, N. (2021). Identifikasi Lahan Sagu Dan Potensi Pengembangannya Di Kecamatan Malangke Barat Kabupaten Luwu Utara. [Doctoral dissertation]. Universitas Hasanuddin. Makassar.
Nuryanti, B. L., & Rahman, A. Y. (2008). Pengaruh Variasi dan kemasan Produk Terhadap Keputusan Pembelian Teh Kotak Ultrajaya (Survei pada Mahasiswa FPIPS Universitas Pendidikan Indonesia). Strategic: Jurnal Pendidikan Manajemen Bisnis, 8(2), 31-43.
Rahmawati, R., Firmansyah, F., Syarif, A., & Arwati, S. (2020). Penyuluhan dan Pelatihan Olahan Sagu Menjadi Produk Brownies Dan Cookies Pada Tim Penggerak Pkk Desa Purwosari Kecamatan Tomoni Timur Kabupaten Luwu Timur. To Maega: Jurnal Pengabdian Masyarakat, 3(1), 23-30.
Reniana, R., Tethool, E. F., Purwantana, B., & Markumningsih, S. (2019). Kajian Proses Pengolahan Sagu Dengan Mesin Pengekstrak Sagu Model Pengaduk Berulir. In Prosiding Seminar Sains Nasional dan Teknologi 1(1).
Sudirman, A., Syakur, A., & Irmayani, I. (2020). PKM Kelompok Usaha Jamur Tiram Putih. MATAPPA: Jurnal Pengabdian Kepada Masyarakat, 3(1), 7-12.
Wang, R. W., & Chen, W. C. (2007). The study on packaging illustration affect on buying emotion. Proceedings of IASDR, Polytechnic University, Hongkong, 1-18.
Yasin, S. M., Aziza, R., & Mursida, M. (2019). PKM Pemanfaatan Limbah Sagu Pada Media Budidaya Jamur Tiram Kelompok Tani Serumpung Sagu Kec. Pekkajoang Kab. Malangke Barat Kab. Luwu. To Maega: Jurnal Pengabdian Masyarakat, 2(2), 51–57.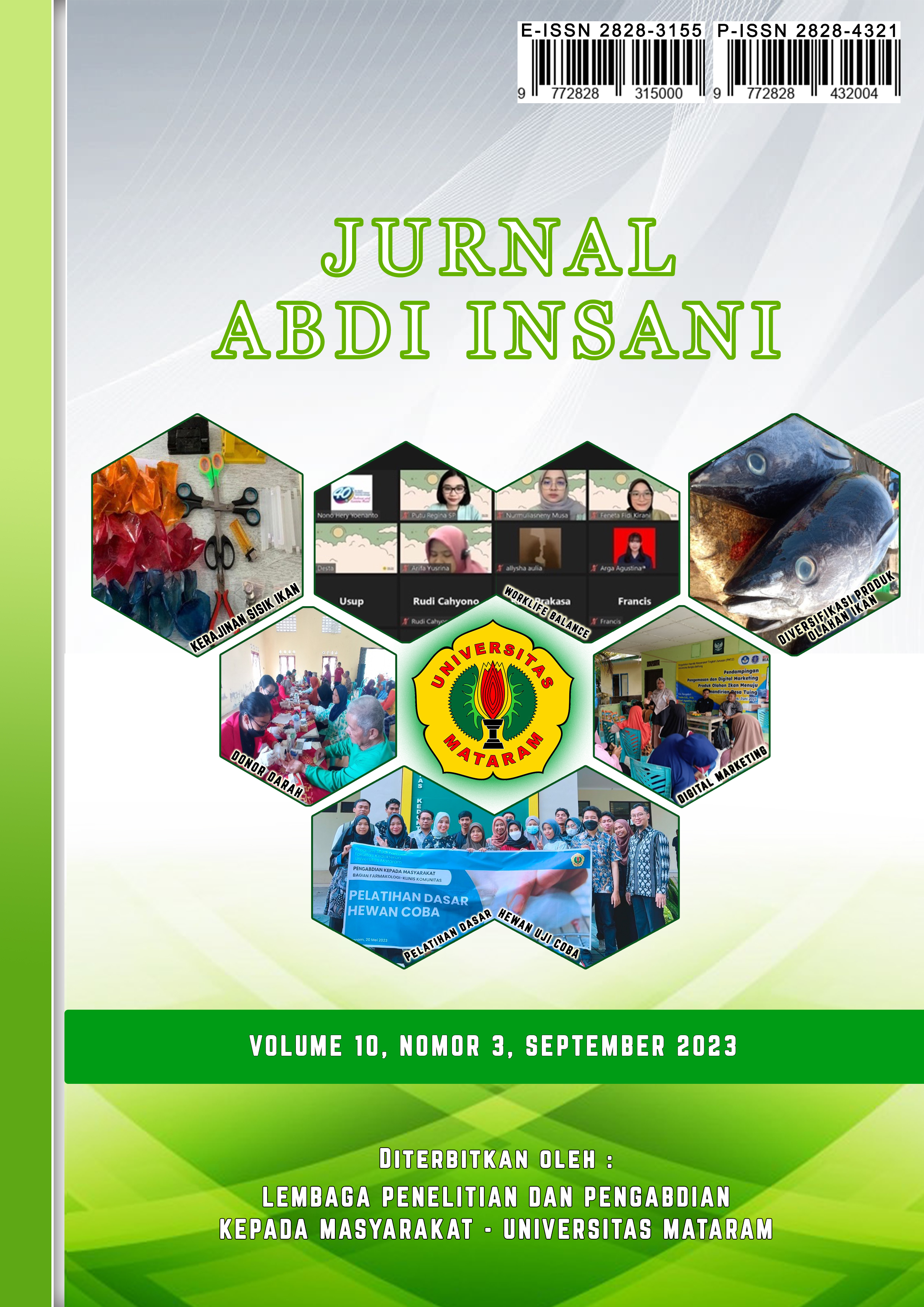 How to Cite
Sudirman, A. M., Jumardi , A., Anshori , F. A., & Irmayani, I. (2023). PENERAPAN TEKNOLOGI PENGOLAHAN SAGU UNTUK DIVERSIFIKASI PRODUK OLAHAN BERBASIS SAGU DI KECAMATAN MALANGKE BARAT KABUPATEN LUWU UTARA. Jurnal Abdi Insani, 10(3), 1579-1586. https://doi.org/10.29303/abdiinsani.v10i3.1071