PRE MENSTRUAL SYNDROME MANAGEMENT SOCIALIZATION IN ADOLESCENT WOMEN IN SMP IT AND SMA IT BANI SOLEH MATARAM
Ni Made Amelia Ratnata Dewi

Program Studi Farmasi Fakultas Kedokteran Universitas Mataram

Candra Eka Puspitasari

Program Studi Farmasi Fakultas Kedokteran Universitas Mataram
Keywords:
Pre Menstrual Syndrome, girls, socialization
Abstract
Menstruation is a physiological phenomenon experienced by women, most women report experiencing symptoms of premenstrual syndrome (PMS) in the form of breast pain, flatulence, nausea, headaches and emotional changes. These PMS symptoms can reduce the quality of health, interfere with learning concentration as well as achievement and active learning activities, especially for young women who attend school. Management (PMS) can be done non-pharmacologically (without drugs) or pharmacologically (with drugs) if there are persistent symptoms so it is necessary to make socialization about PMS management for young women. The purpose of this community service activity is to organize a socialization so that young women can understand PMS management. The method of socialization carried out is by way of presentation of material by resource persons, discussions and questions and answers as well as distribution of brochures. The socialization activities were carried out at SMPIT and SMAIT Anak Sholeh Mataram. A total of 20 students participated in the socialization activity. Activities carried out well. The mean value of the pretest obtained is 7.3. After the exposure there was an increase in the post test score to 9.4. The results of the discussion and question and answer show that many students have PMS problems, especially with symptoms of pain. Pain management can be done independently by buying analgesics (pain relievers) which are sold at pharmacies or licensed drug stores with parental supervision. After the socialization, there was an increase in the pretest and posttest scores. This service activity is one of the health promotions for the community and must be held regularly.
Downloads
Download data is not yet available.
References
ACOG. (2000). Clinical management guidelines for obstetrician- gynecologists. Practice Bulletin, 95(15), 1–9.
Chung, S. H., Kim, T. H., Lee, H. H., Lee, A., Jeon, D. S., Park, J., & Kim, Y. (2014). Premenstrual Syndrome and Premenstrual Dysphoric Disorder in Perimenopausal Women. Journal of Menopausal Medicine, 20(2), 69–74. https://doi.org/https://doi.org/10.6118/jmm.2014.20.2.69
Dayanand, A. (2019). Prevention of Premenstrual Syndrome in Adolescence. International Journal of Nursing Science Practice & Research, 5(1), 59–63. https://doi.org/https://doi.org/10.37628/ijnspr.v5i1.1056
Green, L. J., Brien, O. P. M. S., Panay, N., & Craig, M. (2017). Management of premenstrual syndrome. BJOG, 124, 73–105.
Haryono, R. (2016). Siap menghadapi mentruasi dan menopause. Yogyakarta (ID) : Gosyen Publishing.
Heidari, H., Amani, R., Feizi, A., Gholamreza, A., Shahnaz, K., & Parastoo, T. (2019). Vitamin D Supplementation for Premenstrual Syndrome-Related inflammation and antioxidant markers in students with vitamin D deficient: a randomized clinical trial. Sci Rep, 9, 14939. https://doi.org/https://doi.org/10.1038/s41598-019-51498-x
Hossein, N. A., Mirzaei, K., Keshavarz, S. A., Ansar, H Saboori, S., & Tootee, A. (2013). Evidences of dual role of vitamin D through cellular energy homeostasis and inflammation pathway in risk of cancer in obese subjects. Minerva Med, 104(3), 295–307.
Julianti, W., Marfuah, D., & Noorhayati, S. (2017). PENGALAMAN HIDUP REMAJA YANG MENGALAMI PREMENSTRUAL SYNDROME (PMS) DI SMK MOCH TOHA CIMAHI. Jurnal Keperawatan Komprehensif, 3(2), 63–71. https://doi.org/https://doi.org/10.33755/jkk.v3i2.86
Panay, N. (2011). Management of premenstrual syndrome: evidence based guidelines. Obstetrics Gynecology and Reproductive Medicine, 21(8), 221–227.
Puspitasari, C. E., Dewi, N. M. A. R., Aini, S. R., Pratama, I. S., Erwinayanti, G A P S Wahyuningsih, I., & Ariani, F. (2020). Edukasi Pencegahan Anemia Saat Menstruasi Pada Remaja Putri. Jurnal Pepadu, 1(4), 529–536. https://doi.org/https://doi.org/10.29303/jurnalpepadu.v1i4.146
Samieipoor, S., Kiani, F., Sayehmiri, K., Sayehmiri, F., Naghdi, N., Ghafari, M., Asadi-Samani, M., Bahmani, & Mahmoud. (2016). Effects of vitamin B6 on premenstrual syndrome: A systematic review and meta-Analysis. Journal of Chemical and Pharmaceutical Sciences, 9(3), 1346–1353.
Sianipar, O., Bunawan, N., Almazani, P., Calista, N., Wulandari, P., Rovenska, N., Djuanda, R., Irene, Seno, A., & Suarthana, E. (2009). Prevalensi Gangguan Menstruasi dan Faktorfaktor yang Berhubungan pada Siswi SMU di Kecamatan Pulo Gadung Jakarta Timur. Majalah Kedokteran Indonesia, 59(7), 309–310. https://indonesia.digitaljournals.org/index.php/idnmed/ article/download/653/648
Surmiasih, & Priyati, D. (2018). Pengetahuan Tentang Menstruasi Dengan Upaya Penanganan Disminorea Pada Siswi MTs Al-Hidayah Tunggul Pawenang Kecamatan Adiluwih Kabupaten Pringsewu. Midwifery Journal, 3(1), 48–53.
Surmiasih, S. (2016). Aktivitas Fisik dengan Sindrom Premenstruasi Pada Siswa SMP. Jurnal Aisyah: Jurnal Ilmu Kesehatan, 1(2), 71–78. https://doi.org/https://doi.org/10.30604/jika.v1i2.24
The ACOG. (2015). Premenstrual syndrome (PMS). url: https://www.acog.org/-/media/For-Patients/faq057.pdf?dmc=1&ts=20171211T1813370296
Yilmaz, M., Mucuk, S., Atuk, & Kahraman, T. (2022). Dietary factors associated with premenstrual syndrome: A cross-sectional study of Turkish university students: Premenstrual syndrome and nutrition. Progress in Nutrition, 23(4), e2021174. https://doi.org/https://doi.org/10.23751/pn.v23i4.11338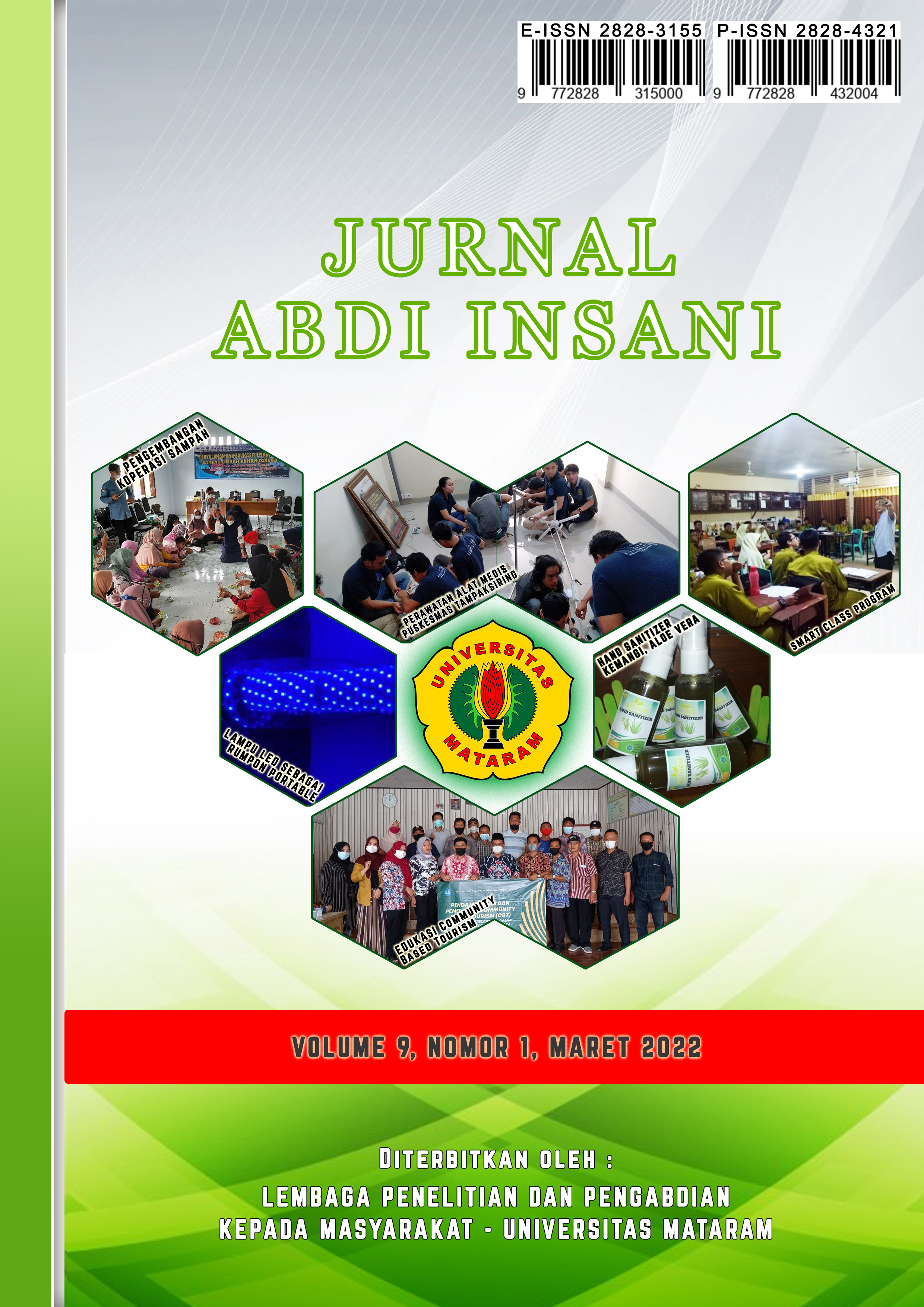 How to Cite
Dewi, N. M. A. R., & Puspitasari, C. E. (2022). PRE MENSTRUAL SYNDROME MANAGEMENT SOCIALIZATION IN ADOLESCENT WOMEN IN SMP IT AND SMA IT BANI SOLEH MATARAM. Jurnal Abdi Insani, 9(1), 108-113. https://doi.org/10.29303/abdiinsani.v9i1.455