UPAYA PENGUATAN PENGETAHUAN MASYARAKAT MENGENAI PENYAKIT GANGGUAN SALURAN CERNA FUNGSIONAL PADA ANAK DI PULAU MANDANGIN, KABUPATEN SAMPANG
Keywords:
Child health, functional gastrointestinal disorder, community, community development, video conference
Abstract
Functional gastrointestinal disorders are problems that are often experienced by children, especially in isolated areas. Mandangin Island is among the secluded islands located in Sampang district.. The Department of Child Health, Faculty of Medicine, Universitas Airlangga - Dr. Soetomo General Academic Hospital held a community development that aimed to increase public knowledge about functional gastrointestinal disorders in children on Mandangin Island, Sampang District. The community service was conducted using a hybrid seminar approach, where speakers participated remotely via Zoom while the local community gathered at the Village Hall on Mandangin Island.. The speakers explained the definition, important signs and symptoms, early management of Functional Gastrointestinal Disorders. All subjects who took part in community service activities were evaluated for knowledge based on pre- and post-tests, each of which consisted of 5 questions with maximum score 100. Subject's knowledge was considered good if the score was ≥ 60. Based on our data, there were 29 people who participated in community development with the most working as fishermen and entrepreneurs. We found that 69% of the subjects had an increase in the pre-test score. At the time the pre-test was distributed, only 10.4% had good knowledge scores, while in the post-test there were 51.7% who had good knowledge. We also succeeded in making 3 health cadres caring in childhood functional gastrointestinal disorders. Community development in the form of health education for functional gastrointestinal disorders in children using video conference (ZOOM) on Mandangin Island could increase public knowledge and this activity can be implemented on other islands.
Downloads
Download data is not yet available.
References
Alsuliman, T., Alasadi, L., Mouki, A. & Alsaid, B. (2019). 'Language of written medical educational materials for non-English speaking populations: an evaluation of a simplified bi-lingual approach', BMC Medical Education, 19(1), p. 418. doi: 10.1186/s12909-019-1846-x.
BPS Kabupaten Sampang (2022). 'Kabupaten Sampang Dalam Angka 2022'. Sampang. BPS Kabupaten Sampang.
Harini, R. & Andini, F. L. (2021). 'The Effectiveness of Health Education Trough Video Learning Multimedia On The Knowledge of Youth About Menarche at SDN 1 Pakisaji', Jurnal Dedikasi, 18(2).
Indriatmoko, H. & Rahardjo, N. (2015). 'Kajian Pendahuluan Sistem Pemanfaatan Air Hujan', JAI, 8(1), pp. 105–114.
Joshi, S. D., Pandit, N. and Kuma, S. (2005). 'The School Enviornment and Its Impact on Children's Health in Developing Country', Epidemiology, 16(5), p. s156.
Kosasih, C. E., Solehati, T., & Lukman, M. (2019). 'Effects of Health Education on Knowledge and Attituted of the Health Cadres in Prevention of HIV, Diabetes and Stroke', Jurnal Aisyah: Jurnal Ilmiah Kesehatan, 4(1). 29-36
Kruger, J. M. & Chowers, I. (2020). 'The ethical advantages of video conferencing in medical education', Medical Education Online, 25(1). doi: 10.1080/10872981.2020.1787310.
Liu, L. (2021) 'The fishermen inhabiting the Xuande and Yongle Islands in Xisha Islands', International Journal of Anthropology and Ethnology, 5(1), p. 10. doi: 10.1186/s41257-021-00051-8.
Mobo, F. D. (2021). 'The Impact of Video Conferencing Platform in All Educational Sectors Amidst Covid-19 Pandemic', Aksara: Jurnal Ilmu Pendidikan Nonformal, 7(1), p. 15. doi: 10.37905/aksara.7.1.15-18.2021.
Motamed, F., Mohsenipour, R., Seifirad, S., Yusefi, A., Farahmand, F., Khodadad, A., Falahi, G. & Najafi, M. (2012). 'Red flags of organic recurrent abdominal pain in children: study on 100 subjects.', Iranian journal of pediatrics, 22(4), pp. 457–62. Available at: http://www.ncbi.nlm.nih.gov/pubmed/23429658.
Peralta-Palmezano, J. J. and Guerrero-Lozano, R. (2019). 'Prevalence of Functional Gastrointestinal Disorders in School Children and Adolescents', The Korean Journal of Gastroenterology, 73(4), p. 207. doi: 10.4166/kjg.2019.73.4.207.
Remoundou, K. and Koundouri, P. (2009). 'Environmental Effects on Public Health: An Economic Perspective', International Journal of Environmental Research and Public Health, 6(8), pp. 2160–2178. doi: 10.3390/ijerph6082160.
Santucci, N. R. and Hyman, P. E. (2018). 'Do Functional Gastrointestinal Disorders Affect Growth and Nutrition?', The Journal of Pediatrics, 199, pp. 9–10. doi: 10.1016/j.jpeds.2018.04.006.
Thapar, N., Benninga, M. A., Crowell, M. D., Di Lorenzo, C., Mack, I., Nurko, S., Saps, M., Shulman, R. J., Szajewska, H., Van-Tilburg, M. A. L. and Enck, P. (2020). 'Paediatric functional abdominal pain disorders', Nature Reviews Disease Primers, 6(1), p. 89. doi: 10.1038/s41572-020-00222-5.
Wang, M., Han, X., Fang, H., Xu, C., Lin, X., Xia, S., Yu, W., He, J., Jiang, S. and Tao, H. (2018). 'Impact of Health Education on Knowledge and Behaviors toward Infectious Diseases among Students in Gansu Province, China', BioMed Research International, 2018, 20(1). pp. 1–12. doi: 10.1155/2018/6397340.
Zeinomar, N. and Moslehi, R. (2013). 'The Effectiveness of a Community-Based Breast Cancer Education Intervention in the New York State Capital Region', Journal of Cancer Education, 28(3), pp. 466–473. doi: 10.1007/s13187-013-0488-7.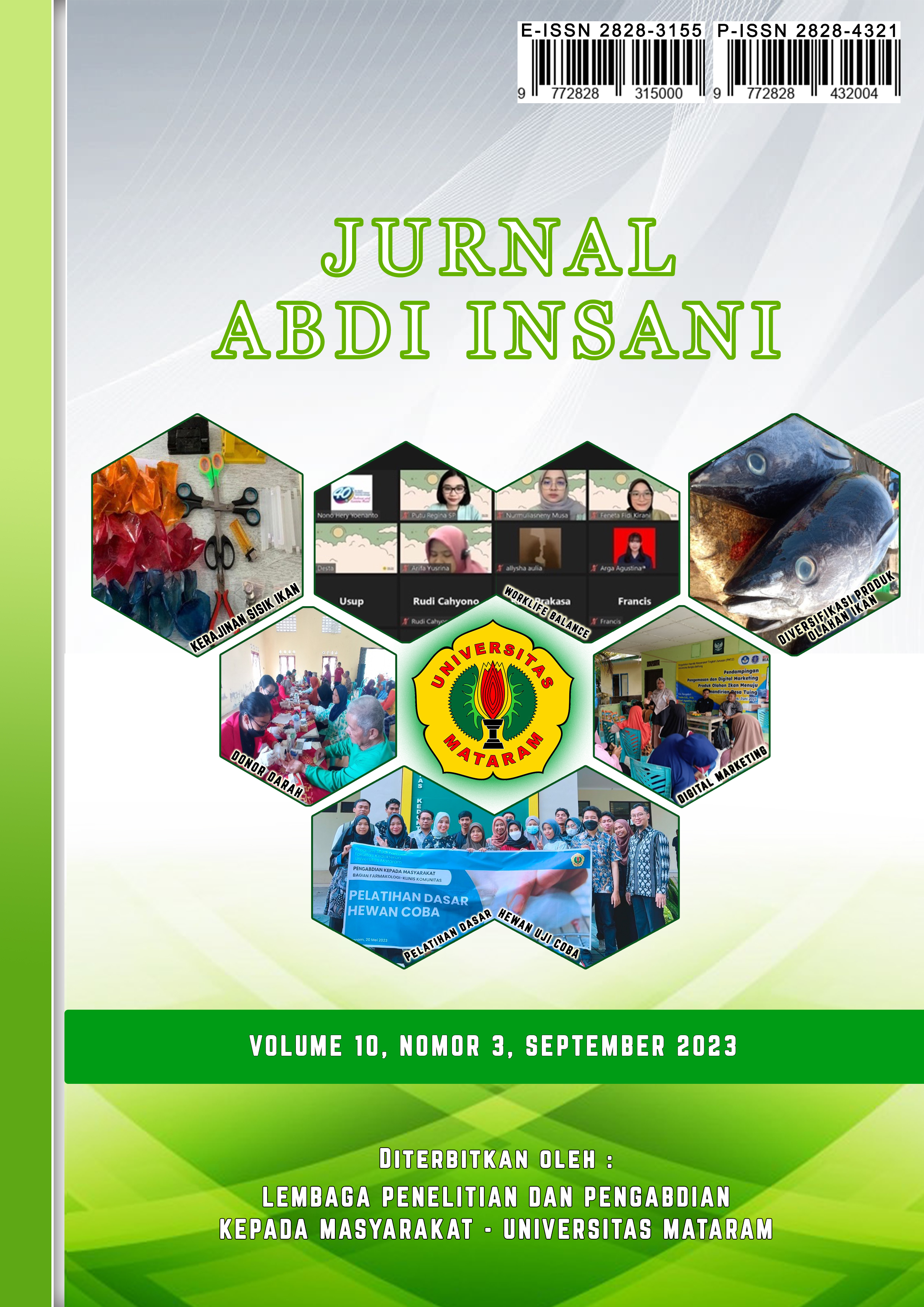 How to Cite
Sudarmo, S. M., Athiyyah, A. F., Darma, A., Puspitasari, D., Sumitro, K. R., Nesa, N. N. M., Susianto, S. C., Faizi, M., & Ranuh, R. G. (2023). UPAYA PENGUATAN PENGETAHUAN MASYARAKAT MENGENAI PENYAKIT GANGGUAN SALURAN CERNA FUNGSIONAL PADA ANAK DI PULAU MANDANGIN, KABUPATEN SAMPANG. Jurnal Abdi Insani, 10(3), 1283-1290. https://doi.org/10.29303/abdiinsani.v10i3.803