AKSELERASI PENGETAHUAN MASYARAKAT DI PULAU DOMPAK TENTANG BAKAU SEBAGAI SUMBER HIDUP
Siti Arieta

Program Studi Sosiologi, Fakultas Ilmu Sosial dan Ilmu Politik, Universitas Maritim Raja Ali Haji

Teguh Setiandika Igiasi

Program Studi Sosiologi, Fakultas Ilmu Sosial dan Ilmu Politik, Universitas Maritim Raja Ali Haji

Taufiqurrachman Taufiqurrachman

Program Studi Sosiologi, Fakultas Ilmu Sosial dan Ilmu Politik, Universitas Maritim Raja Ali Haji

Annissa Valentina

Program Studi Sosiologi, Fakultas Ilmu Sosial dan Ilmu Politik, Universitas Maritim Raja Ali Haji

Casiavera Casiavera

Program Studi Sosiologi, Fakultas Ilmu Sosial dan Ilmu Politik, Universitas Maritim Raja Ali Haji

Nikodemus Niko

Program Studi Sosiologi, Fakultas Ilmu Sosial dan Ilmu Politik, Universitas Maritim Raja Ali Haji

http://orcid.org/0000-0001-5226-5332
Keywords:
Mangrove, Knowledge Acceleration, Livelihood, Mangrove Coffee, Mangrove Soap
Abstract
The community service activity was initiated by the Department of Sociology team, Faculty of Social and Political Sciences, Universitas Maritim Raja Ali Haji with partners of Dompak Village, Tanjungpinang City. The problem of partner to be solved is the lack of attention of the community in utilizing mangrove to meet the needs of daily life. Furthermore, the program is in the form of socialization about mangroves as a source of livelihood and training on making products with raw materials for mangrove fruit, namely soap and coffee products. The program aims to re-express community knowledge about the use of mangroves. On Dompak Island, people's knowledge about the use of mangroves is only used as charcoal for cooking. This activity is carried out by two methods, namely socialization and training. Socialization was carried out to provide awareness about the importance of mangroves for the lives of the people of Dompak Island. Then the training focused on making mangrove coffee products and mangrove soap. The program is carried out in the form of socialization and training on making products in the form of coffee and soap made from the basic ingredients of mangrove fruit. From this training, the Dompak community is expected to be independent in utilizing mangroves as a source of life. Based on the results of socialization activities and training on the use of mangrove fruit as a livelihood support, there are two products produced, namely mangrove coffee products and mangrove soap. The enthusiasm of the participants who attended and listened to this socialization and training activity can be seen from their participation in direct practice of making soap and coffee from mangroves. The program provides new knowledge for the Dompak community in relation to the use of mangroves as a source of daily livelihood.
Downloads
Download data is not yet available.
References
Akbar, D., & Igiasi, T. S. (2019). Peran Pemuda dalam Pengembangan Wisata di Desa Pongkar Kabupaten Karimun. KEMUDI: Jurnal Ilmu Pemerintahan, 3(2), 193-211.
Amin, A. M., Irawat, M. H., Rohman, F., & Syamsuri, I. (2016). Sosialisasi pengelolaan hutan mangrove berkelanjutan sebagai upaya peningkatan kesadaran siswa dan masyarakat akan dampak alih fungsi lahan mangrove (studi kasus di Kecamatan Bangkala Kabupaten Jeneponto Sulawesi Selatan). In Prosiding Seminar Nasional Biologi (pp. 330-338).
Arieta, S., Niko, N., Rahmaniah, S. E., Rupita, R., & Igiasi, T. S. (2022). Pembangunan Pariwisata Perbatasan (Border Tourism) Berbasis Pengarusutamaan Gender. Sang Pencerah: Jurnal Ilmiah Universitas Muhammadiyah Buton, 8(3), 615-628.
Dewi, P. D. P., Sukerti, N. W., & Ekayani, I. A. P. H. (2013). Pemanfaatan tepung buah mangrove jenis lindur (Bruguiera gymnorrizha) menjadi kue kering putri salju. Jurnal BOSAPARIS: Pendidikan Kesejahteraan Keluarga, 2(1). 205-212.
Laela, E., Isnaini, I., Rufaida, E. Y., & Sayogo, R. (2018). Efektivitas Sabun Alami terhadap Warna Batik. Dinamika Kerajinan dan Batik, 35(2), 119-124.
Lumangkun, A. (2013). Peran Serta Masyarakat dalam Pelestarian Hutan Mangrove di Desa Batu Gajah Kabupaten Natuna. Jurnal Hutan Lestari, 1(2), 103-107.
Massie, T., Pandey, E. V., Lohoo, H. J., Mentang, F., Mewengkang, H., Onibala, H., & Sanger, G. (2020). Substitusi Tepung Buah Mangrove Bruguiera gymnorrhiza Pada Camilan Stick. Media Teknologi Hasil Perikanan, 8(3), 93-99.
Mulyani, Y., Lewaru, M. W., Haetami, K. (2018). Pemanfaatan dan pelestarian mangrove untuk meningkatkan kesejahteraan masyarakat pesisir Pangandaran. Jurnal Pengabdian Kepada Masyarakat, 2(11), 976-979.
Niko, N. (2020). Strategi pemberdayaan berbasis vocational skill pada perempuan miskin di perbatasan Entikong (Indonesia-Malaysia). Yinyang: Jurnal Studi Islam Gender Dan Anak, 15(1), 1-18.
Niko, N., & Yulasteriyani, Y. (2020). Pembangunan Masyarakat Miskin Di Pedesaan Perspektif Fungsionalisme Struktural. MUHARRIK: Jurnal Dakwah Dan Sosial, 3(02), 213-225.
Nurrachmi, I., Amin, B., & Ghalib, M. (2019). Kesadaran Lingkungan dan Pendidikan Mangrove kepada Pelajar dan Masyarakat Di Desa Sepahat, Kecamatan Bandar Laksamana Kabupaten Bengkalis. Journal of Rural and Urban Community Empowerment, 1(1), 29-34.
Putra, A., Darmawan, E., Rahmi, K., Riyadi, S. F., Arieta, S., Igiasi, T. S., & Humaedi, S. (2022). Pemetaan Sosial Desa Payamaram Kecamatan Palmatak Kabupaten Kepulauan Anambas. Takzim: Jurnal Pengabdian Masyarakat, 2(1), 6-17.
Sarofa, U., Mulyani, T., & Wibowo, Y. A. (2013). Pembuatan cookies berserat tinggi dengan memanfaatkan tepung ampas mangrove (Sonneratiacaseolaris). Jurnal Teknologi Pangan, 5(2), 58-67.
Sofarini, D., Rahmawati, H., & Yunandar, Y. (2017). IbM Pengolahan Aneka Produk Pangan Alternatif dari Vegetasi Mangrove Lindur (Bruguiera sp) dan Jeruju (Acanthus sp) di Desa Batakan Kabupaten Tanah Laut. Abdi Insani Universitas Mataram, 4(1), 14-21.
Sukamto, L. J., Damajanti, M. N., & Muljosumarto, C. (2018). Perancangan Branding Produk Body Care Humayra Sari Buah Mangrove. Jurnal DKV Adiwarna, 1(12), 10.
Sulandjari, K., Abubakar, A., & Sari, D. A. (2021). Pemberdayaan masyarakat melalui penyuluhan pengolahan buah mangrove sebagai sumber pendapatan alternatif masyarakat pesisir Karawang. Aksara: Jurnal Ilmu Pendidikan Nonformal, 7(3), 1087-1096.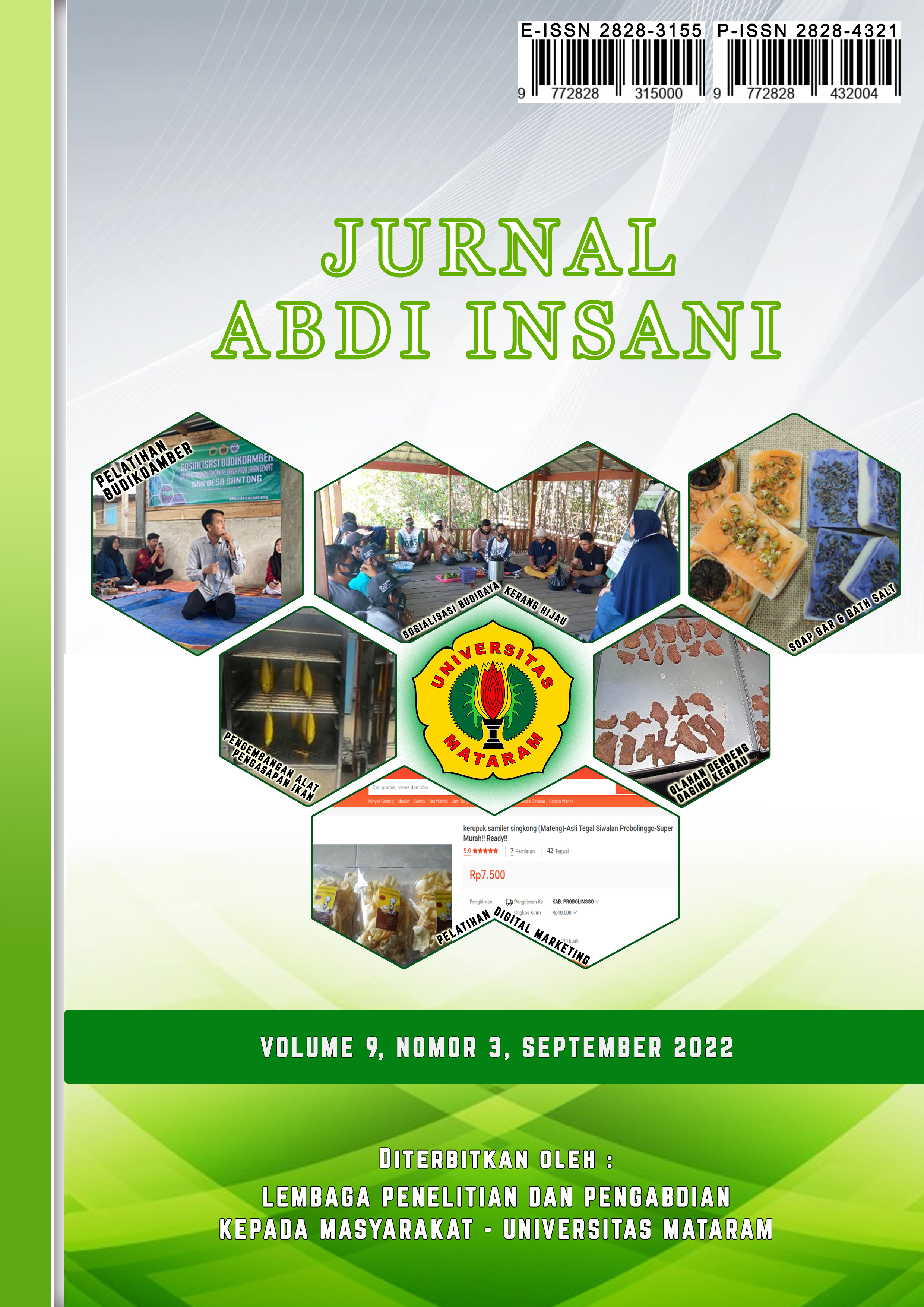 How to Cite
Arieta, S., Igiasi, T. S., Taufiqurrachman, T., Valentina, A., Casiavera, C., & Niko, N. (2022). AKSELERASI PENGETAHUAN MASYARAKAT DI PULAU DOMPAK TENTANG BAKAU SEBAGAI SUMBER HIDUP. Jurnal Abdi Insani, 9(3), 1037-1047. https://doi.org/10.29303/abdiinsani.v9i3.722