PROGRAM PENINGKATAN PERAN CAREGIVER DALAM PERAWATAN SEDERHANA LUKA DIABETIC DI MASA PANDEMIC COVID-19 DI KOTA YOGYAKARTA
Wantonoro Wantonoro

Program Studi Keperawatan, Universitas 'Aisyiyah Yogyakarta, Indonesia

Komarudin Komarudin

Program Studi Fisioterapi, Universitas 'Aisyiyah Yogyakarta, Indonesia

Dika Rizki Imania

Program Studi Psikologi, Universitas 'Aisyiyah Yogyakarta, Indonesia

Sigit Harun

Unit Homecare Rumah Sakit PKU Muhammadiyah Yogyakarta
Keywords:
caregiver's, diabetic wound, covid-19, community service
Abstract
The Province of the Special Region of Yogyakarta ranks third with the highest number of cases of Diabetes Mellitus (DM) nationally. One of the complications of DM, a severe health problem, is diabetic ulcers. Diabetic ulcer care and Covid-19 prevention are strictly associated with a high risk of transmission, a poor prognosis, and a high mortality rate when infected with Covid-19 are needed during a pandemic situation, one of which is to increase the role of the family (caregiver). The purpose of the activity is to optimize the role of caregivers in the simple care of diabetic wounds at home (stay at home) during the Covid-19 period. Comprehensive education about DM management in general and diabetic wounds in particular to families (caregivers), which is carried out using a direct method in conjunction with homecare services for simple treatment of diabetic ulcers while still implementing the Covid-19 health protocol. Providing good benefits to the family (caregiver) as evidenced by an increase in the average score of knowledge and also an increase in the average score of self-perception of ability in performing simple diabetic wound care. The development of long-term care for chronic patients can continue to be carried out by involving the active role of the family (caregiver) as the closest support system for patients. Education to the family directly increases the knowledge and confidence of the family in performing simple diabetic wound care. This program can be an alternative to optimizing infection prevention and the healing process of diabetic wounds.
Downloads
Download data is not yet available.
References
Ahmad, A., Abujbara, M., Jaddou, H., Younes, N. A., & Ajlouni, K. (2018). Anxiety and Depression Among Adult Patients With Diabetic Foot: Prevalence and Associated Factors. Journal of clinical medicine research, 10(5), 411-418. https://doi.org/10.14740/jocmr3352w
Alsanawi, Y., Hassan, A., Mustafa, A., Hattan, A., Abdullah, A., Mamdouh, M., Abdullah, J., Abdulraheem, A., Mujahid, J., & Mohammed, A. (2018). Pathogenesis and management of diabetic foot ulcers. International Journal of Community Medicine and Public Health, 5(11), 4953-4958.
Appil, R., Sjattar, E. L., Yusuf, S., & Kadir, K. (2022). Effect of Family Empowerment on HbA1c Levels and Healing of Diabetic Foot Ulcers. Int J Low Extrem Wounds, 21(2), 154-160. https://doi.org/10.1177/1534734620930120
Bekele, F., & Chelkeba, L. (2020). Amputation rate of diabetic foot ulcer and associated factors in diabetes mellitus patients admitted to Nekemte referral hospital, western Ethiopia: prospective observational study. Journal of Foot and Ankle Research, 13(1), 65. https://doi.org/10.1186/s13047-020-00433-9
Bentley, J., & Foster, A. (2007). Multidisciplinary management of the diabetic foot ulcer. Br J Community Nurs, 12(12), S6, S8, S10 passim.
Çamur, S., Batıbay, S. G., & Bayram, S. (2020). Effect of lower extremity amputation on caregiving burden in caregivers of patients with diabetic foot: Prospective cohort study. International wound journal, 17(4), 890-896. https://doi.org/10.1111/iwj.13342
Chin, Y. F., Huang, T. T., & Hsu, B. R. (2013). Impact of action cues, self-efficacy and perceived barriers on daily foot exam practice in type 2 diabetes mellitus patients with peripheral neuropathy. J Clin Nurs, 22(1-2), 61-68. https://doi.org/10.1111/j.1365-2702.2012.04291.x
Corona, G., Pizzocaro, A., Vena, W., Rastrelli, G., Semeraro, F., Isidori, A. M., Pivonello, R., Salonia, A., Sforza, A., & Maggi, M. (2021). Diabetes is most important cause for mortality in COVID-19 hospitalized patients: Systematic review and meta-analysis. Rev Endocr Metab Disord, 22(2), 275-296. https://doi.org/10.1007/s11154-021-09630-8
Dewi, G. A. A. I. K., Wibisono, S., & Pawana, I. P. A. (2020). Risk Factors for Lower Extremity Amputation in Diabetic Foot Ulcer Patients: A Case-Control Study. JUXTA: Jurnal Ilmiah Mahasiswa Kedokteran Universitas Airlangga, 11(2), 83-85. https://doi.org/10.20473/juxta.V11I22020.83-85
Dorresteijn, J. A., Kriegsman, D. M., Assendelft, W. J., & Valk, G. D. (2014). Patient education for preventing diabetic foot ulceration. The Cochrane database of systematic reviews, 2014(12), CD001488. https://doi.org/10.1002/14651858.CD001488.pub5
Huda, N., Sukartini, T., & Pratiwi, N. W. (2020). The Impact of Self Efficacy on the Foot Care Behavior of Type 2 Diabetes Mellitus Patients in Indonesia. Jurnal Ners, 14(2), 181–186. https://doi.org/10.20473/jn.v14i2.16741
Kementerian Kesehatan RI (2018). Hasil Riset Kesehatan Dasar (Riskesdas) 2018. Jakarta: Badan Penelitian dan Pengembangan Kesehatan Kementerian RI.
Kristianingrum, N. D., Ramadhani, D. A., Hayati, Y. S., & Setyoadi, S. (2021). Correlation between the burden of family caregivers and health status of people with diabetes mellitus. Journal of public health research, 10(2), 2227. https://doi.org/10.4081/jphr.2021.2227
Leung, D. Y. P., Chan, H. Y. L., Chiu, P. K. C., Lo, R. S. K., & Lee, L. L. Y. (2020). Source of Social Support and Caregiving Self-Efficacy on Caregiver Burden and Patient's Quality of Life: A Path Analysis on Patients with Palliative Care Needs and Their Caregivers. International journal of environmental research and public health, 17(15), 5457. https://www.mdpi.com/1660-4601/17/15/5457
Messenger, G., Taha, N., Sabau, S., AlHubail, A., & Aldibbiat, A. M. (2019). Is There a Role for Informal Caregivers in the Management of Diabetic Foot Ulcers? A Narrative Review. Diabetes therapy : research, treatment and education of diabetes and related disorders, 10(6), 2025-2033. https://doi.org/10.1007/s13300-019-00694-z
Mihardja, L., Soetrisno, U., & Soegondo, S. (2014). Prevalence and clinical profile of diabetes mellitus in productive aged urban Indonesians. Journal of diabetes investigation, 5(5), 507–512. https://doi.org/https://doi.org/10.1111/jdi.12177
Nabuurs-Franssen, M. H., Huijberts, M. S., Nieuwenhuijzen Kruseman, A. C., Willems, J., & Schaper, N. C. (2005). Health-related quality of life of diabetic foot ulcer patients and their caregivers. Diabetologia, 48(9), 1906-1910. https://doi.org/10.1007/s00125-005-1856-6
Oktorina, R., Wahyuni, A., & Harahap, E. (2019). Faktor Yang Berhubungan Dengan Perilaku Pencegahan Ulkus Diabetikum Pada Penderita Diabetes Mellitus REAL in Nursing Journal (RNJ), 2(3), 108-117. https://ojs.fdk.ac.id/index.php/Nursing/index
Pratama, K., Pradika, J., Kim Jiu, C., Jhoni Putra, G., Wuriani, W., Usman, U., Gusmiah, T., & Lukita, Y. (2022). Care Giver Competency in Prevention Risk of Diabetic Foot Ulcer in Diabetes Mellitus Patients. ABDIMAS: Jurnal Pengabdian Masyarakat, 4(2), 1140-1144. https://doi.org/10.35568/abdimas.v4i2.1209
Reshma, P., Rajkumar, E., John, R., & George, A. J. (2021). Factors influencing self-care behavior of socio-economically disadvantaged diabetic patients: A systematic review. Health Psychol Open, 8(2), 20551029211041427. https://doi.org/10.1177/20551029211041427
Rondhianto, R., Nursalam, N., Kusnanto, K., & Melaniani, S. (2022). The effect of family caregiver empowerment interventions on family caregiver capabilities in self-management of type 2 diabetes mellitus in Indonesia [10.1016/j.enfcli.2022.01.002]. Enfermería Clínica. https://doi.org/10.1016/j.enfcli.2022.01.002
Russo, Salvatore and Landi, Stefano, Cost-Effectiveness Analysis for the Treatment of Diabetic Foot Ulcer in France: PRP vs Standard of Care (August 26, 2020). Department of Management, Università Ca' Foscari Venezia Working Paper No. 4, Available at SSRN: https://ssrn.com/abstract=3681369 or http://dx.doi.org/10.2139/ssrn.3681369
Sari, Y., Purnawan, I., Taufik, A., & Sumeru, A. (2018). Quality of Life and Associated Factors in Indonesian Diabetic Patients with Foot Ulcers [Diabetic; foot ulcer; quality of life]. 2018, 8(1), 12. https://doi.org/10.14710/nmjn.v8i1.16815
Siddiqui, A. R., & Bernstein, J. M. (2010). Chronic wound infection: facts and controversies. Clin Dermatol, 28(5), 519-526. https://doi.org/10.1016/j.clindermatol.2010.03.009
Sourij, H., Aziz, F., Bräuer, A., Ciardi, C., Clodi, M., Fasching, P., Karolyi, M., Kautzky-Willer, A., Klammer, C., Malle, O., Oulhaj, A., Pawelka, E., Peric, S., Ress, C., Sourij, C., Stechemesser, L., Stingl, H., Stulnig, T., Tripolt, N., Wagner, M., Wolf, P., Zitterl, A., & Kaser, S. (2021). COVID-19 fatality prediction in people with diabetes and prediabetes using a simple score upon hospital admission. Diabetes Obes Metab, 23(2), 589-598. https://doi.org/10.1111/dom.14256
Suglo, J. N., Winkley, K., & Sturt, J. (2022). Prevention and Management of Diabetes-Related Foot Ulcers through Informal Caregiver Involvement: A Systematic Review. J Diabetes Res, 2022, 9007813. https://doi.org/10.1155/2022/9007813
Sulistyo, A. A. H. (2018). Management of Diabetic Foot Ulcer: A Literature Review [diabetic foot ulcer; management of foot ulcer; assessment of foot ulcer; treatment of foot ulcer]. 2018, 21(2), 10. https://doi.org/10.7454/jki.v21i2.634
Ugwu, E., Adeleye, O., Gezawa, I., Okpe, I., Enamino, M., & Ezeani, I. (2019). Predictors of lower extremity amputation in patients with diabetic foot ulcer: findings from MEDFUN, a multi-center observational study. Journal of Foot and Ankle Research, 12(1), 34. https://doi.org/10.1186/s13047-019-0345-y
Vadiveloo, T., Jeffcoate, W., Donnan, P. T., Colhoun, H. C., McGurnaghan, S., Wild, S., McCrimmon, R., & Leese, G. P. (2018). Amputation-free survival in 17,353 people at high risk for foot ulceration in diabetes: a national observational study. Diabetologia, 61(12), 2590-2597. https://doi.org/10.1007/s00125-018-4723-y
Wantonoro, W., Anita, D., Mamnuah, M., & Nguyen, T. V. (2022). The Effectiveness of the Real-case Online-based Learning on Nursing Care Plan Self-efficacy. Open Access Macedonian Journal of Medical Sciences, 10(G), 144-149. https://doi.org/10.3889/oamjms.2022.8347
Woods, T.-J., Tesfay, F., Speck, P., & Kaambwa, B. (2020). Economic Evaluations Considering Costs And Outcomes Of Diabetic Foot Ulcer Infections: A systematic review. PLoS One, 15(4): e0232395. https://doi.org/https://doi.org/10.1371/journal.pone.0232395
Wulandari, E. W., Rotnoatmodjo, S., & Salama, N. (2022). Diabetes Mellitus and Mortality among COVID-19 Patients in Jakarta, March-August 2020 [diabetes mellitus, COVID-19, DKI Jakarta, mortality]. 2022, 17(2). https://doi.org/10.21109/kesmas.v17i2.5815
Zhang, P., Lu, J., Jing, Y., Tang, S., Zhu, D., & Bi, Y. (2017). Global epidemiology of diabetic foot ulceration: a systematic review and meta-analysis (†). Ann Med, 49(2), 106-116. https://doi.org/10.1080/07853890.2016.1231932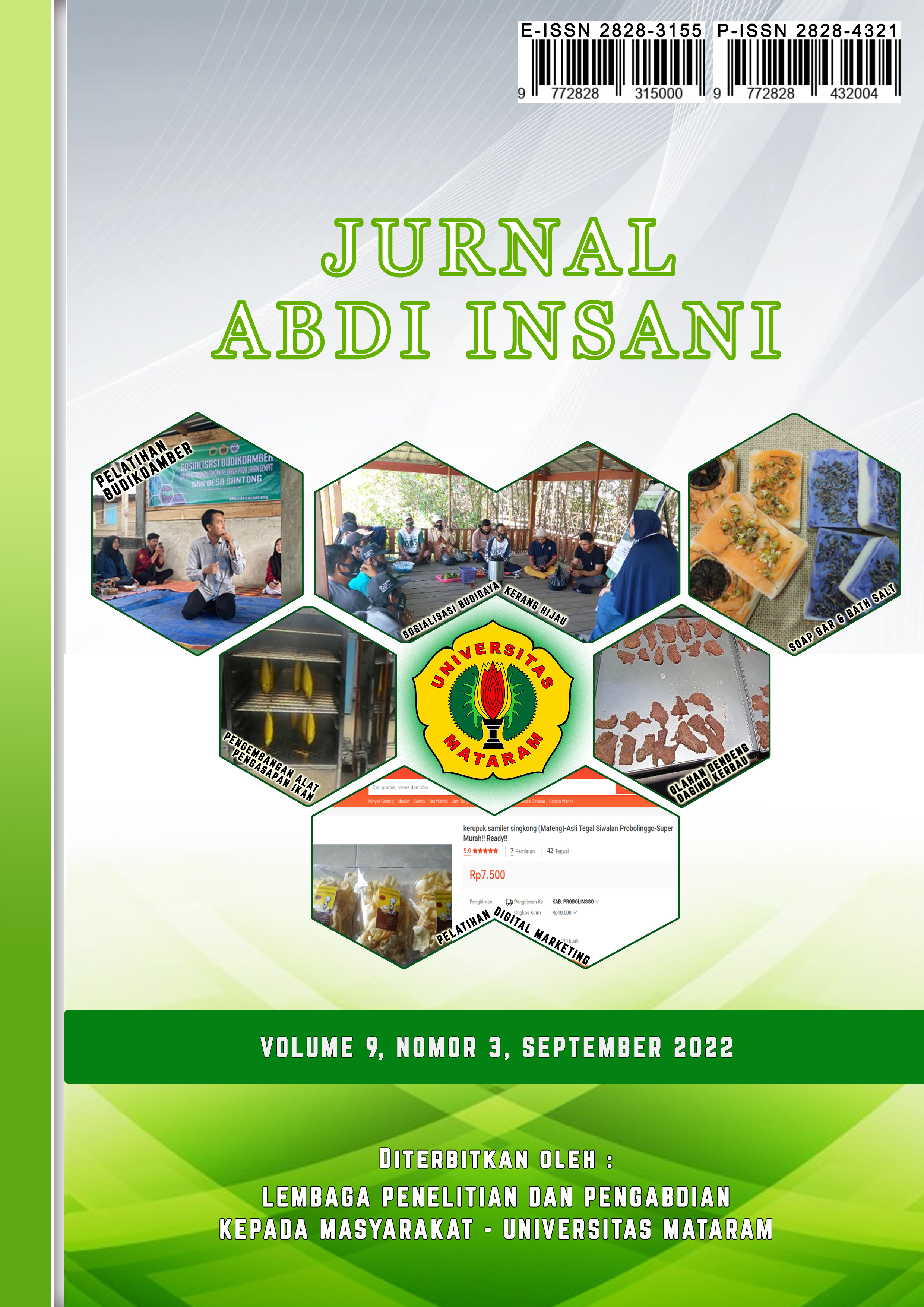 How to Cite
Wantonoro, W., Komarudin, K., Imania, D. R., & Harun, S. (2022). PROGRAM PENINGKATAN PERAN CAREGIVER DALAM PERAWATAN SEDERHANA LUKA DIABETIC DI MASA PANDEMIC COVID-19 DI KOTA YOGYAKARTA. Jurnal Abdi Insani, 9(3), 981-989. https://doi.org/10.29303/abdiinsani.v9i3.692