IDENTIFIKASI FORMALIN PADA PRODUK HASIL PERIKANAN BAGI SISWA MADRASAH ALIYAH MIFTAHUL ULUM SUNGAI LUMPUR KABUPATEN OGAN KOMERING ILIR
Sofian Sofian

Program Studi Ilmu Perikanan Fakultas Perikanan dan Kelautan Universitas PGRI Palembang

Indah Anggraini Yusanti

Program Studi Ilmu Perikanan Fakultas Perikanan dan Kelautan Universitas PGRI Palembang

Fitra Mulia Jaya

Program Studi Ilmu Perikanan Fakultas Perikanan dan Kelautan Universitas PGRI Palembang

Neny Rochyani

Program Studi Ilmu Perikanan Fakultas Perikanan dan Kelautan Universitas PGRI Palembang

Rih Laksmi Utpalasari

Program Studi Ilmu Perikanan Fakultas Perikanan dan Kelautan Universitas PGRI Palembang
Keywords:
Identification, Fishery Products, Hazardous Preservatives
Abstract
Cengal District, Ogan Komering Ilir Regency is a coastal area that has considerable fishery potential because it is surrounded by inland and coastal public waters. Difficult location access causes the distribution of fishery raw materials outside the region to be a constraint for the community considering the limited shelf life. The use of preservatives in fishery products such as formalin is often found in the market which is very dangerous if consumed by humans continuously in small quantities. This community service activity aims to provide information to the community through the role of students and teachers of Miftahul Ulum Private Madrasah Aliyah Sungai Lumpur about the dangers of consuming fishery products that contain harmful preservatives such as borax and formalin. This activity was carried out using the direct testing method of several fishery products involving students and teachers. Testing the content of formalin in fishery products is simple by using a formalin test kit. The test sample can be observed directly by changing the color of the chemical reaction of the test sample. The results of this activity directly increase students' knowledge about the dangers of consuming fishery products that contain ingredients that are harmful to health. In addition, students can physically distinguish fishery products that use hazardous materials and can directly test the hazardous content in fishery products. Through this community service activity, the community can reduce the use of hazardous materials as food preservatives and avoid consuming various processed fish products that are less healthy.   
Downloads
Download data is not yet available.
References
Cahyadi, S. (2006). Analisis dan Aspek Kesehatan Bahan Tambahan Pangan. Cetakan Pertama. Jakarta (ID): PT. Bumi Aksara.
Febrianti, D. R., & Sari, R. M. (2016). Analisis Kualitatif Formalin Pada Ikan Tongkol Yang Dijual Di Pasar Lama Banjarmasin. Jurnal Pharmascience, 02(03), 64–68.
Go, A., Kim, S., Baum, J., & Hecht, M. H. (2008). Structure and dynamics of de novo proteins from a designed superfamily of 4- helix bundles. Protein Science, 17, 821–832.
Hastusti, S. (2010). Analisis Kualitatif dan Kuantitatif Formaldehida pada Ikan Asin di Madura. Jurnal Agrointek, 4(2), 15–17.
Iftriani, I., Wahyuni, S., & Amin, H. (2016). Analisis Kandungan Bahan Pengawet Formalin Pada Tahu Yang Diperdagangkan Di Pasar Tradisional Kota Kendari (Pasar Panjang, Pasar Anduonohu, Pasar Basah Dan Pasar Baruga). Jurnal Ilmiah, 1(2), 125–130.
Ilham, F., & Frans, P. K. (2019). Pembuatan bahan dan pelatihan identifikasi formalin serta boraks dalam makanan dengan metode sederhana bagi sekelompok masyarakat yang berasal dari beberapa Kabupaten di Papua. Jurnal Pengabdian Papua., 3(1), 9–16.
Julaeha, L., Nurhayati, A., & Mahmudatusa'adah, A. (2017). Penerapan Pengetahuan Bahan Tambahan Pangan Pada Pemilihan Makanan Jajanan Mahasiswa Pendidikan Tata Boga Upi. Jurnal Kesehatan, 5(1), 17–25.
Kementrian, Kesehatan, R. (2012). Peraturan Menteri Kesehatan Republik Indonesia No 033 tahun 2012 tentang Bahan Tambahan Pangan.
Khaira, K. (2016). Pemeriksaan Formalin Pada Tahu Yang Beredar Di Pasar Batusangkar Menggunakan Kalium Permanganat (KMnO4) Dan Kulit Buah Naga. Jurnal Kesehatan, 7(1), 76–83.
Saparinto, C., & Hidayati, D. (2006). Bahan Tambahan Pangan. Yogyakarta (ID): Kanisius (Anggota IKAPI).
Siti, M. (2013). Validasi Uji Formalin Dengan Pereaksi Schryver Dan Kalium Permanganat. E-Jurnal, Universitas Negeri Yogyakarta, 2(3).
Ulfiyani, S. (2016). Pemaksimalan Peran Guru Dalam Pembelajaran Keterampilan Berbicara Di Sekolah. Transformatika, 12(2), 105–113.
Widowati, W., & Sumyati. (2006). Pengaturan tata niaga formalin untuk melindungi produsen makanan dari ancaman gulung tikar dan melindungi konsumen dari bahaya formalin. Pemberitaan Ilmiah Percikan, 63, 33–40.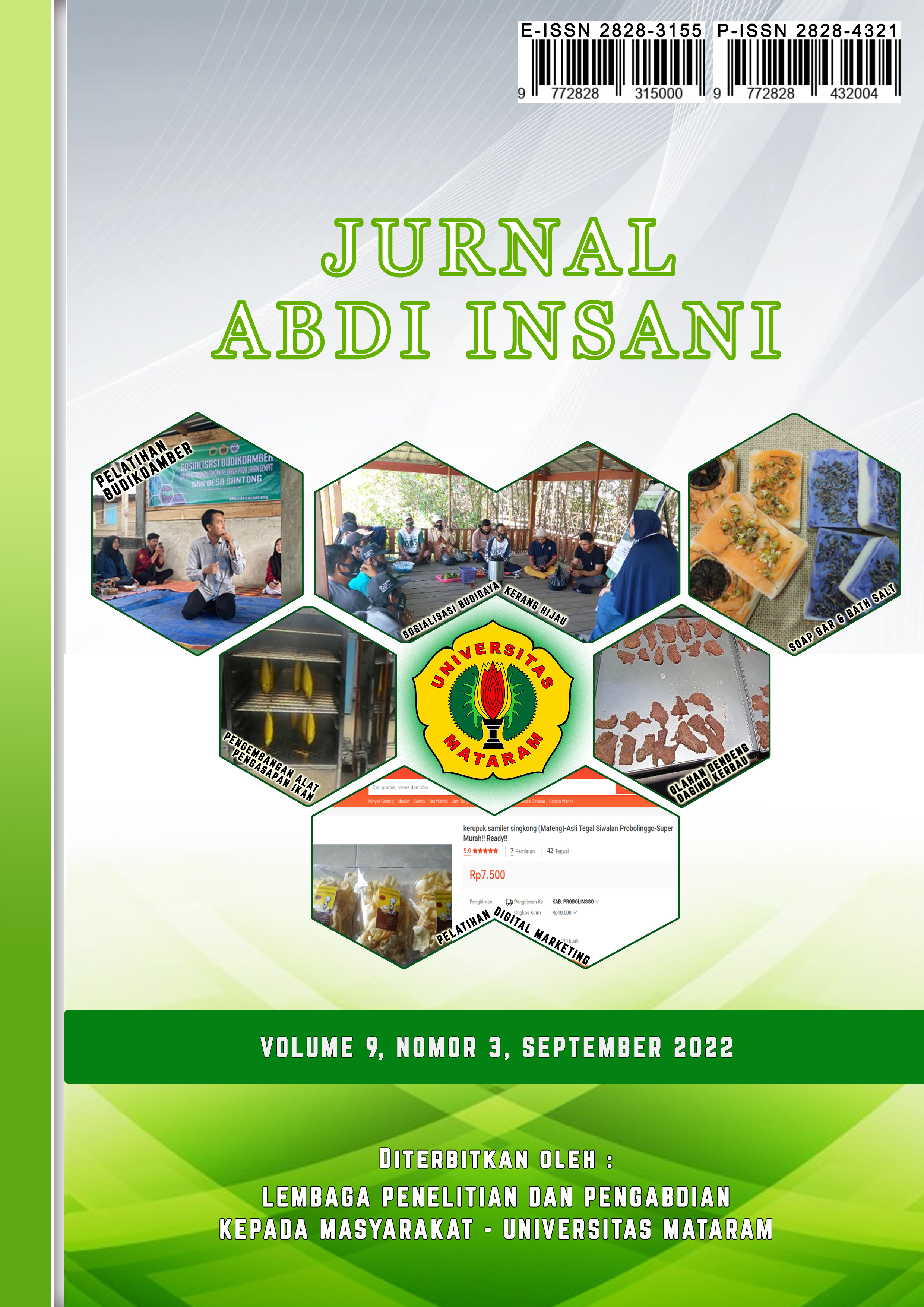 How to Cite
Sofian, S., Yusanti, I. A., Jaya, F. M., Rochyani, N., & Utpalasari, R. L. (2022). IDENTIFIKASI FORMALIN PADA PRODUK HASIL PERIKANAN BAGI SISWA MADRASAH ALIYAH MIFTAHUL ULUM SUNGAI LUMPUR KABUPATEN OGAN KOMERING ILIR. Jurnal Abdi Insani, 9(3), 1090-1098. https://doi.org/10.29303/abdiinsani.v9i3.627