PENDAMPINGAN UMKM BERBASIS DIGITAL MARKETING UNTUK MENINGKATKAN KEUNGGULAN KOMPETITIF PRODUK DI DESA SUMBERBULU
Loviga Denny Pratama

Program Studi Tadris Matematika, Universitas Islam Zainul Hasan Genggong

Anisa Yulia Putri

Program Studi Tadris Matematika, Universitas Islam Zainul Hasan Genggong

Novi Ayu Yulia

Program Studi Tadris Matematika, Universitas Islam Zainul Hasan Genggong

Wahyu Lestari

Program Studi Tadris Matematika, Universitas Islam Zainul Hasan Genggong
Keywords:
Community Service, Digital Marketing, MSME
Abstract
Digital media can support Micro, Small and Medium Enterprises (MSMEs) to increase brand awareness of their products, so they can gain competitive advantage and reach a wider market. However, not all MSME actors have the ability to use digital media to support their business. One of them is for SMEs in Sumberbulu Village, Probolinggo Regency. This Community Service is carried out with Zainul Hasan Islamic University students through the Community Service Program. The purpose of this program is to increase the knowledge and skills of MSMEs about creative digital marketing strategies and their understanding of the market so that they can create online stores for their businesses. The method of community service uses the ABCD (Asset-Based Community-driven Development) method. The result of this community service is that MSME actors in Sumberbulu Village are able to create online stores. So that they can promote their products through the marketplace and social media and ultimately increase their income. Through online stores, it is also possible for MSME actors in Sumberbulu Village to expand their market reach. In addition, the output of this community service activity is the design of MSME product packaging and websites. It can be concluded that in this program, in addition to implementing the tri dharma of higher education, this community service also helps government programs in encouraging MSME actors to be able to compete in the global market so that they can prosper the surrounding community.
Downloads
Download data is not yet available.
References
Afifah, A. N., Najib, M., Sarma, M., & Leong, Y. C. (2018). The influences towards business success of MSMEs creative sector. Journal of Applied Management (JAM), 16(3), 377–386.
Atmaja, H. E., & Verawati, D. M. (2020). Peluang Bisnis di Era Covid-19. Jurnal Akuntansi Dan Bisnis, 6(2).
Barovih, G., & Nurussama. (2018). Penerapan E-Commerce dan Inovasi Kemasan untuk Produsen Pia Kota Palembang. Prosiding Seminar Nasional Hasil Litbangyasa Industri, 1(1).
Erlyana, Y., & Nadya. (2020). The Effect of Packaging Design on the Improvement of MSME Brand Value Using the Pre-test and Post-tests Methods. https://doi.org/10.2991/assehr.k.201202.086
Harinie, L. T., Hukom, A., & Juma'eh, J. (2020). Pendampingan dalam Memasarkan Produk Hasil Usaha UKM melalui Penggunaan Media Sosial di Kabupaten Gunung Mas Kalimantan Tengah. Engagement: Jurnal Pengabdian Kepada Masyarakat, 4(1). https://doi.org/10.29062/engagement.v4i1.179
Harjito, B., Mufidah, F., & Afifah, L. N. (2021). Peran Digital Marketing dalam Mendongkrak Omset bagi UMKM Emping Mlinjo di Desa Pucangan Kecamatan Kartasura Kabupaten Sukoharjo. SEMAR (Jurnal Ilmu Pengetahuan, Teknologi, Dan Seni Bagi Masyarakat), 10(2). https://doi.org/10.20961/semar.v10i2.49127
Langan, R., Cowley, S., & Nguyen, C. (2019). The State of Digital Marketing in Academia: An Examination of Marketing Curriculum's Response to Digital Disruption. Journal of Marketing Education, 41(1). https://doi.org/10.1177/0273475318823849
Maharani, H. C., & Jaeni, J. (2021). Determinan Kebijakan Pemerintah Sebuah Solusi Keberlangsungan Usaha UMKM di Tengah Pandemi Covid-19. AKSES: Jurnal Ekonomi Dan Bisnis, 16(1). https://doi.org/10.31942/akses.v16i1.4469
Mulyaningsih, T., Aprianti, R., Ardianti, N. L. P. J., Aswin, W. A., Faisal, M., Hikmah, N., & Keraf, N. H. D. (2019). Pengembangan Umkm Kerupuk Mambal Sebagai Wujud Ekonomi Kreatif di Desa Mambalan Kabupaten Lombok Barat. Abdi Insani, 6(2). https://doi.org/10.29303/abdiinsani.v6i2.223
Nemat, B., Razzaghi, M., Bolton, K., & Rousta, K. (2019). The role of food packaging design in consumer recycling behavior-a literature review. In Sustainability (Switzerland) (Vol. 11, Issue 16). https://doi.org/10.3390/su11164350
Pratomo, A., Najwaini, E., Irawan, A., & Risa, M. (2019). Optimasi E-Commerce Dengan Penerapan Teknik Seo (Search Engine Optimization) Untuk Meningkatkan Penjualan Pada UKM Nida Sasirangan. Jurnal IMPACT: Implementation and Action, 1(1). https://doi.org/10.31961/impact.v1i1.615
Rizkavirwan, D., & Erica, L. (2020). Improving the Persuasion Function in Packaging Design Through Redesigning Ready to Use Plastic Pouch Food Packaging for Micro Small Medium Enterprise Businesses. https://doi.org/10.2991/assehr.k.201202.053
Rokhmah, B. E., & Yahya, I. (2020). Tantangan, Kendala, dan Kesiapan Pemasaran Online UMKM di Desa Nglebak, Kecamatan Tawangmangu, Kabupaten Karanganyar. Jurnal Manajemen Zakat Dan Wakaf, 1(1).
Saura, J. R. (2021). Using Data Sciences in Digital Marketing: Framework, methods, and performance metrics. Journal of Innovation and Knowledge, 6(2). https://doi.org/10.1016/j.jik.2020.08.001
Triyanto, W. A., & Kudus, N. S.-U. M. (2017). Optimasi Meta Tag HTML untuk Meningkatkan Search Engine Optimization (SEO) pada Website E-Commerce UMKM. IJNS - Indonesian Journal on Networking and Security, 6(4).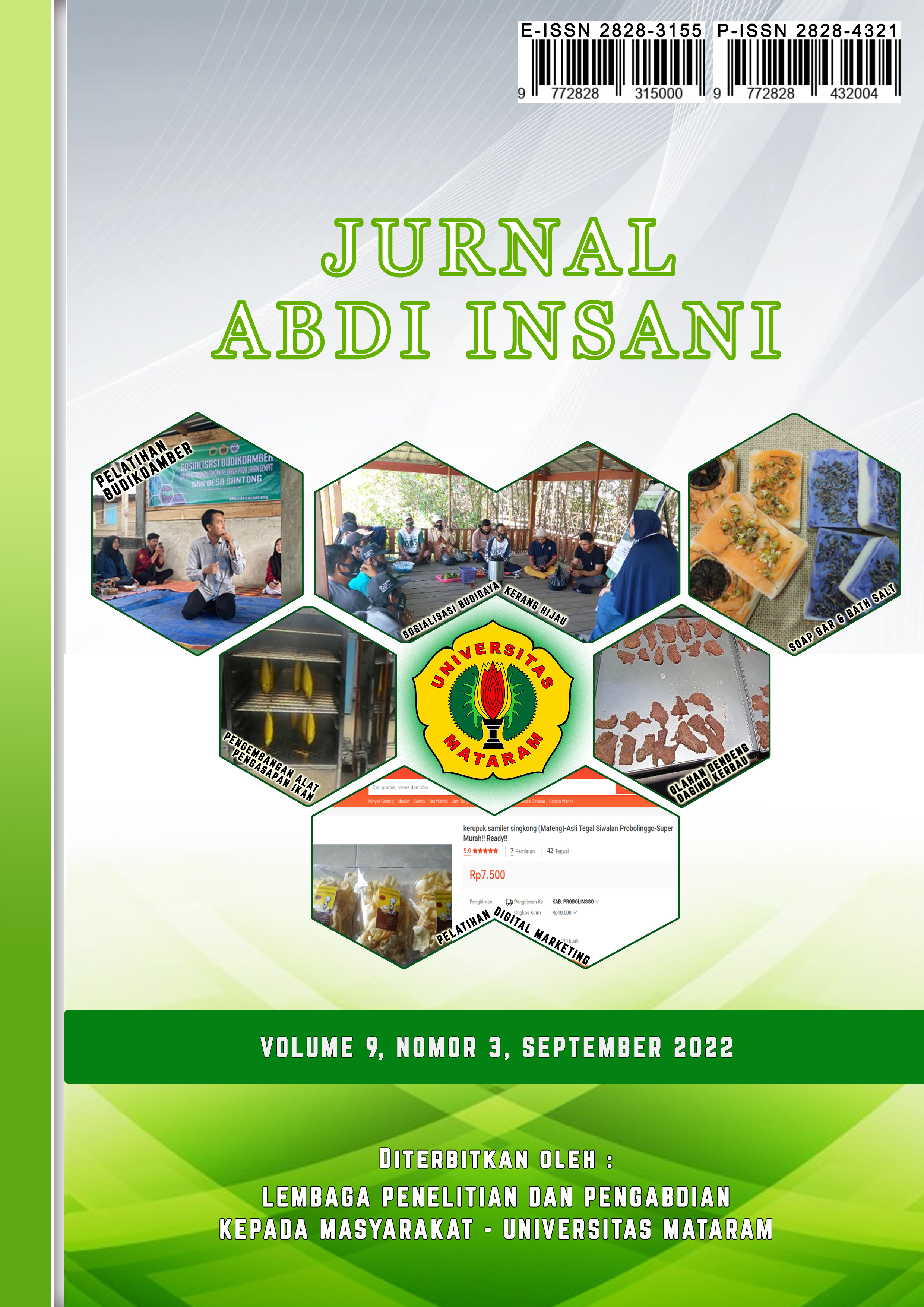 How to Cite
Pratama, L. D., Putri, A. Y., Yulia, N. A., & Lestari, W. (2022). PENDAMPINGAN UMKM BERBASIS DIGITAL MARKETING UNTUK MENINGKATKAN KEUNGGULAN KOMPETITIF PRODUK DI DESA SUMBERBULU. Jurnal Abdi Insani, 9(3), 770-778. https://doi.org/10.29303/abdiinsani.v9i3.577