PENERAPAN ALAT PENGASAPAN IKAN RAMAH LINGKUNGAN DI KAMPUNG NELAYAN BANGKO BANGKO SEKOTONG LOMBOK BARAT
Sujita Darmo

Jurusan Teknik Mesin Fakultas Teknik Universitas Mataram

Zainuri Achmad

Jurusan Teknik Mesin Fakultas Teknik Universitas Mataram

I Made Adi Sayoga

Jurusan Teknik Mesin Fakultas Teknik Universitas Mataram

Nur Kaliwantoro

Jurusan Teknik Mesin Fakultas Teknik Universitas Mataram

Ida Bagus Alit

Jurusan Teknik Mesin Fakultas Teknik Universitas Mataram
Keywords:
Bangko Bangko fishing village, fish fumigator, tongkol fish, smoked fish
Abstract
Bangko Bangko is a fishing village located in Bangko Bangko Bay, Batuputih Village, Sekotong District, West Lombok, West Nusa Tenggara. In the fishing village of Bangko-Bangko, only 60 families live, with a livelihood as fishermen and fishing. Because the position of the bay has sufficient waters, so many fish can be caught, especially tongkol. Around 200 fishing boats docked in Bangko Bangko Bay, with the catch in the form of tuna. The abundance of tuna catches resulted in a low price, 5 thousand per kg of fresh fish and 7.5 thousand for pindang fish per bamboo package containing 5 fish. The purpose of the service activities that have been carried out in August 2018 is to increase the selling price of tuna. The method of activity to increase the selling price of tongkol  by processing it into smoked fish, using an environmentally friendly fish smoking device. As a result, the smoked fish produced has a more savory aroma, a distinctive smoke smell, so the price increases for packaging ranging from 12.5 to 15 thousand rupiah. Smoked fish is relatively more durable than fresh fish and pindang fish, so the distribution of sales reaches Mataram City. Other activity outputs are in the form of transfer of skills in manufacturing techniques and steps for implementing environmentally friendly fish smoking, as well as manuals on smoking fish techniques. The application of environmentally friendly fish smoking tools in this community service program can improve the welfare of the fishing village of Bangko Bangko and its surroundings.
Downloads
Download data is not yet available.
References
Bimantara, F., Supriadi, A., & Hanggita, S. (2015). Modifikasi Dan Pengujian Alat Pengasapan Ikan Sistem Kabinet. Jurnal FishtecH, 4(1), 46–56. https://doi.org/10.36706/fishtech.v4i1.3498
Dian Ayu Liana Dewi, M. (2017). Upaya Peningkatan Kualitas Produksi Dan Manajemen Usaha Pada Umkm Genteng Dan Batu Bata Di Kabupaten Rembang. Jurnal Pengabdian Pada Masyarakat (PENAMAS), 1(1), 34–44. Retrieved from https://www.unisbank.ac.id/ojs/index.php/penamas/article/download/4966/1486
Jeujanan, S., Ijong, F. G., Onibala, H., & Mentang, F. (2015). Organoleptic quality and TPC of smoked skipjack tuna (Katsuwonus pelamis, L) in Jayapura, Papua. Aquatic Science & Management, 3(1), 26. https://doi.org/10.35800/jasm.3.1.2015.12435
Kaukab, E. (2021). Pemasaran Produk Berbasis Teknologi Informasi Sederhana. Retrieved from https://www.researchgate.net/publication/351070031_Pemasaran_Produk_Berbasis_Teknologi_Informasi_Sederhana
Mardiani, I. E. dkk. (2013). Analisis Keputusan Pembelian Melalui Media Online (E-Marketing). Jurnal Ekonomi, 4(November), 151–161. Retrieved from https://media.neliti.com/media/publications/17909-ID-analisis-keputusan-pembelian-konsumen-melalui-media-online-e-marketing.pdf
Muhammad Yusuf, Yolanda Aprilla, Ilham Mardotillah, A. D. S. (2018). Rancang Bangun Alat Pengasap Ikan Development. Agroteknika, 2(January), 6. Retrieved from https://media.neliti.com/media/publications/285166-rancang-bangun-alat-pengasap-ikan-12e36126.pdf
Nugroho, Rudy A., Santoso, Y. G. G., Nur, F. M., Hariani, N., & Solikin, S. (2016). A preliminary study on the biodiversity of fish in the suhui river, Muara Ancalong, East Kutai, Indonesia. AACL Bioflux, 9(2), 345–351.
Nugroho, Rudy Agung, & Sanjaya, A. S. (2018). Penerapan Mesin Pengasap Ikan Bagi Nelayan di Sungai Suwi Muara Ancalong Kutai Timur. Jurnal Pengabdian Kepada Masyarakat, 8(2), 1. https://doi.org/10.30999/jpkm.v8i2.216
Nur Widyanto, W., Ibrahim, R., & Dwi Anggo, A. (2015). Pengaruh Suhu Pengolahan dengan Metoder Steam jacket Sederhana Terhadap Kualitas Minyak Ikan hati Pari Mondol. Jurnal Pengolahan Hasil Perikanan Indonesia, 18(1), 11–18. https://doi.org/10.17844/jphpi.2015.18.1.11
Prasetyo, D. (2015). Efek Perbedaan Suhu Dan Lama Pengasapan Terhadap Kualitas Ikan Bandeng (Chanos Chanos Forsk) Cabut Duri Asap. Jurnal Aplikasi Teknologi Pangan, 4(3). https://doi.org/10.17728/jatp.v4i3.134
Robert Hutagalung. (2014). Analisa Rancangan Percobaan Pengaruh Jenis Bahan Bakar Terhadap Kandungan Protein Ikan Asap. ARIKA, 8(2), 93–99.
Swastawati, F., Cahyono, B., & Wijayanto, D. (2017). IbM PENERAPAN IPTEKS ASAP CAIR PADA SENTRA PENGASAPAN IKAN DI DESA WONOSARI, KECAMATAN BONANG, KABUPATEN DEMAK. Info, 17(3), 143–165. Retrieved from https://ejournal2.undip.ac.id/index.php/info/article/view/1067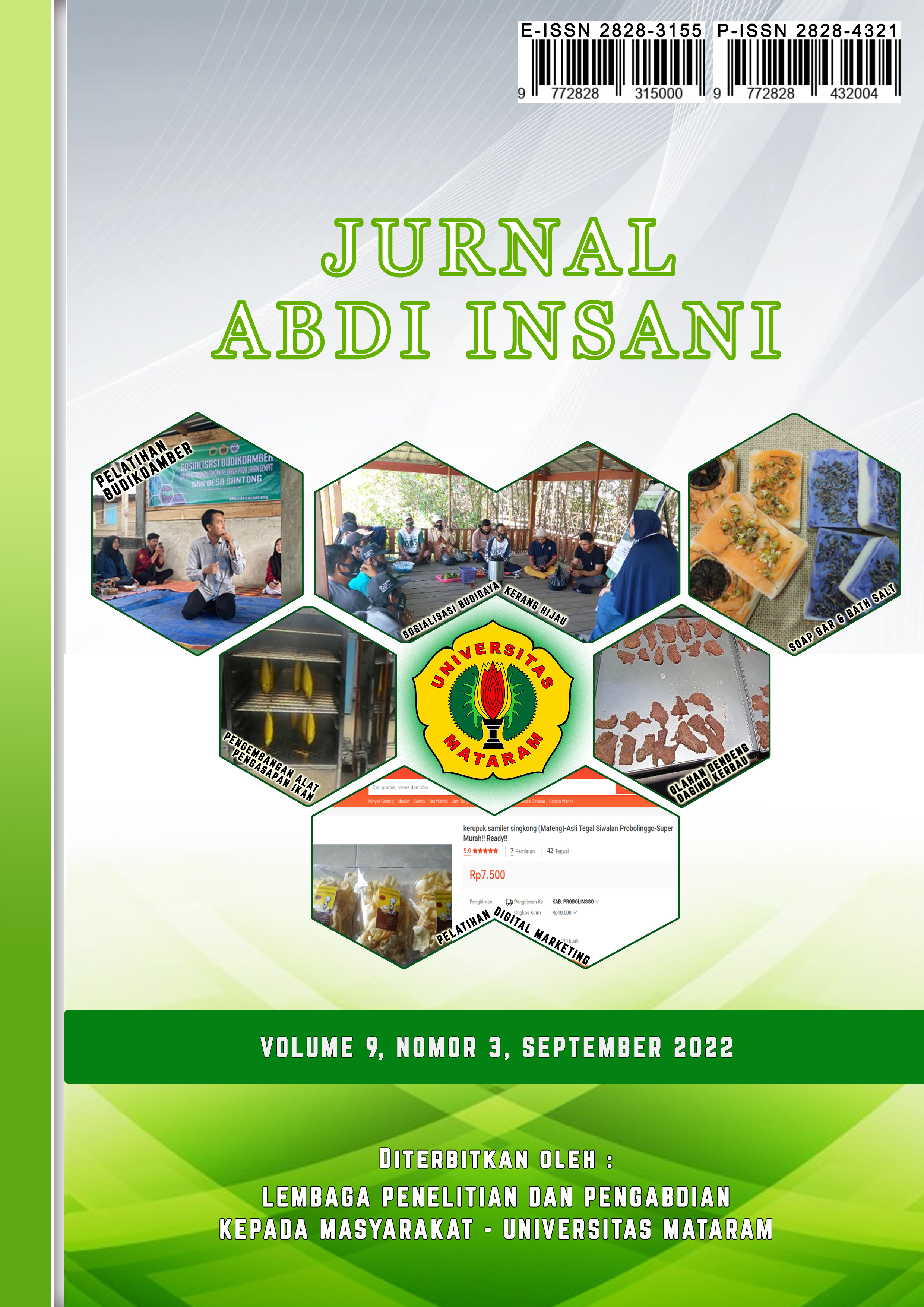 How to Cite
Darmo, S., Achmad, Z., Sayoga, I. M. A., Kaliwantoro, N., & Alit, I. B. (2022). PENERAPAN ALAT PENGASAPAN IKAN RAMAH LINGKUNGAN DI KAMPUNG NELAYAN BANGKO BANGKO SEKOTONG LOMBOK BARAT . Jurnal Abdi Insani, 9(3), 779-786. https://doi.org/10.29303/abdiinsani.v9i3.524