PENCEGAHAN DAN PENANGANAN BALITA STUNTING MELALUI PEMAHAMAN SERTA IMPLEMENTASI BUKU KESEHATAN IBU DAN ANAK (KIA) OLEH IBU BALITA DAN KADER DI DESA BANARAN, KABUPATEN NGANJUK, JAWA TIMUR
Irwanto Irwanto

Departemen Ilmu Kesehatan Anak, Fakultas Kedokteran, Universitas Airlangga

Risky Vitria Prasetyo

Departemen Ilmu Kesehatan Anak, Fakultas Kedokteran, Universitas Airlangga

Hanna Dyahferi Anomsari

Departemen Ilmu Kesehatan Anak, Fakultas Kedokteran, Universitas Airlangga

Ayling Sanjaya

Departemen Ilmu Kesehatan Anak, Fakultas Kedokteran, Universitas Airlangga

Egi Azhar Rafsanjani

Departemen Ilmu Kesehatan Anak, Fakultas Kedokteran, Universitas Airlangga

Firyal Nadiah Rahmah

Departemen Ilmu Kesehatan Anak, Fakultas Kedokteran, Universitas Airlangga
Keywords:
Stunting, MCH Handbook, Child, Cadres, Monitoring
Abstract
Stunting is still a problem around the world, particularly Indonesia where the prevalence of stunting in 2020 was 26.92%. The short-term impact of stunting included an increased risk of morbidity and mortality due to infectious diseases, while, long-term impacts of stunting can cause obesity, impaired cognitive function, and work productivity. One of the efforts to prevent stunting is the use of the Maternal and Child Health (MCH) Handbook by pregnant women and children aged under 5 years which has not been implemented properly. This community service activity aims to provide training in filling out the MCH handbook and educate the public on the importance of monitoring stunting in babies and children. Methods for implementing this activity include lecture in presentation form, discussion, and training approaches. A pre-test and post-test were carried out before and after this activity. A total of 80 participants took part in this activity, including the Head of Kertosono District, the Head of Banaran Village, the Head of the Kertosono Community Health Center and his staff, health cadres, and mothers who have stunted children, consisting of 37 Banaran's health cadres and mothers with stunted toddlers (72% of total stunted children in Banaran). It was found that there was an increase in participants' ability to fill out the MCH Handbook; before the activity, the mean pre-test score was 77.03 ± 16.64 and the post-test score was 88.65 ± 12.508. Training in understanding how to fill out the MCH Handbook to prevent stunting is very effective.
Downloads
Download data is not yet available.
References
Achadi, E. L., Taha, A. R., Achadi, A., Syam, A. F., Setiarini, A., Utari, D. M., & Tahapany, D. L. (2021). Pencegahan stunting-pentingnya peran 1000 hari pertama kehidupan. Depok (ID): Rajawali Pers.
Ambarwati, D, Kusuma, I. R, Riani, E. N., & Safitri, M. D. (2022). Pemanfaatan Buku KIA sebagai sarana deteksi dini stunting secara mandiri. Jurnal Berdaya Mandiri, 4 (1), 852-9.
Badan Pusat Statistika Provinsi Jatim. (2021). Available at: https://nganjukkab.bps.go.id/indicator/12/753/1/penduduk-menurut-desa-kelurahan-di-kec-kertosono.html
Cruz, L. M. G, Azpeitia, G. G, Súarez, D. R, Rodríguez, A. S., & Ferrer, J. F. L. (2017). Factors Associated with Stunting among Children Aged 0 to 59 Months from the Central Region of Mozambique. Nutrients, 9, 491.
Divisi Promosi Kesehatan UPTD PKM Kertosono. (2019). Available at: https://www.youtube.com/watch?v=aJntisF84LQ.
Irwanto, I, Ikhtiar, I, Lutfiya, I., & Purnomo, W. (2019). Determinants of maternal and child health handbook utilization in Surabaya, Indonesia. Folia Medica Indonesiana, 55(3), 223-28.
Kaneko, K, Niyonkuru, J, Juma, N, Mbonabuca, T, Osaki, K., & Aoyama, A. (2017). Effectiveness of the Maternal and Child Health handbook in Burundi for increasing notification of birth at health facilities and postnatal care uptake. Global Health Action, 10 (1), 1-9.
Kementerian Kesehatan Republik Indonesia. (2023). Buku Kesehatan Ibu dan Anak. Available at: https://ayosehat.kemkes.go.id/pub/files/a8c1c20728a2d8d55f16a7e24f52cf97.pdf
Mulyaningsih, T, Mohanty, I, Widyaningsih, V, Gebremedhin, T. A., & Miranti, R. (2021). Beyond personal factors: Multilevel determinants of childhood stunting in Indonesia. PLOS One 16(11), e0260265.
Mustakim, M. R. D, Irwanto, Irawan, R, Irmawati, M., & Setyoboedi, B. (2022). Impact of Stunting on Development of Children between 1-3 Years of Age. Ethiopian Journal of Health Science, 32(3), 569-78.
Peraturan Presiden Republik Indonesia. (2021). Percepatan Penurunan Stunting. Available at: https://peraturan.bpk.go.id/Home/Details/174964/perpres-no-72-tahun-2021.
Ponum, M, Khan, S, Hasan, O, Mahmood, M. T, Abbas, A, Iftikhar, M., & Arshad. (2020). Stunting diagnostic and awareness: impact assessment study of sociodemographic factors of stunting among school-going children of Pakistan. BMC Pediatrics, 20 (232), 1-9.
Ranade, S. C, Rose, A, Rao, M, Gallego, J, Gressens, P., & Mani, S. (2008). Different types of nutritional deficiencies affect different domains of spatial memory function checked in a radial arm maze. Neuroscience, 152(4), 859–66.
Riset Kesehatan Dasar (Riskesdas). (2018). Laporan Nasional. Badan Penelitian dan Pengembangan Kesehatan Kementerian RI 2018. Available at www.depkes.go.id.
Studi Status Gizi Indonesia (SSGI). (2021). Buku Saku Hasil Studi Status Gizi Indonesia (SSGI) Tingkat Nasional, Provinsi, Kabupaten/Kota Tahun 2021. Available at: https://www.litbang.kemkes.go.id/buku-saku-hasil-studi-status-gizi-indonesia-ssgi-tahun-2021/
Walker, S. P, Wachs, T. D, Grantham-McGregor, S, Black, M. M, Nelson, C. A., & Huffman, S. L, et al. (2011). Inequality in early childhood: risk and protective factors for early child development. Lancet, 378(9799), 1325–38.
World Health Organization (WHO). (2006). Child Growth Standard. Available at https://www.who.int.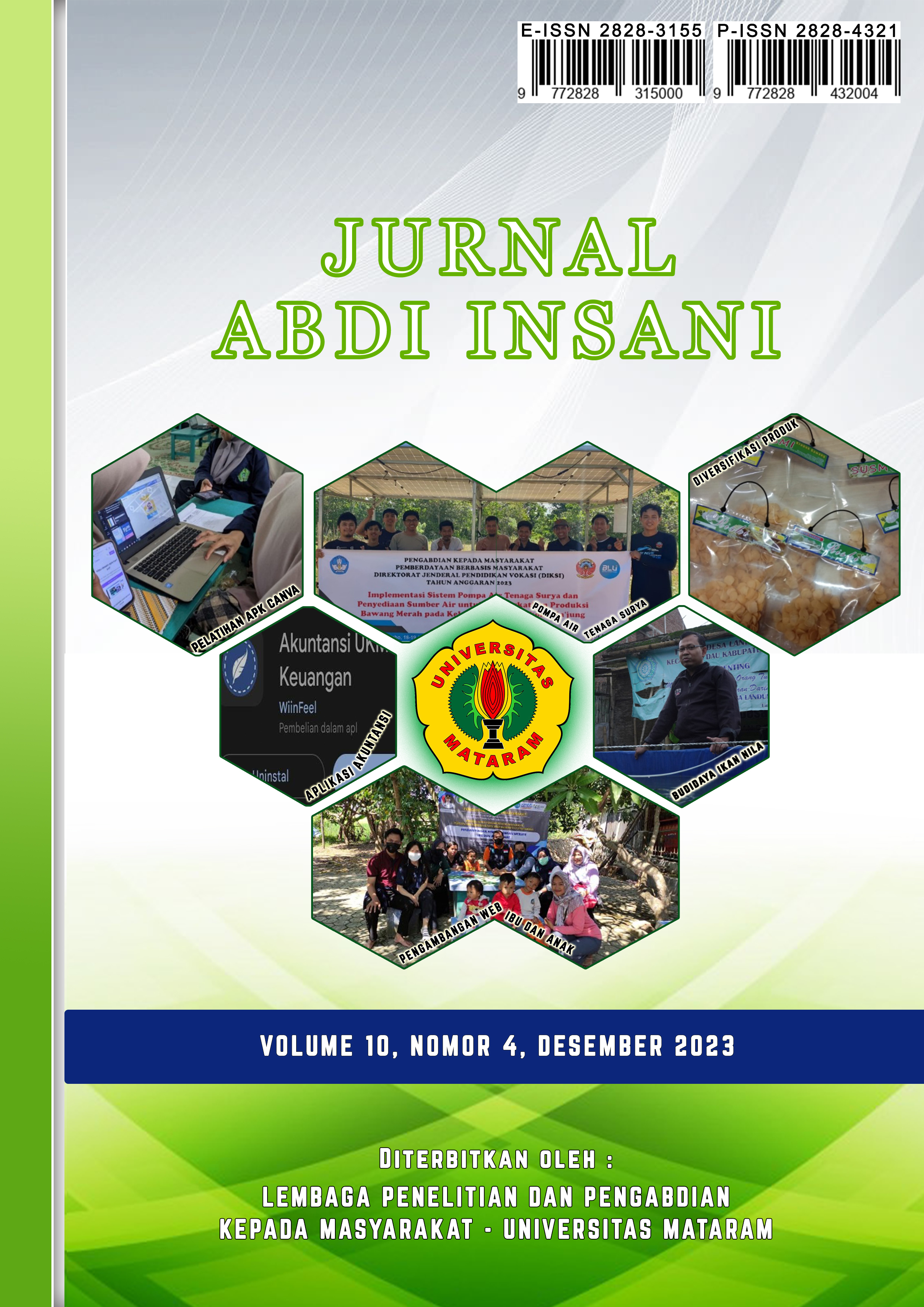 How to Cite
Irwanto, I., Prasetyo, R. V., Anomsari, H. D., Sanjaya, A., Rafsanjani, E. A., & Rahmah, F. N. (2023). PENCEGAHAN DAN PENANGANAN BALITA STUNTING MELALUI PEMAHAMAN SERTA IMPLEMENTASI BUKU KESEHATAN IBU DAN ANAK (KIA) OLEH IBU BALITA DAN KADER DI DESA BANARAN, KABUPATEN NGANJUK, JAWA TIMUR. Jurnal Abdi Insani, 10(4), 2246-2254. https://doi.org/10.29303/abdiinsani.v10i4.1157