PENINGKATAN LITERASI DIGITAL GURU MELALUI PKM WORKSHOP PEMBUATAN MEDIA INTERAKTIF BERBASIS ANDROID DI YAYASAN PONDOK PESANTREN NURUL HUDA OKU TIMUR
Arini Rosa Sinensis

Program Studi Pendidikan Fisika, Universitas Nurul Huda

Thoha Firdaus

Program Studi Pendidikan Fisika, Universitas Nurul Huda

Uli Riski

Program Studi Pendidikan Teknologi Informasi, Universitas Nurul Huda
Keywords:
Digital Literacy, Interactive Media, Android
Abstract
Technological developments in education lead teachers to continue learning with the aim of creating a more interactive and interesting learning experience for students. This is also in line with the implementation of the independent curriculum. Teachers at the Nurul Huda Islamic Boarding School Foundation are 56.3% of the total 253 teachers, teachers have not been able to utilize technology in learning and many of the teachers stated that they could not create technology-based interactive learning media such as making Android media. The aim of this Workhsop is to provide information and insight to teachers in using technology as a learning medium and provide training and practice in creating Android-based interactive media using Kodular applications. The methods for implementing this workshop are: 1) Providing material on digital learning innovations such as Artificial Intelligence and Kodular, 2) Training in Creating Android-Based Interactive Media with Kodular Applications, 3) Discussion and Problem Solving, 4) Assignments and Exercises, 5) Evaluation of Implementation Program. The results of this PKM workshop activity showed that YPPNH teachers had: 1) understood and added insight into technological developments in learning innovation, 2) knew how to create Android-based interactive media using the Kodular application and 3) had produced Android-based interactive media. with material according to the field of competency and subjects taught and, 4) the results of the implementation evaluation are seen from partner satisfaction with the implementation of the PKM Workshop on Making Android-Based Interactive Learning Media. The results of the questionnaire analysis showed that partners expressed satisfaction with an average percentage of 85.09% with the implementation of the Program or workshop activities. In conclusion, there has been an increase in teachers' digital literacy and their skills in creating Android media that can be used for classroom learning.
Downloads
Download data is not yet available.
References
Afrida, A., Harizon, H., Bakar, A., & Sanova, A. (2018). Pelatihan Pengembangan Media Pembelajaran Interaktif Berbasis Multimedia Sebagai Upaya Meningkatkan Kompetensi Profesionalisme Dan Kreativitas Guru-Guru Sma Muaro Jambi. Jurnal Karya Abdi Masyarakat, 2(1), 15–22.
Agustina, I., Asep Sumarni, R., & Luhur, S. D. (2017). Pengembangan Media Pembelajaran Fisika Mobile Learning berbasis Android. Jurnal Penelitian & Pengembangan Pendidikan Fisika, 3(1), 57–62. https://doi.org/10.21009/1
Fauzi, L. M., Gazali, M., Hayati, N., Satriawan, R., Fitri Rahmawati, B., & Dewi, G. (2022). Workshop Desain Media Pembelajaran Berbasis Android Dalam Menghadapi Implementasi Kurikulum Merdeka. Al-Mu'awanah: Jurnal Pengabdian Kepada Masyarakat, 3(2), 104–112.
Haq, F., & Sujatmiko, B. (2021). Studi Literatur Penggunaan Media Pembelajaran Mobile Learning Berbasis Android Pada Mata Pelajaran Sistem Operasi. Jurnal IT-EDU, 06(2), 78–84.
Haryani, P., & Triyono, J. (2017). Augmented Reality (Ar) Sebagai Teknologi Interaktif Dalam Pengenalan Benda Cagar Budaya Kepada Masyarakat. Jurnal SIMETRIS, 8(2), 807–812.
Hidayat, M. T., & Zakaria, Y. (2023). Pembuatan Aplikasi Matematika Berbasis Android Menggunakan Kodular Sebagai Alat Bantu Pembelajaran. ICT Learning, 7(1), 1–9.
Kusumawati, H., Wachidah, L. R., & Triana, D. C. (2021). Dampak Literasi Digital Terhadap Peningkatan Keprofesionalan Guru Dalam Kegiatan Belajar Mengajar. Prosiding Seminar Nasional Pendidikan Matematika (SENDIKSA-3), 3, 155–164.
Muyasir, M., & Musfikar, R. (2022). Perancangan Aplikasi Media Pembelajaran Dasar Desain Grafis Berbasis Android Menggunakan Web Kodular. JINTECH: Journal of Information Technology, 3(1), 22–28. https://journal.ar-raniry.ac.id/index.php/jintech
Qumillaila, Q., Susanti, B. H., & Zulfiani, Z. (2017). Pengembangan Augmented Reality Versi Android Sebagai Media Pembelajaran Sistem Ekskresi Manusia. Jurnal Cakrawala Pendidikan, 36(1), 57-69. https://doi.org/10.21831/cp.v36i1.9786
Rahmat, R. F., Mursyida, L., Rizal, F., Krismadinata, K., & Yunus, Y. (2019). Pengembangan media pembelajaran berbasis mobile learning pada mata pelajaran simulasi digital. Jurnal Inovasi Teknologi Pendidikan, 6(2), 116–126. https://doi.org/10.21831/jitp.v6i2.27414
Savitri, D., Karim, A., & Hasbullah. (2020). Pengembangan Media Pembelajaran Matematika Berbasis Android Di Kelas 4 Sekolah Dasar. 63Lebesgue : Jurnal Ilmiah Pendidikan Matematika, Matematika Dan Statistika, 1(2), 63–75. https://doi.org/10.46306/lb.v1i2
Sinensis, A. R., Firdaus, T., Mustofa, M. I., Puspita, I., & Chandra, A. (2022). Pelatihan Penggunaan Aplikasi Augmented Reality (Ar) Untuk Meningkatkan Literasi Digital Guru Di Smp Negeri 3 Bp Peliung. Jurnal PKM: Pengabdian Kepada Masyarakat, 05(05), 584–590.
Syamsidar, H., & Hasan, H. (2023). Pendampingan Guru MI Melalui Pembuatan Media Pembelajaran Tematik Berbasis Android. CARADDE: Jurnal Pengabdian Kepada Masyarakat, 5(3), 491–498. https://doi.org/10.31960/caradde.v5i3.1856
Trinura Novitasari, A., Sari, I. P., & Miftah, Z. (2020). Pelatihan Membuat Media Pembelajaran Interaktif Berbasis Teknologi Informasi. Jurnal Pengabdian Untuk Mu NegeRi, 4(1), 66–73.
Trisnawati, T., Manalu, M., & Amini, M. (2022). Hubungan Kinerja dan Keterampilan TIK Guru terhadap Hasil Belajar dan Literasi Digital Siswa Kelas Tinggi Sekolah Dasar. Jurnal Basicedu, 6(6), 9440–9449. https://doi.org/https://doi.org/10.31004/basicedu.v6i6.4089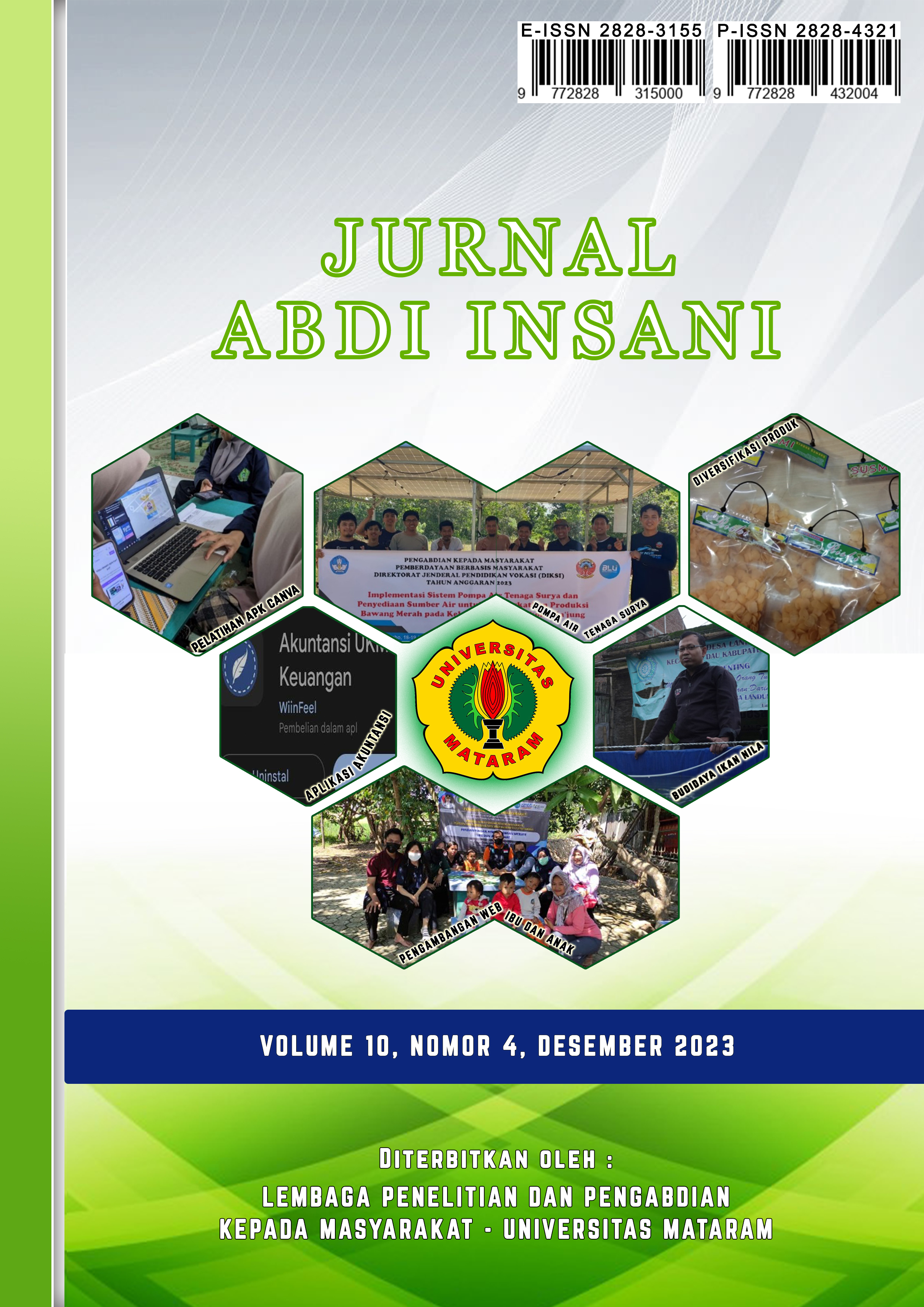 How to Cite
Rosa Sinensis, A., Firdaus, T., & Riski, U. (2023). PENINGKATAN LITERASI DIGITAL GURU MELALUI PKM WORKSHOP PEMBUATAN MEDIA INTERAKTIF BERBASIS ANDROID DI YAYASAN PONDOK PESANTREN NURUL HUDA OKU TIMUR. Jurnal Abdi Insani, 10(4), 2178-2187. https://doi.org/10.29303/abdiinsani.v10i4.1138