MENINGKATKAN KREATIVITAS PADA REMAJA MELALUI PELATIHAN DAN PEMBUATAN BUCKET SNACK SEBAGAI PELUANG USAHA
Riyadini Riyan Utami

Institut Informarika dan Bisnis Darmajaya

Viola De Yusa

Institut Informatika dan Bisnis Darmajaya

Besti Lilyana

Institut Informatika dan Bisnis Darmajaya
Keywords:
Creativity, Bucket Snack, Business Opportunity
Abstract
This Community Service Activity (PKM) is targeted at teenagers with the aim of providing insight and creativity to youth. The object of service is located in Wayhalim Bandar Lampung, namely teenagers in the RT 1 Wayhalim Bandar Lampung environment. In Community Service activities carried out by the service team, the solution offered to youth is to make snack buckets as a business opportunity. The method used in Community Service activities is starting from a location survey, direct discussions with the head of the RT, outreach and training. The training is carried out face to face. The PKM team provided outreach about the importance of entrepreneurship in order to generate income that has economic value. In the second stage, the PKM team provided practical training on making bucket snacks. The results of Community Service activities that have been carried out are having a positive impact on youth. They become inspired and can be enthusiastic about doing business and entrepreneurship, because from this business they will get income and also opportunities for entrepreneurship. The results of the snack buckets were distributed to the participants as an appreciation of the results of the practice and in the future they could continue as independent businesses for teenagers. Based on a survey conducted with several participants who were attended by 20 participants, many participants were interested in starting a bucket snack business or entrepreneurship because they had very good opportunities.
Downloads
Download data is not yet available.
References
'Aisy Rihhadatul, D., & Nirawati, L. (2023). Menciptakan Peluang Usaha Melalui Program Pelatihan Kerajinan Buket Snack Di Desa Jaan, Nganjuk. Pengabdian Kepada Masyarakat, 3(2), 383–390.
Djapalata, A. S., Nugraha, D. A., Nage, V., Akuntansi, S., Ekonomika, F., & Teknik, P. S. (2022). Pelatihan Pembuatan Bucket Snack Dan Strategi Pemasaran Pada Ibu-Ibu PKK Desa Sutojayan Kecamatan Pakisaji Kabupaten Program Studi Pendidikan Guru Sekolah Dasar Fakultas Pendidi. Jurnal Pengabdian Masyarakat Bhinneka (JPMB), I(I), 12–19.
Eny Novia Titriana1, T. A. (2023). Social Science Academic. Upaya Meningkatkan Minat Belajar Anak Melalui Bimbel Tunas Ceria Dukuh Krajan Desa Bedrug Pulung Ponorogo, 2023, 123–131.
Hariyani, D. S. (2021). Manajemen Keuangan 1. http://eprint.unipma.ac.id/168/1/82. repository diyah santi.pdf
Hariyono, V. S. A. (2013). Pengantar Technopreneurship. In Paper Knowledge . Toward a Media History of Documents.
Hermiyanty, Wandira Ayu Bertin, D. S. (2017). Buku Ajar Kewirausahaan Entrepreneur Agribuisiness Start Your Own Buisiness. Jaring Inspirasi: Yogyakarta, Maret, 1–59.
Lisdawati, L., Hulasaoh, E., & Fadilah, F. (2023). Menerapkan Kreativitas dan Membangun Jiwa Wirausaha Sejak Dini Pada Yayasan Yayasan Al Amin. Dedikasi Pkm, 4(1), 15. https://doi.org/10.32493/dedikasipkm.v4i1.27454
Noorrizki, R. D., Sa, M., & Mantara, A. Y. (2023). Pelatihan Kreasi Buket Bunga Kain Flanel untuk Menumbuhkan Keterampilan Kewirausahaan Anak-Anak Panti Asuhan Assalam Shobuur Dau Kabupaten Malang Assalaam Shobuur Dau Orphanage , Malang District ; Training in Creating Flanel Flower Buckets for Developing . 8(1), 204–211.
Pramesti, R. A. A., & Purwanto, E. (2023). Pengembangan Kreativitas Masyarakat Melalui Workshop Buket Snack di Desa Jaan sebagai Alternatif Peningkatan Pendapatan Keluarga. Karya: Jurnal Pengabdian Kepada Masyarakat, 3(1), 367–373.
Ridwan, M. I., Asfar, A. M. I. T., Erwing, & Jamaluddin. (2020). Pelatihan Pembuatan Buket Bunga dan Snack Sebagai Kado Wisuda. Prosiding Seminar Nasional Pengabdian Kepada Masyarakat, Vol. 2, 51–58. http://journal.unilak.ac.id/index.php/SNPKM/issue/view/350
Saputri, M., Mumtaza, A., Wini, M. O., Oktaviani, P., & Wahyudin. (2021). Menanamkan Jiwa Kreativitas Dan Kewirausahaan Sejak Dini. Dedikasi, 1(1), 112–118. https://openjurnal.unpam.ac.id/index.php/PD/article/view/12470/7464
Soputan, G. J., Mamuaja, N. C., Ohy, J., & Krisnanda, M. (2020). Program Pengembangan Kewirausahaan Di Fakultas Ekonomi Universitas Negeri Manado. Jurnal Kewirausahaan Dan Bisnis, 24(14), 100. https://doi.org/10.20961/jkb.v24i14.38507
Sunarto, S. (2018). Pengembangan Kreativitas-Inovatif Dalam Pendidikan Seni Melalui Pembelajaran Mukidi. Refleksi Edukatika : Jurnal Ilmiah Kependidikan, 8(2). https://doi.org/10.24176/re.v8i2.2348
Wahyuningsih, R., Anggraini, P. N., Vebyanti, S. E., & Susanti, A. (2021). Pelatihan Pembuatan Bucket Bunga Dan Snack Untuk Meningkatkan Kreativitas Peserta Didik Di Jombang Jawa Timur. Indonesian Journal Of Community Service, 1(3), 523–531. https://ijocs.rcipublisher.org/index.php/ijocs/article/view/114/73
Widianto, T., Angelina, Y., Septian Panglipurningrum, Y., & Octaviani, A. (2023). Pelatihan Peningkatan Ekonomi Kreatif Bucket Snack Dan Pemasaran Digital Marketing Pada Ibu-Ibu Pkk Di Desa Ngadirejo Karanganyar. Incidental, 29–35.
Wijaya, W. R., & Handoyo, S. E. (2023). Pengaruh Media Sosial, Kreativitas, Motivasi terhadap Keberhasilan Usaha UMKM Kuliner Jakarta Utara. Jurnal Manajerial Dan Kewirausahaan, 5(3), 797–804. https://doi.org/10.24912/jmk.v5i3.25449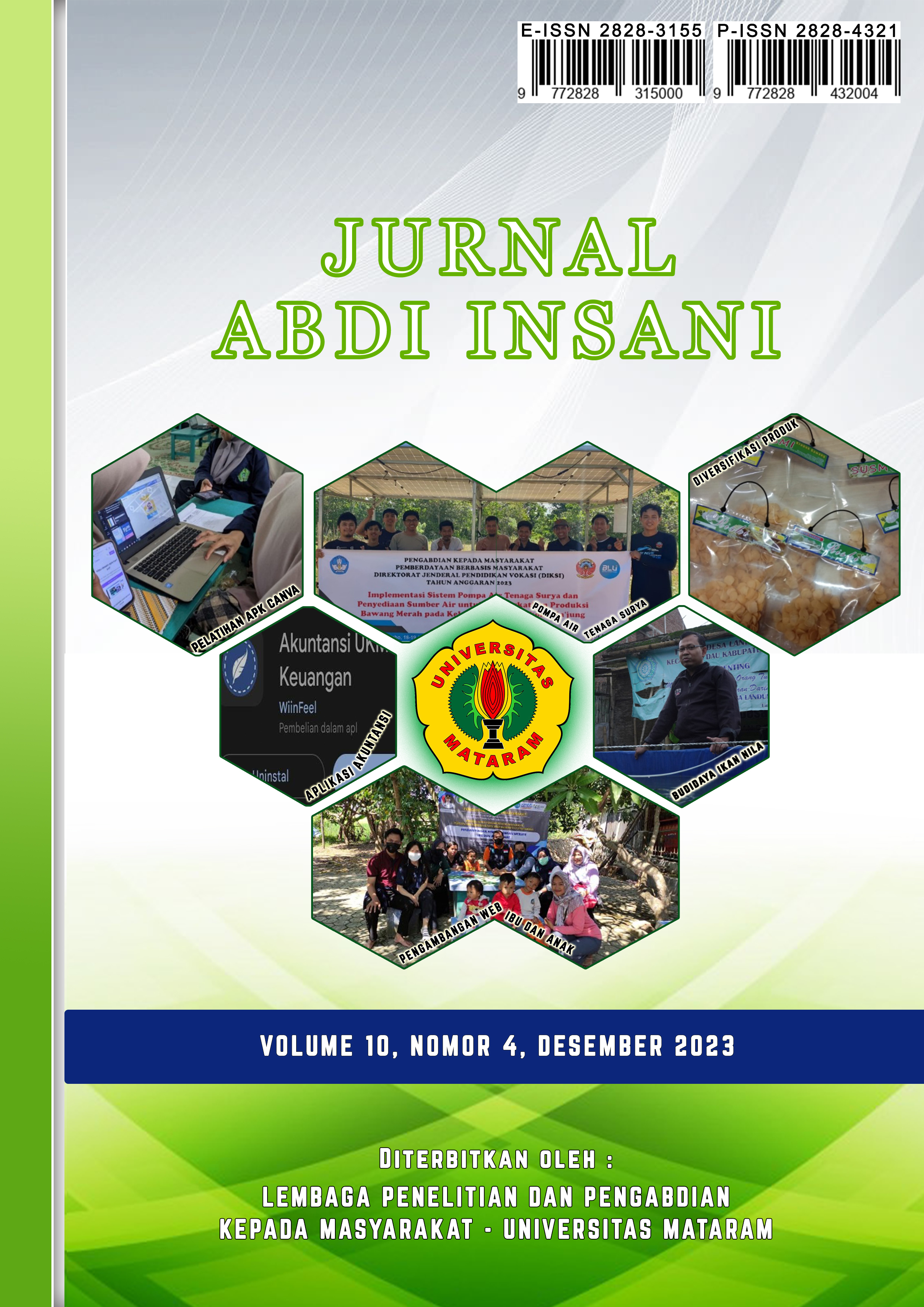 How to Cite
Utami, R. R., Yusa, V. D., & Lilyana, B. (2023). MENINGKATKAN KREATIVITAS PADA REMAJA MELALUI PELATIHAN DAN PEMBUATAN BUCKET SNACK SEBAGAI PELUANG USAHA. Jurnal Abdi Insani, 10(4), 2147-2156. https://doi.org/10.29303/abdiinsani.v10i4.1128