SOSIALISASI PERAN PEREMPUAN DALAM PENGENTASAN KEMISKINAN MELALUI PENDEKATAN SUSTAINABLE DEVELOPMENT GOALS PADA MASYARAKAT KEDAH MALAYSIA
Sylvina Rusadi

Fakultas Ilmu Sosial dan Ilmu Politik Universitas Islam Riau

Farahiyah Binti Fadzil

School Of Government Universiti Utara Malaysia

Evi Zubaidah

Fakultas Ilmu Sosial dan Ilmu Politik Universitas Islam Riau
Keywords:
Women, Sustainable Development Goals, Poverty
Abstract
Women have an important role in their position in household life, but this is often used as the main cause of women having limitations in other fields such as the economy, education and even politics. Kedah State is one of the areas in Malaysia which is the location for international scale community service activities. This activity was held to see how far the role of women's empowerment is involved in achieving the Sustainable Development Goals on poverty. For this reason, this community service activity will provide a solution for the Kedah community with the aim of providing knowledge to partners regarding women's empowerment in increasing economic, social and cultural values ​​and efforts that can be made to increase it. The method used in this community service is through socialization, delivery of material and discussion, and answer directly to the community. The results obtained from this activity are the lower ability of women than men, the existence of cultural involvement in society and the lack of functioning of the role of local community institutions. Community service activities carried out in the form of outreach to women's groups in Kampung Singkir Kedah Malaysia were able to provide knowledge and understanding of the importance of women's role in improving the family economy by improving self-quality through good social interaction and education.
Downloads
Download data is not yet available.
References
Alisjahbana, A. S., & Murniningtyas, E. (2018). Tujuan pembangunan berkelanjutan di Indonesia: konsep, target, dan strategi implementasi. Unpad Press.
An, O. D. I. (2006). Human Rights and Poverty Reduction: Realities, Controversies and Strategies.
Aswiyati. (2016). Peran Wanita dalam Menunjang Perekonomian Rumah Tangga Petani Tradisional untuk Penanggulangan Kemiskinan di Desa Kuwil Kecamatan Kalawat. Jurnal Holistik, 9.
Bariyah, N. (2022). Pendidikan, Kesehatan dan Penanggulangan Kemiskinan di Kalimantan Barat: Menuju Sustainable Development Goals. Jurnal Ilmu Sosial Dan Humaniora, 11(1), 93–110.
Biswal, S. N., Mishra, S. K., & Sarangi, M. (2023). Does Women's Empowerment Influence Multidimensional Poverty? Empirical Insight from Rural Odisha of India. Pertanika Journal of Tropical Agricultural Science, 31(2).
Ebron, K. T., Luzynski, C., & Nath Komanski, C. S. (2023). Leave No One Behind: how systemic racism impacts Sustainable Development Goals. International Journal of Public Leadership, 19(1), 31–44.
Ishatono, I., & Raharjo, S. T. (2016). Sustainable development goals (SDGs) dan pengentasan kemiskinan. Share: Social Work Journal, 6(2), 159.
Jonnadi, A., Amar, S., & Aimon, H. (2012). Analisis pertumbuhan ekonomi dan kemiskinan di indonesia. Jurnal Kajian Ekonomi, 1(1).
Peprah, C., Peprah, V., & Ocloo, K. A. (2023). Improving the socio-economic welfare of women through informal sector activities in Ghana. Environment, Development and Sustainability, 25(4), 3005–3028.
Setianingtias, R., Baiquni, M., & Kurniawan, A. (2019). Pemodelan indikator tujuan pembangunan berkelanjutan di Indonesia. Jurnal Ekonomi Dan Pembangunan, 27(2), 61–74.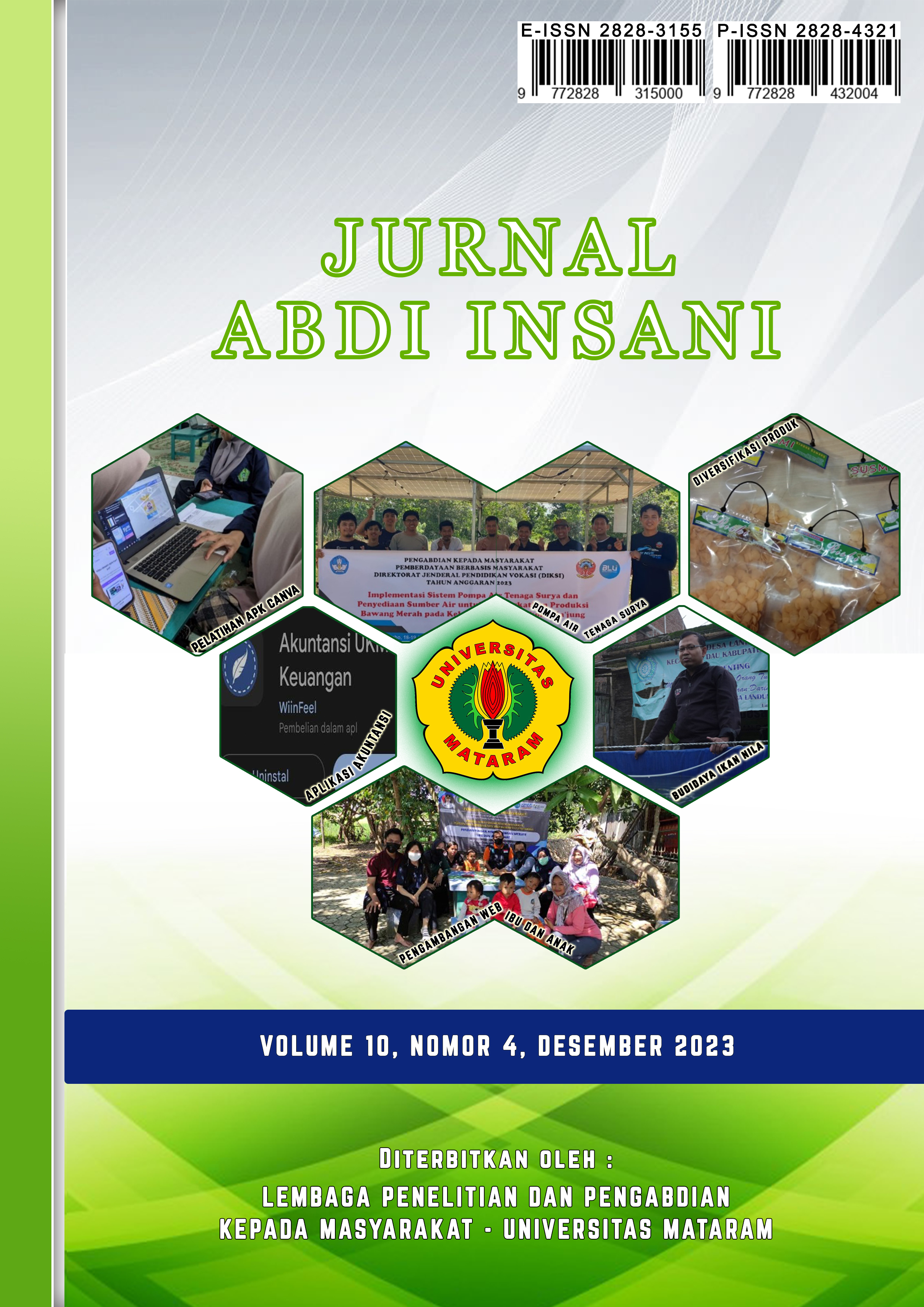 How to Cite
Rusadi, S., Fadzil , F. B., & Zubaidah, E. (2023). SOSIALISASI PERAN PEREMPUAN DALAM PENGENTASAN KEMISKINAN MELALUI PENDEKATAN SUSTAINABLE DEVELOPMENT GOALS PADA MASYARAKAT KEDAH MALAYSIA. Jurnal Abdi Insani, 10(4), 2056-2063. https://doi.org/10.29303/abdiinsani.v10i4.1099