PENINGKATAN LITERASI MIKROPLASTIK DAN PENERAPAN AUSDRISK TOOLS DALAM PENCEGAHAN RESIKO DIABETES TIPE 2 PADA IBU MAJELIS TAKLIM DI KAMPUNG KAPUK JAKARTA SELATAN
Anita Sukarno

Program Studi Ilmu Keperawatan Universitas Esa Unggul

Erna Veronika

Program Studi Kesehatan Masyarakat Universitas Esa Unggul

Yulia Wahyuni

Program Studi Ilmu Gizi Universitas Esa Unggul

Meisya Talahaturuson

Program Studi Ilmu Keperawatan Universitas Esa Unggul

Fransiskus Febri Juferta Telaumbanua

Program Studi Ilmu Keperawatan Universitas Esa Unggul

Mayliana Perangin Angin

Program Studi Ilmu Keperawatan Universitas Esa Unggul

Yunarti Yosefa M. Manec

Program Studi Ilmu Keperawatan Universitas Esa Unggul

Inggrid Tabalessy

Program Studi Ilmu Keperawatan Universitas Esa Unggul
Keywords:
Literacy, Diabetes, Mikroplastic, Diet Sehat
Abstract
Approximately 35% of the women of the Taklim At Taqwa Council suffer from hypertension and an increase in type 2 diabetes. Housewives are the heart of household life with big tasks, such as nurses and guarantors of nutrition for family members, and have the role of the main madrasah or first educator for children. his son. Empowerment of women is a major milestone in achieving optimal health and well-being for the family unit by increasing equality of access to health literacy. First, increase the ability to detect the risk of type 2 diabetes and literacy of mothers about microplastics and their negative impact on health, especially the risk of chronic disease and the ability to regulate diabetes nutritional patterns. The partner of the Community Partnership Program (PKM) is the Chairman of the Taklim Council At Taqwa Kampung Kapuk Lebak Bulus Village. This activity takes place from July to August 2023 in 5 stages, namely surveying problems, training on using AUSDRISK TOOLS in detecting the risk of type 2 diabetes, introducing microplastics, regulating the nutritional pattern of diabetics, and monitoring the evaluation of activities. This activity can increase partners' knowledge and skills in using instruments to detect the risk of type 2 diabetes, be able to read the numbering of plastic materials and identify safe plastic containers, and demonstrate the division of nutritional components of diabetes and making smoothies as a healthy snack for diabetics. Through this activity partners gain increased knowledge in detecting the risk of type 2 diabetes, the ability to identify safe plastic containers and prevent exposure to microplastics as well as the ability to regulate diabetic nutritional patterns.
Downloads
Download data is not yet available.
References
Australian Government: The Department of Health and Aged Care. (2022). The Australian Type 2 Diabetes Risk Assessment Tool (AUSDRISK). https://www.health.gov.au/resources/apps-and-tools/the-australian-type-2-diabetes-risk-assessment-tool-ausdrisk#:~:text=The Australian type 2 diabetes risk assessment tool,help of a health professional or practice nurse.
Cántaro, K., Jara, J. A., Taboada, M., & Mayta-Tristán, P. (2016). Association between information sources and level of knowledge about diabetes in patients with type 2 diabetes. Endocrinología y Nutrición (English Edition), 63(5), 202–211. https://doi.org/https://doi.org/10.1016/j.endoen.2016.05.007
Chawla, S. P. S., Kaur, S., Bharti, A., Garg, R., Kaur, M., Soin, D., Ghosh, A., & Pal, R. (2019). Impact of health education on knowledge, attitude, practices and glycemic control in type 2 diabetes mellitus. Journal of Family Medicine and Primary Care, 8(1), 261–268. https://doi.org/10.4103/jfmpc.jfmpc_228_18
Christiani, Y., Byles, J., Tavener, M., & Dugdale, P. (2015). Socioeconomic related inequality in depression among young and middle-adult women in Indonesia׳s major cities. Journal of Affective Disorders, 182, 76–81. https://doi.org/https://doi.org/10.1016/j.jad.2015.04.042
Christiani, Y., Tavener, M., & Byles, J. E. (2017). Contextualizing urban living as a determinant of women's health in Jakarta, Indonesia. Women & Health, 57(10), 1204–1220. https://doi.org/10.1080/03630242.2016.1263271
International Diabetes Federation. (2019). IDF Diabetes Atlas (Ninth). https://www.diabetesatlas.org/upload/resources/material/20200302_133351_IDFATLAS9e-final-web.pdf
LOCALISE SDGs. (2023). Sustainable Development Goals. https://localisesdgs-indonesia.org/tentang-kami
Mboi, N., Murty Surbakti, I., Trihandini, I., Elyazar, I., Houston Smith, K., Bahjuri Ali, P., Kosen, S., Flemons, K., Ray, S. E., Cao, J., Glenn, S. D., Miller-Petrie, M. K., Mooney, M. D., Ried, J. L., Nur Anggraini Ningrum, D., Idris, F., Siregar, K. N., Harimurti, P., Bernstein, R. S., & Hay, S. I. (2018). On the road to universal health care in Indonesia, 1990–2016: a systematic analysis for the Global Burden of Disease Study 2016. The Lancet, 392(10147), 581–591. https://doi.org/https://doi.org/10.1016/S0140-6736(18)30595-6
Nadiyatussholeha., & Sukarno, A. (2022). GAMBARAN RISIKO DIABETES TIPE 2 PADA MASYARAKAT DI KAMPUNG GURUDUG DESA MEKAR JAYA KECAMATAN SEPATAN KABUPATEN TANGERANG [Universitas Esa Unggul]. https://digilib.esaunggul.ac.id/UEU-Undergraduate-20180303046/25474
Purnamasari, D. (2018). The Emergence of Non-communicable Disease in Indonesia. In Acta medica Indonesiana, 50(4), pp. 273–274.
Rachmawati, U., Sahar, J., & Wati, D. N. K. (2019). The association of diabetes literacy with self-management among older people with type 2 diabetes mellitus: a cross-sectional study. BMC Nursing, 18(Suppl 1), 34. https://doi.org/10.1186/s12912-019-0354-y
RobatSarpooshi, D., Mahdizadeh, M., Alizadeh Siuki, H., Haddadi, M., Robatsarpooshi, H., & Peyman, N. (2020). The Relationship Between Health Literacy Level and Self-Care Behaviors in Patients with Diabetes. Patient Related Outcome Measures, 11, 129–135. https://doi.org/10.2147/PROM.S243678
Sari, G. L., Kasasiah, A., Utami, M. R., & Trihadiningrum, Y. (2021). Microplastics Contamination in the Aquatic Environment of Indonesia: A Comprehensive Review. Journal of Ecological Engineering, 22(10), 127–140.
Saunders, C., Palesy, D., & Lewis, J. (2019). Systematic Review and Conceptual Framework for Health Literacy Training in Health Professions Education. Health Professions Education, 5(1), 13–29. https://doi.org/https://doi.org/10.1016/j.hpe.2018.03.003
Verma, A., Mehta, S., Mehta, A., & Patyal, A. (2019). Knowledge, attitude and practices toward health behavior and cardiovascular disease risk factors among the patients of metabolic syndrome in a teaching hospital in India. Journal of Family Medicine and Primary Care, 8(1), 178–183. https://doi.org/10.4103/jfmpc.jfmpc_257_18
Yuan, Z., Nag, R., & Cummins, E. (2022). Human health concerns regarding microplastics in the aquatic environment - From marine to food systems. Science of The Total Environment, 823, 153730. https://doi.org/https://doi.org/10.1016/j.scitotenv.2022.153730
Zhang, Q., Xu, E. G., Li, J., Chen, Q., Ma, L., Zeng, E. Y., & Shi, H. (2020). A Review of Microplastics in Table Salt, Drinking Water, and Air: Direct Human Exposure. Environmental Science & Technology, 54(7), 3740–3751. https://doi.org/10.1021/acs.est.9b04535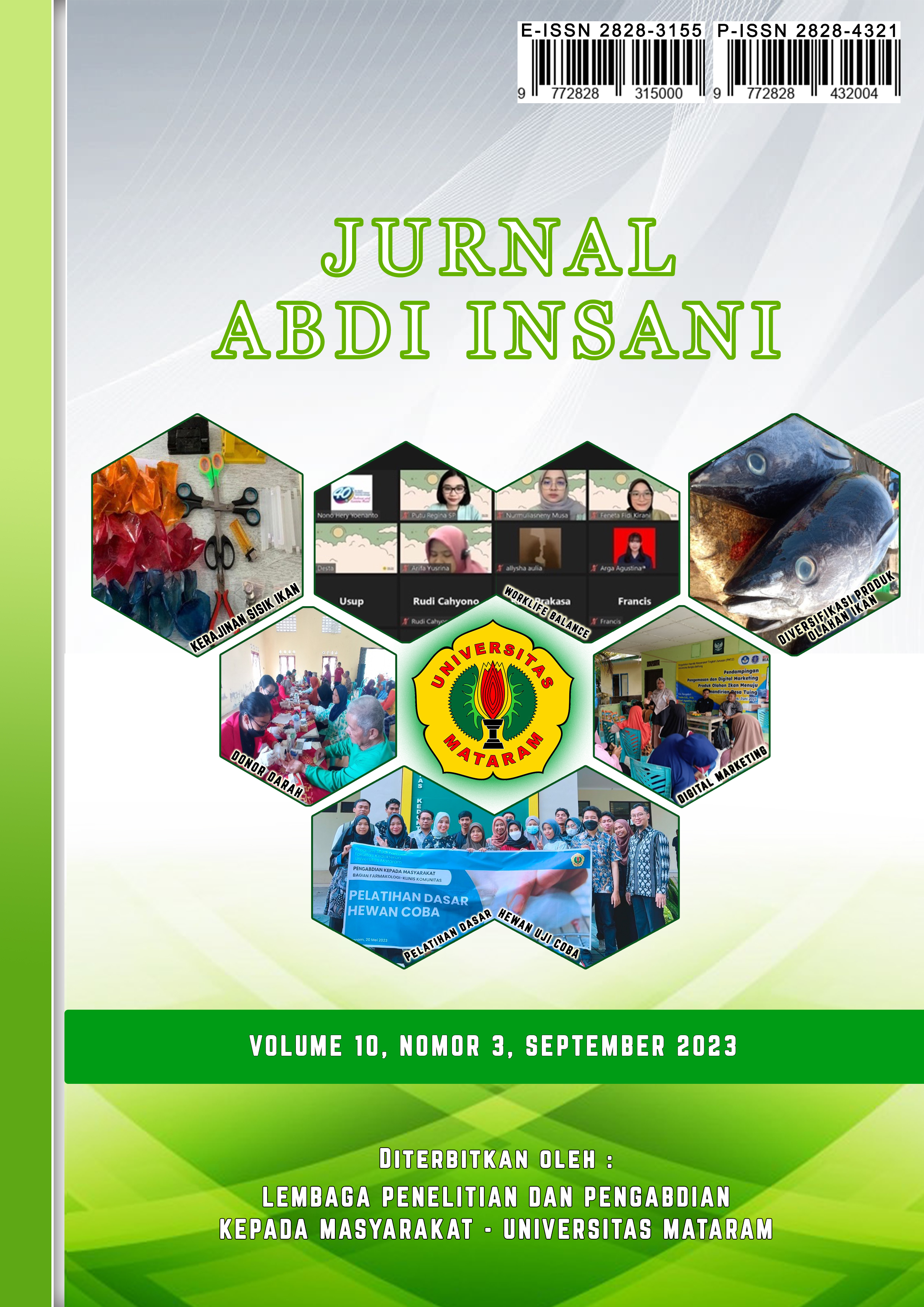 How to Cite
Sukarno, A., Veronika, E., Wahyuni, Y., Talahaturuson, M., Telaumbanua, F. F. J., Angin, M. P., Manec, Y. Y. M., & Tabalessy, I. (2023). PENINGKATAN LITERASI MIKROPLASTIK DAN PENERAPAN AUSDRISK TOOLS DALAM PENCEGAHAN RESIKO DIABETES TIPE 2 PADA IBU MAJELIS TAKLIM DI KAMPUNG KAPUK JAKARTA SELATAN. Jurnal Abdi Insani, 10(3), 1514-1525. https://doi.org/10.29303/abdiinsani.v10i3.1060