PENERAPAN INOVASI TEKNOLOGI BENIH KENTANG MENGGUNAKAN STEK PUCUK BEBAS VIRUS UNTUK MEWUJUDKAN KEMANDIRIAN PETANI MEMPRODUKSI BENIH KENTANG BERKUALITAS
Syarif Husen

Program Studi Agroteknologi Universitas Muhammadiyah Malang

Toto Suharjanto

Jurusan Agronomi Universitas Widyagama Malang

Agus Eko Purnomo

Laboratorium Kultur In Vitro, Universitas Muhammadiyah Malang

Iqbal Ramadhani Fuadiputra

Program Studi Manajemen Universitas Muhammadiyah Malang

M. Zul Mazwan

Program Studi Agribisnis Universitas Muhammadiyah Malang

Dwi Irawan

Program Studi Akuntasi Universitas Muhammadiyah Malang

Aniek Iriany

Program Studi Agroteknologi Universitas Muhammadiyah Malang
Keywords:
Seed, Potato, Rooted Apical Cuttings, Virus-free
Abstract
The active land used for potato production in Pasuruan Regency is 3,000 ha, contributing 60% of the potato needs in East Java Province. The yield of potatoes from 3,000 ha is only 450 ha (15%) which is capable of producing 25 tonnes per ha, while the remaining 2.5 ha is only capable of producing 10-15 tonnes per ha. The difference in the productivity of potato plants is a result of the use of potato seeds that are not of good quality. The goal of this activity is that partners who are members of the Sari Rejo Farmer Group can produce potato seeds independently. As well as being able to distribute potato seeds widely to other areas. UMM established the Sari Rejo Farmer Group as a partner farmer group in the activity of producing Rooted Apical Cuttings potato seeds. The activity began with the acclimatization process to get the main plant, from the main plant the cuttings were carried out so that the seeds of rooted shoot cuttings were produced. The selection of these partners is based on the fact that the members have a high opportunity and interest in developing quality potato seeds. To overcome the existing problems, tutorial methods, training, and demonstration plots at partner locations are used, as well as partner group assistance. In its implementation, partners can provide land for demonstration plots and can maintain plants during the activity. The results so far, farmers have understood the potato seed plantlet acclimatization technology, so that mother plants are produced. Farmers have been able to produce seeds in the form of rooted apical cuttings independently so they can produce G2 class potato seeds in the open field. Partners can produce quality potato seeds for the needs of members and farmers outside the region.
Downloads
Download data is not yet available.
References
Ali, S., Kadian, M. S., Ortiz, O., Singh, B. P., Chandla, V. K., & Akhtar, M. (2013). Degeneration of potato seed in meghalaya and nagaland states in North-Eastern hills of India. Potato Journal, 40(2), 122–127.
Ates, S. Y., İnan, S., Ayyaz, M., Dündar, & Yabangülü, D. (2019). Effect of thermotherapy in combination with merİstem culture for elİmİnatİng potato virus y (pvy) and potato virus s (pvs) from infected seed stocks. Journal of Animal and Plant Sciences, 29(2), 549–555.
Buckseth, T., Singh, R. K., Tiwari, J. K., Sharma, A. K., Singh, S., & Chakrabarti, S. K. (2020). A novel sustainable aeroponic system for healthy seed potato production in India - An update. Indian Journal of Agricultural Sciences, 90(2), 243–248. https://doi.org/10.56093/ijas.v90i2.98995
Gildemacher, P. R., Schulte-Geldermann, E., Borus, D., Demo, P., Kinyae, P., Mundia, P., & Struik, P. C. (2011). Seed Potato Quality Improvement through Positive Selection by Smallholder Farmers in Kenya. Potato Research, 54(3), 253–266. https://doi.org/10.1007/s11540-011-9190-5
Gray, S., De Boer, S., Lorenzen, J., Karasev, A., Whitworth, J., Nolte, P., Singh, R., Boucher, A., & Xu, H. (2010). Initial reports of necrotic strains of PVY in the United States and Canada. Plant Disease, 94(12), 1384–1397.
Husen, S., Ishartati E., Ruhiyat, M., Purnomo, A.E., Nurfitriani, R. (2019). Produksi Benih Kentang Dalam Bentuk Umbi dan Stek Di Screen House. UMM Press:Malang.
Husen, S., Ishartati E., Ruhiyat, M., Purnomo, A.E., Nurfitriani, R. (2019). Produksi Planlet Benih Kentang Di Laboratorium Kultur In Vitro. UMM Press:Malang.
Karjadi, A., & Buchory, A. (2008). Pengaruh Auksin dan Sitokinin terhadap Pertumbuhan dan Perkembangan Jaringan Meristem Kentang Kultivar Granola. Jurnal Hortikultura, 18(4), 380–384.
Knowles, L. O., & Knowles, N. R. (2016). Optimizing Tuber Set and Size Distribution for Potato Seed (Solanum tuberosum L.) Expressing Varying Degrees of Apical Dominance. Journal of Plant Growth Regulation, 35(2), 574–585. https://doi.org/10.1007/s00344-015-9562-1
Lee, G. Bin, Park, H. J., Cheon, C. G., Choi, J. G., Seo, J. H., Im, J. S., Park, Y. E., Cho, J. H., & Chang, D. C. (2022). Effect of Plant Container Type on Seed Potato (Solanum tuberosum L.) Growth and Yield in Substrate Culture. Potato Research, 65(1), 105–117. https://doi.org/10.1007/s11540-021-09511-2
Lindner, K., Trautwein, F., Kellermann, A., & Bauch, G. (2015). Potato virus Y (PVY) in seed potato certification. Journal of Plant Diseases and Protection, 122(3), 109–119. https://doi.org/10.1007/BF03356539
Masnenah, E., Permana, N. S., Komariah, A., Rahman, R. A., Abdullah, R., & Noertjahyani. (2020). Evaluation of shoot cuttings sources and planting distance to increase the production of G2 potato seed. Journal of Agricultural Sciences - Sri Lanka, 15(2), 230–237. https://doi.org/10.4038/jas.v15i2.8804
Mulyono, D., Syah, M. J. A., Sayekti, A. L., & Hilman, Y. (2017). Kelas Benih Kentang ( Solanum tuberosum L .) and Quality Products ( Solanum tuberosum L .) ]. J. Hort, 27(2), 209–216.
Mutala'liah, Indarti, S., & Wibowo, A. (2019). Short communication: The prevalence and species of root-knot nematode which infect on potato seed in Central Java, Indonesia. Biodiversitas, 20(1), 11–16. https://doi.org/10.13057/biodiv/d200102
Tsoka, O. (2012). Potato seed tuber production from in vitro and apical stem cutting under aeroponic system. African Journal of Biotechnology, 11(63), 12612–12618. https://doi.org/10.5897/ajb10.1048
Wasilewska-Nascimento, B., Boguszewska-Mańkowska, D., & Zarzyńska, K. (2020). Challenges in the production of high-quality seed potatoes (Solanum tuberosum L.) in the tropics and subtropics. Agronomy, 10(2). https://doi.org/10.3390/agronomy10020260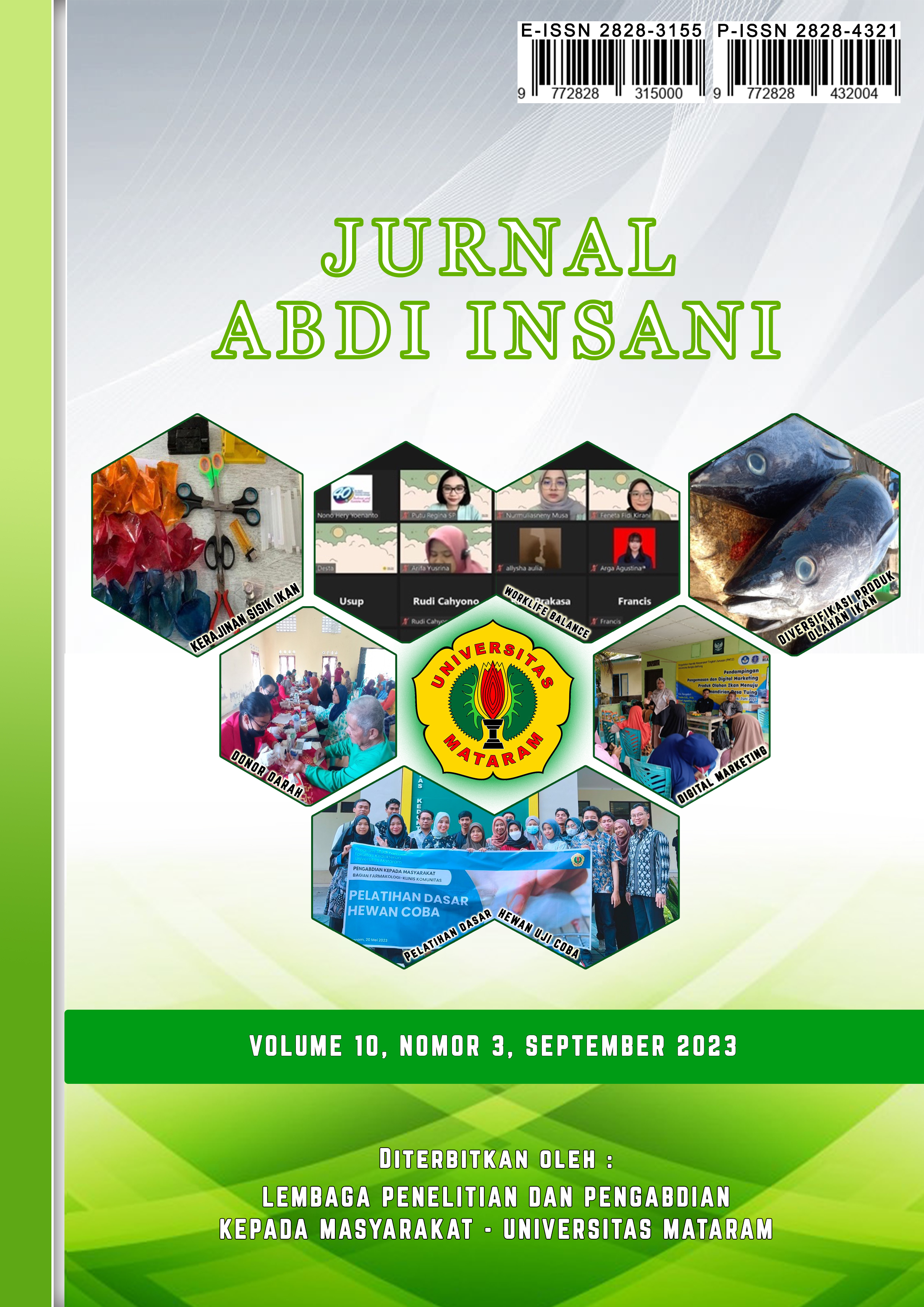 How to Cite
Husen, S., Suharjanto, T., Purnomo, A. E., Fuadiputra, I. R., Mazwan, M. Z., Irawan, D., & Iriany, A. (2023). PENERAPAN INOVASI TEKNOLOGI BENIH KENTANG MENGGUNAKAN STEK PUCUK BEBAS VIRUS UNTUK MEWUJUDKAN KEMANDIRIAN PETANI MEMPRODUKSI BENIH KENTANG BERKUALITAS. Jurnal Abdi Insani, 10(3), 1776-1785. https://doi.org/10.29303/abdiinsani.v10i3.1054