PENDAMPINGAN PEWARNAAN BATIK SINGONEGORO MENGGUNAKAN PEWARNA ALAMI DARI TANAMAN INDIGOFERA TINCTORIA
Widowati Widowati

Fakultas.Pertanian, Universitas Tribhuwana Tungga Dewi, Malang

Ana Arifatus Sa'diyah

Fakultas.Pertanian, Universitas Tribhuwana Tungga Dewi, Malang

Nikmatul Khoiriyah

Fakultas Pertanian, Universitas Islam Malang
Keywords:
Batik, Indigofera, Natural dyes, Textile Crafts
Abstract
Indonesia has a noble cultural heritage of using safe natural dyes and compounds that are beneficial to the body. Indonesia also has natural wealth and biodiversity which are raw materials for making natural substances. This activity aims to: increase community knowledge and skills about eco-printing textile craft techniques, increase community knowledge and skills about naturally dyed tie-dye textile craft techniques, increase community knowledge and skills about naturally dyed screen printing textile craft techniques, and increase knowledge and skills the community about the utilization of natural dye source plants to become natural coloring pastes. Training and assistance in the use of natural dye applications in the batik business are carried out through several effective methods. Community service activities are carried out using the workshop method or hands-on training, counseling and presentations, and technical guidance. The results of training and mentoring in the use of natural dye applications in batik businesses are very positive and have broad implications, both for the batik business itself, as well as for the environment and surrounding communities.
Downloads
Download data is not yet available.
References
Abbate, S., Centobelli, P., & Cerchione, R. (2023). From Fast to Slow: An Exploratory Analysis of Circular Business Models in the Italian Apparel Industry. International Journal of Production Economics, 260, 108824. https://doi.org/10.1016/j.ijpe.2023.108824
Agustarini, R., Heryati, Y., Adalina, Y., Adinugroho, W. C., Yuniati, D., Fambayun, R. A., Sabastian, G. E., Hidayat, A., Tata, H. L., & Ingram, W. (2022). The development of Indigofera spp. As a source of natural dyes to increase community incomes on Timor Island, Indonesia. Economies, 10(2), 49. https://doi.org/10.3390/economies10020049
Andriana, Y. F., & Puspitawati, M. D. (2022). The effect of dyeing duration and fixative on the final results of textile dyeing using purple sweet potato peel. Productum: Jurnal Desain Produk (Pengetahuan Dan Perancangan Produk), 5(2), 131–138.
Banerjee, S., Singh, R., Eilts, K., Sacks, E. J., & Singh, V. (2022). Valorization of Miscanthus x giganteus for sustainable recovery of anthocyanins and enhanced production of sugars. Journal of Cleaner Production, 369, 133508.
Benucci, I., Lombardelli, C., Mazzocchi, C., & Esti, M. (2022). Natural colorants from vegetable food waste: Recovery, regulatory aspects, and stability—A review. Comprehensive Reviews in Food Science and Food Safety, 21(3), 2715–2737. doi: 10.1111/1541-4337.12951
Budiastuti, M. T. S., Purnomo, D., Setyaningrum, D., Pujiasmanto, B., & Ramadhan, R. N. (2023). Potential of Indigofera tinctoria Natural Dyes Compost on Maize Vegetative Growth. IOP Conference Series: Earth and Environmental Science, 1162(1), 012015.
Elasrag, H. (2022). Understanding Halal Industry. Hussein Elasrag.
Fatubun, A., Susanti, C. M. E., Sinaga, N. I., Wanma, J. F., & Lea, M. M. (2023). Natural dyes used by the byak tribe and its prospects as raw materials for the natural dyes industry. IOP Conference Series: Earth and Environmental Science, 1192(1), 012023. doi 10.1088/1755-1315/1192/1/012023
Fugarasti, H., MUZZAZINAH, M., & Ramli, M. (2020). Morphoanatomy of three Indigofera species (Leguminosae-Papilionoideae) in Java, Indonesia. Biodiversitas Journal of Biological Diversity, 21(11).
Landeros, L., Williams, I., Shaw, P., Hudson, M., & Dominguez Cortinas, G. (2022). A review of the origins of microplastics arriving at wastewater treatment plants. Detritus, 20, 41–55.
Oladzadabbasabadi, N., Nafchi, A. M., Ghasemlou, M., Ariffin, F., Singh, Z., & Al-Hassan, A. A. (2022). Natural anthocyanins: Sources, extraction, characterization, and suitability for smart packaging. Food Packaging and Shelf Life, 33, 100872.
Prijosusilo, C. K. (2022). How Biodiversity and Culture Can Fuel Economic Prosperity: The Case of Traditional Textile Artisans of East Sumba, Indonesia. In Civic Engagement in Asia: Transformative Learning for a Sustainable Future (pp. 71–92). Springer.
Purnama, H., Eriani, W., & Hidayati, N. (2019). Natural dye extraction from tropical almond (Terminalia catappa Linn) leaves and its characterization. AIP Conference Proceedings, 2114(1).
Renita, A. A., Gajaria, T. K., Sathish, S., Kumar, J. A., Lakshmi, D. S., Kujawa, J., & Kujawski, W. (2023). Progress and Prospective of the Industrial Development and Applications of Eco-Friendly Colorants: An Insight into Environmental Impact and Sustainability Issues. Foods, 12(7), 1521. https://doi.org/10.3390/foods12071521
Roy, T. R., & Morya, S. (2022). Edible cutlery: An eco-friendly replacement for plastic cutlery. Journal of Applied and Natural Science, 14(3), 835–843.
Sholikhah, R., Widowati, W., & Nurmasitah, S. (2023). The impact of the use of different mordants types on the ecoprint dyeing using secang wood (Caesalpinia sappan Linn) dye on primisima fabric. AIP Conference Proceedings, 2677(1).
Soni, A., Das, P. K., Hashmi, A. W., Yusuf, M., Kamyab, H., & Chelliapan, S. (2022). Challenges and opportunities of utilizing municipal solid waste as alternative building materials for sustainable development goals: A review. Sustainable Chemistry and Pharmacy, 27, 100706. https://doi.org/10.1016/j.scp.2022.100706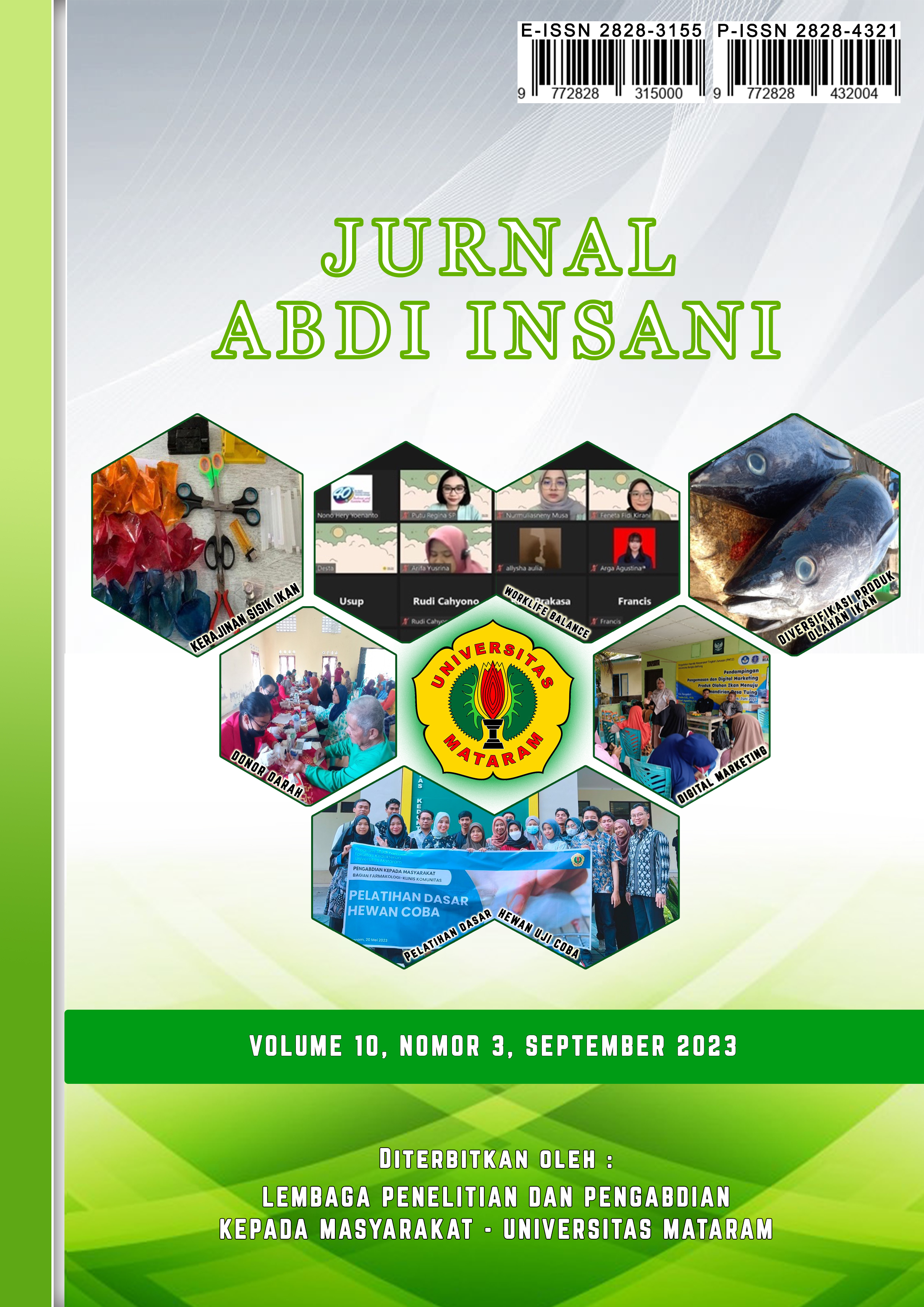 How to Cite
Widowati, W., Sa'diyah, A. A., & Khoiriyah, N. (2023). PENDAMPINGAN PEWARNAAN BATIK SINGONEGORO MENGGUNAKAN PEWARNA ALAMI DARI TANAMAN INDIGOFERA TINCTORIA. Jurnal Abdi Insani, 10(3), 1755-1766. https://doi.org/10.29303/abdiinsani.v10i3.1049