PENGENALAN JENIS SAMPAH LAUT DAN METODE PENGELOLAANNYA BERBASIS ECOBRICKS BAGI SISWA SEKOLAH MINGGU
Novianty Tuhumury

Program Studi Manajemen Sumberdaya Perairan Fakultas Perikanan Ilmu Kelautan, Unpatti

Juliana W. Tuahatu

Program Studi Ilmu Kelautan Fakultas Perikanan Ilmu Kelautan, Unpatti

Gratia D. Manuputty

Program Studi Ilmu Kelautan Fakultas Perikanan Ilmu Kelautan
Keywords:
Marine debris, Ecobricks, students, Sunday School
Abstract
Knowledge about waste, pollution, and its impacts is a crucial issue to provide in society, and it is important to instill this in children because their characteristic is easier to build. The impact of pollution will be experienced by any generation whether in a short or long term period. A simple and practical method to manage waste, especially plastic, is by making eco-bricks. It is an easy way to practice. The community service activity aims to introduce marine debris and plastic waste management concept based on eco-bricks for Sunday School students. The activity was carried out on Thursday, April 20, 2023, involving the students from Sunday School Service students which was located in Airlouw Village Ambon. The methods were demonstration, training, lecture, and evaluation by providing questions regarding pollution and how to deal with it. The participants were divided into groups, assigned to complete a scheme of waste fate in the environment from human activities to its effects on waters and humans themselves, trained to handle plastic waste by making eco-bricks, and equipped with knowledge related to types of waste and its degradation process. Although only some participants were familiar with eco-bricks-based waste processing, all participants are easy to implement the process. The accomplishment can be directly measured through the discussion process carried out simultaneously during the training process. All in all, education complemented by material enrichment and schematic assignments can train children's thinking skills, and practical method for managing waste is weighty for a young age.
Downloads
Download data is not yet available.
References
Aji, A., L, M., & Amin, S. (2015). Isolasi Nikotin dari Puntung Rokok Sebagai Insektisida. Jurnal Teknologi Kimia Unimal, 4(1), 100–200.
Alfitri, A., Helmi, H., Raharjo, S., & Afrizal, A. (2020). Sampah Plastik sebagai Konsekuensi Modernitas dan Upaya Penanggulangannya. Jurnal Sosiologi Andalas, 6(2), 122-130. https://doi.org/10.25077/jsa.6.2.122-130.2020
Anna, A., Purba, n.P., Faizal, I., & Dewanti, L.P. (2023). Pembelajaran Penanganan Ssampah Laut di Pulau Pramuka dan Sekitarnya, DKI, Jakarta. Journal of Berdaya, 2(2), 79-87.
Chamas, A., Moon, H., Zheng, J., Qiu, Y., Tabassum, T., Jang, J.H., Abu-Omar, M., Scott, S.l., & Suh, S. (2020). Degradation Rates of Plastics in The Environment. ACS Sustainable Chemistry & Engineering, 8(9), 3494-3511. DOI: 10.1021/acssuschemeng.9b06635
Dewi, I. S., Budiarsa, A. A., & Ritonga, I. R. (2015). Distribusi Mikroplastik Pada Sedimen di Muara Badak, Kabupaten Kutai Kartanegara. Depik, 4(3), 121–131. https://doi.org/10.13170/depik.4.3.2888
Febriadi, I. (2019). Pemanfaatan Sampah Organik dan Anorganik Untuk Mendukung Go Green Concept di Sekolah. Abdimas: Papua Journal of Community Service, 1(1), 32-39.
Hanim, U., Suryanto, B., & Widyawati. (2022). Pengelolaan Limbah Masker Sekali Pakai Pada Skala Rumah Tangga di Masa Pandemi Wabah Covid-19. Jurnal Darma Agung, 30(2), 815-830.
Hetherington, J., Leous, J., Anziano, J., Brockett, D., Cherson, A., Dean, E., Dillon, J., Johnson, T., Littman, M., Lukehart, N., Ombac, J., & Reilly, K. (2005). The Marine Debris Research, Prevention and Reduction Act: A Policy Analysis. Columbia University New York, New York. 42 p.
Indonesia. (2018). Peraturan Presiden RI Nomor 83 Tahun 2018 Tentang Penanganan Sampah Laut. Jakarta.
Istirokhatun, T. & Nugraha, W.D. (2019). Pelatihan Pembuatan Ecobricks Sebagai Pengelolaan Sampah Plastik di TR 01 RW 05, Kelurahan Kramas, Kecamatan Tembalang, Semarang. Jurnal Pasopati, 1(2), 85-90.
Ivakdalam, L.M. & Far-Far R.A. (2021). Persepsi Masyarakat Pada Pengelolaan Sampah (Studi Kasus: Bank Sampah Bumi Maluku Lestari Kota Ambon). AGRIKAN, 14(1), 161-171.
Kamaliah. (2019). Pemanfaatan Limbah Sampah Plastik Menjadi Bata Beton. Media Ilmiah Teknik Lingkungan, 4(2), 41-46.
Mohanan, N., Montazer, Z., Sharma, P.K., & Levin, D.B. (2020). Microbial and Enzymatic Degradation of Synthetic Plastics. Front Microbiol, 26;11:580709. doi: 10.3389/fmicb.2020.580709
Mokhtar, N., Kelutur, S., Pelu, I., Koranelao, A., Rumalowak, M., Yesayas, J., Pieris, F., & Matulessy, G. (2023). Penanganan Banjir dan Sampah di Kelurahan Honipopu Kecamatan Sirimau Kota Ambon. Pattimura Mengabdi : Jurnal Pengabdian Kepada Masyarakat, 1(1), 149-154. https://doi.org/10.30598/pattimura-mengabdi.1.1.149-154
Pasaribu, D., Saragih, R., & Retno, R. (2023). Sosialisasi Bahaya Dampak Sampah Plastik Bagi Lingkungan Desa Laksa Kecamatan Pegagan Hilir Kabupaten Dairi. Abdi Jurnal Publikasi, 1(6), 489-494.
Rarastri, A. D. (2008). Kontribusi Sampah Terhadap Pemanasan Global. Pusat Pengendalian Pembangunan. Ekoregion Kalimantan. Kementerian Negara Lingkungan Hidup. 38 hlm.
Sunandar, A.P., Chahyani, R.Q.C., & Farhana, F.Z. (2020). Ecobricks Sebagai Pemanfaatan Plastik di Laboratorium Biologi dan Foodcourt Universitas Negeri Yogyakarta. JPMMP, 4(2), 113-121 https://doi.org/10.21831/jpmmp.v4i2.37501
Syahda, A.S., Safitri, M.D., & Fauzia, A. (2020). Sosialisasi Pengurangan Penggunaan Sedotan Plastik di Lingkungan Sekolah dan Masyarakat. JPMMP, 4(2), 122-130. https://doi.org/10.21831/jpmmp.v4i2.37502
Telaumbanua, Y. (2020). Efektifitas Penggunaan Alat Peraga Pada Pembelajaran Matematika Pada Sekolah Dasar Pokok Bahasan Pecahan. Majalah Ilmiah Warta Dharmawangsa, 14(4), 709-722. https://doi.org/10.46576/wdw.v14i4.900
Tuahatu, J. W., Noya, Y.A., & Manuputty, G.D. (2020). Plastic Pollution on The Beaches of Outer Ambon Bay. IOP Conf. Ser.: Earth Environ. Sci. 584 012058
Tuahatu, J. W., Tuhumury, N.C., & Manuputty, G.D. (2023). Analisis Komposisi, Timbulan dan Potensi Daur Ulang Sampah Pada Kawasan Wisata Pantai Natsepa, Kabupaten Maluku Tengah. Jurnal Sumberdaya Akuatik Indopasifik, 7(1), 75-84. https://doi.org/10.46252/jsai-fpik-unipa.2023.Vol.7.No.1.249
Tuhumury, N.C. (2020). Siar Kebersihan Untuk Darat dan Laut "Si Kuda Laut" Upaya Pengendalian Pencemaran Sampah di Pesisir. Penerbit Deepublish. ISBN : 9786230215483. 72 hlm.
Wardhana, A. W. 2004. Dampak Pencemaran Lingkungan. Yogyakarta (ID). Penerbit : Andi. 462 hal.
Yusiyaka, R. A., & Yanti, A. D. (2021). Ecobricks Solusi Cerdas dan Praktis Untuk Pengelolaan Sampah Plastik. Learning Community : Jurnal Pendidikan Luar Sekolah, 5(2), 68–74. https://doi.org/https://doi.org/10.19184/jlc.v5i2.30819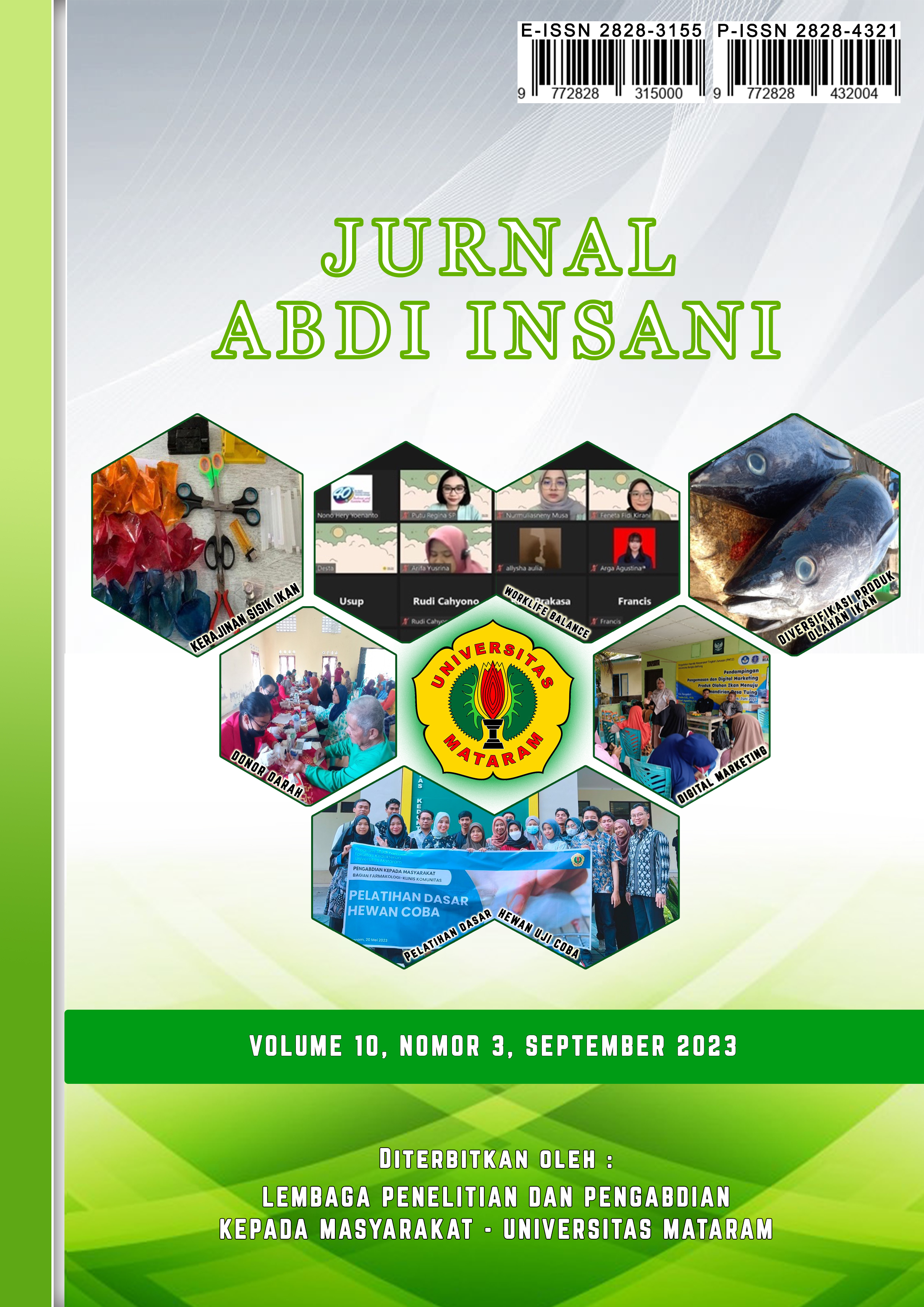 How to Cite
Tuhumury, N., Tuahatu, J. W., & Manuputty, G. D. (2023). PENGENALAN JENIS SAMPAH LAUT DAN METODE PENGELOLAANNYA BERBASIS ECOBRICKS BAGI SISWA SEKOLAH MINGGU. Jurnal Abdi Insani, 10(3), 1465-1476. https://doi.org/10.29303/abdiinsani.v10i3.1044