EDUKASI GIZI SEIMBANG BALITA DAN MPASI-LOKAL "IKAN KEMBUNG COMO" PADA KADER POSYANDU RW 021 SERUA CIPUTAT TANGERANG SELATAN
Erry Yudhya Mulyani

Program Studi Ilmu Gizi, Fakultas Ilmu-Ilmu Kesehatan, Universitas Esa Unggul, Indonesia

Yumelda Sari

Program Studi Ilmu Komunikasi, Fakultas Ilmu Komunikasi, Universitas Esa Unggul, Indonesia

Mariyana Widiastuti

Program Studi Ilmu Komunikasi, Fakultas Ilmu Komunikasi, Universitas Esa Unggul, Indonesia
Keywords:
Balanced Nutrition, Cadres, MPASI-Local, Posyandu, Stunting
Abstract
Stunting is a national health problem with a prevalence of 21.6% from SSGI data in 2022, and this has not yet reached WHO standards. Reducing stunting is one of the targets of the Sustainable Development Goal (SDG) and the first of 6 targets of the Global Nutrition Targets program in 2025. Nutrition plays a role in the human life cycle, including nutrition in children-under-five. The golden age starts from 0-24 months where there is growth spurt and development. Therefore, this activity aims to provide basic knowledge to cadres about balanced nutrition and MPASI-Local Como Mackerel at Posyandu RW 021, Serua Ciputat, South Tangerang. The method used is lectures and discussions (focus group discussions). There are 17 cadres involved in this activity. This activity is divided into two, namely socialization through lectures and discussion through FGDs either in offline or online. Socialization activities were carried out for approximately 3 hours which were then continued with offline discussions about 1.5 hours. After that, by using the WhatsApp Apps (WA) media, education and discussion forums were continued. Some Posyandu cadres have served for more than 2 years and are generally housewives. There is an increase in mother's knowledge and attitude during education through socialization and discussion activities. Most of the mothers (more than 50.0%) were interested in the refresher material on balanced nutrition and local complementary foods. Therefore, it is necessary to carry out assistance and training to be able to develop local MPASI products that have high calories and protein as a follow-up effort.
Downloads
Download data is not yet available.
References
Alvisi, P., Brusa, S., Alboresi, S., Amarri, S., Bottau, P., Cavagni, G., … Agostoni, C. (2015). Recommendations on complementary feeding for healthy, full-term infants. Italian Journal of Pediatrics, 41(1), 36. https://doi.org/10.1186/s13052-015-0143-5.
A. S. Thariq, F. Swastawati, and T. Surti,. (2014). PENGARUH PERBEDAAN KONSENTRASI GARAM PADA PEDA IKAN KEMBUNG (Rastrelliger neglectus) TERHADAP KANDUNGAN ASAM GLUTAMAT PEMBERI RASA GURIH (UMAMI). Jurnal Pengolahan Dan Bioteknologi Hasil Perikanan, 3(3), 104–111.
Cahyati, A. I., Nurrahman, N., & Aminah, S. (2022). Sifat Kimia dan Fisik Engay Food Berbasis Ikan Kembung dengan Penambahan Kedelai Hitam. AGRITEKNO: Jurnal Teknologi Pertanian, 11(1), 9–17. https://doi.org/10.30598/jagritekno.2022.11.1.9
Dewey, K. G., & Begum, K. (2011). Long-term consequences of stunting in early life. Maternal & Child Nutrition, 7, 5–18. https://doi.org/10.1111/j.1740-8709.2011.00349.x
Ekayanthi, N. W. D., & Suryani, P. (2019). Edukasi Gizi pada Ibu Hamil Mencegah Stunting pada Kelas Ibu Hamil. Jurnal Kesehatan, 10(3), 312. https://doi.org/10.26630/jk.v10i3.1389
Ekayanthi, N. W. D., Susilawati, E. H., & Pramanik, N. D. (2022). The Impact of Posyandu Cadre Training on the IYCF-Related Knowledge, Attitudes, and Communication Skills. Open Access Macedonian Journal of Medical Sciences, 10(E), 1683–1689. https://doi.org/10.3889/oamjms.2022.10043
Indonesian Health Ministry. (2011). Guidebook for Posyandu Cadres, towards a Nutrition Aware Family. Jakarta: Indonesian Health Ministry.
Juwita, Z., Sitorus, S., & Hanum, R. (2020). Factors Related to Giving MPASI in Babies Aged 0-6 Months in the Region Mongeudong Health Center Work Sub-District Banda Sakti Lhokseumawe. Journal La Medihealtico, 1(5), 40–53. https://doi.org/10.37899/journallamedihealtico.v1i5.151
Laila, N., & Riyanti, E. (2019). Peningkatan Pemberian ASI dan MP-ASI Melalui Kader Parapam di Desa Karanganyar, Karanganyar Kebumen. ABDIMAS: Jurnal Pengabdian Masyarakat, 2(1), 108–113. https://doi.org/10.35568/abdimas.v2i1.400
Lestiarini, S., & Sulistyorini, Y. (2020). Perilaku Ibu pada Pemberian Makanan Pendamping ASI (MPASI) di Kelurahan Pegirian. Jurnal PROMKES, 8(1), 1. https://doi.org/10.20473/jpk.V8.I1.2020.1-11
Mangkat, O., Mayulu, N., & Kawengian, S. E. S. (2016). Gambaran pemberian makanan pendamping ASi anak usia 6-24 bulan di Desa Mopusi Kecamatan Lolayan Kabupaten Bolaang Mongondow Induk. Jurnal E-Biomedik, 4(2). https://doi.org/10.35790/ebm.4.2.2016.13902
Maya Sari, Maimunah R, & Nopitayanti Br Sitorus. (2022). Counseling about MP-ASI to Mothers for Improving Children's Nutritional Status. International Journal of Community Service (IJCS), 1(2), 197–205. https://doi.org/10.55299/ijcs.v1i2.244
Mediani, H. S., Hendrawati, S., Pahria, T., Mediawati, A. S., & Suryani, M. (2022). Factors Affecting the Knowledge and Motivation of Health Cadres in Stunting Prevention Among Children in Indonesia. Journal of Multidisciplinary Healthcare, 15, 1069–1082. https://doi.org/10.2147/JMDH.S356736
Mulyani, EY., Jus'at I., Angkasa D. 2017. Pemberdayaan Masyarakat Tentang Sosialisasi Makanan Pendamping ASI (MPASI) Pada Ibu Balita di Wilayah Kedaung Barat. Jurnal Abdimas Volume 4 Nomor 1.
Nur Adriyani, F. H., Hikmanti, A., & Sugiharti, R. K. (2022). Pemenuhan Pangan Lokal Sebagai Kebutuhan Gizi Bayi Dan Balita Umur 6 -24 Bulan Di Kabupaten Banyumas. Jurnal Pengabdian Masyarakat - PIMAS, 1(1), 29–37. https://doi.org/10.35960/pimas.v1i1.729
Rapiah Sarfa Marasabessy, Yudhy Muchtar Latuconsina, Agung K Henaulu, Muhammad Alvuad Mualo, Rahul Lestaluhu, & Besmin Jahawadan. (2023). Implementation of Ergonomics in Efforts to Increase Knowledge and Health of Smoked Fish Groups. Dinamisia : Jurnal Pengabdian Kepada Masyarakat, 7(2). https://doi.org/10.31849/dinamisia.v7i2.13846
Riset Kesehatan Dasar (Riskesdas). (2018). Badan Penelitian dan Pengembangan Kesehatan Kementerian RI tahun 2018.
Romero-Velarde, E., Villalpando-Carrión, S., Pérez-Lizaur, A. B., Iracheta-Gerez, M. de la L., Alonso-Rivera, C. G., López-Navarrete, G. E., … Pinacho-Velázquez, J. L. (2016). Consenso para las prácticas de alimentación complementaria en lactantes sanos. Boletín Médico Del Hospital Infantil de México, 73(5), 338–356. https://doi.org/10.1016/j.bmhimx.2016.06.007
Suriany Simamora, R., & Kresnawati, P. (2023). Relationship Between Fulfilling Balance Nutrition and Stunting in Toddlers Aged 24-26 Months. Jurnal Kebidanan, 12(1), 45–54. https://doi.org/10.26714/jk.12.1.2023.45-54
UNICEF/WHO/World Bank Group. (2018). Levels and trends in child malnutrition: Key findings of the 2018 edition of joint child malnutrition estimates (W. B. G. United Nations Children's Fund, World Health Organization, Ed.). United Nations Children's Fund WHO: Geneva.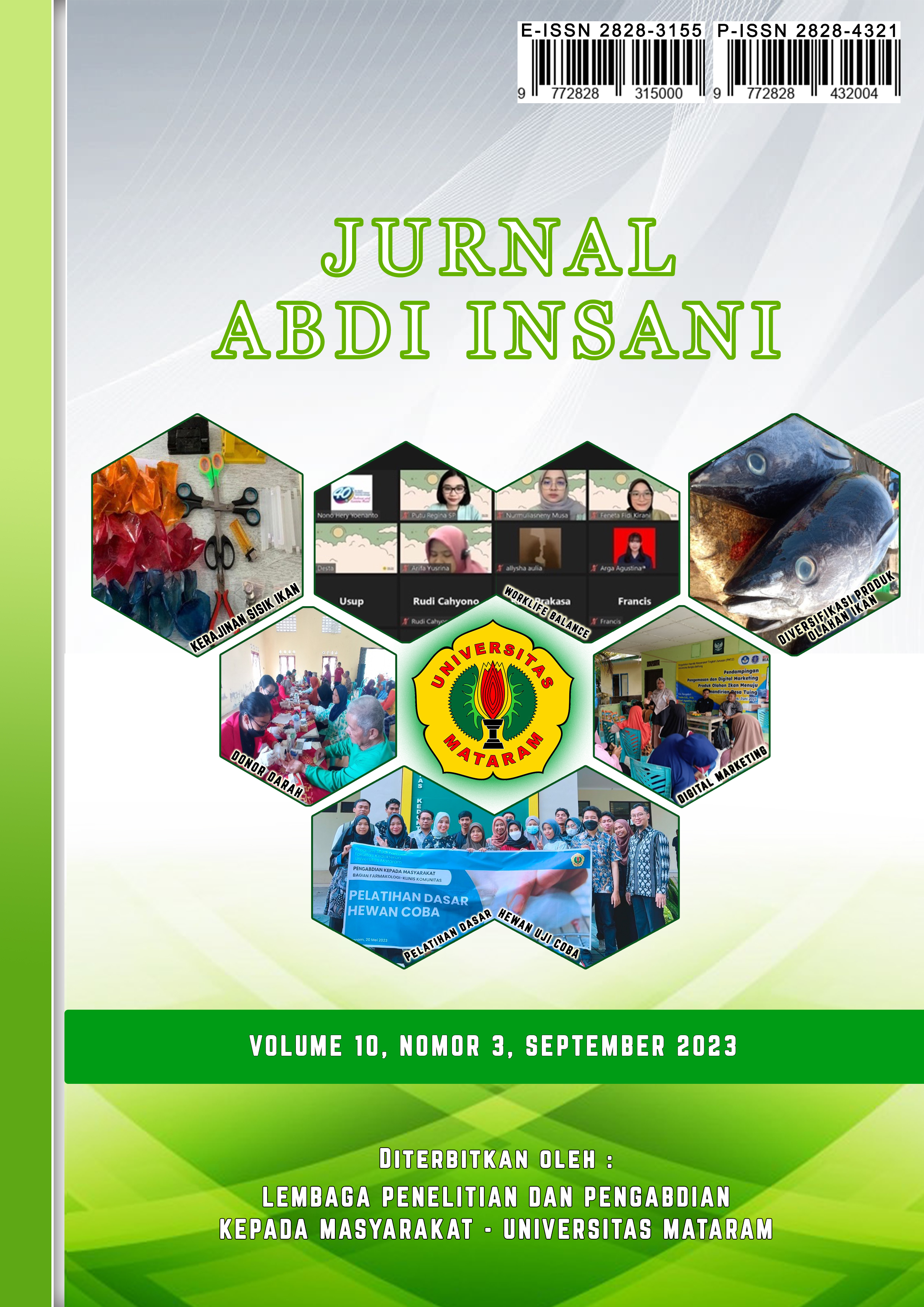 How to Cite
Mulyani, E. Y., Sari, Y., & Widiastuti, M. (2023). EDUKASI GIZI SEIMBANG BALITA DAN MPASI-LOKAL "IKAN KEMBUNG COMO" PADA KADER POSYANDU RW 021 SERUA CIPUTAT TANGERANG SELATAN. Jurnal Abdi Insani, 10(3), 1453-1464. https://doi.org/10.29303/abdiinsani.v10i3.1034