STRATEGI PENINGKATAN PEMASARAN MELALUI PELATIHAN FOTO PRODUK PADA UMKM DI DESA SETILING KABUPATEN LOMBOK TENGAH
Moh. Taqiuddin

Baiq Yulfia Elsadewi Yanuartati

Program Studi Agribisnis Universitas Mataram

Baiq Rika Ayu Febrilia

Program Studi Agribisnis Universitas Mataram

Diswandi Diswandi

Program Studi Ekonomi Pembangunan Universitas Mataram

Ni Made Wirastika Sari

Program Studi Agribisnis Universitas Mataram

Idiatul Fitri Danasari

Program Studi Agribisnis Universitas Mataram
Keywords:
marketing strategy, product photo, MSME
Abstract
The MSME group in Setiling Village is in Central Lombok Regency. This group focuses on the processing and marketing of traditional herbal products, chayote chips, ant sugar and fern chips. So far, MSMEs in Setiling Village are still carrying out marketing activities in a conventional way targeting community buyers in the village. As a result, these marketing activities have not been optimal and have not been supported by the use of technology regarding the importance of producing good product photos. This service aims to improve marketing strategies for MSMEs in Setiling Village, Central Lombok Regency through product photo training. This product photo activity was carried out using the participant's smartphone. The main target in this activity is MSME actors who have received training and assistance in 2022. The method used in this community service activity is interactive participatory. Service is divided into three stages, namely planning and preparation, implementation and evaluation. Participants in the service activity consisted of 14 MSME actors and three students. At the beginning of the activity, participants were given material regarding the importance of product photos in marketing. Participants were also given an understanding of product photography techniques and product photo examples as a reference. After the material delivery activity, the participants then directly practiced the knowledge gained using their smartphones. During practical activities participants can use the property brought by the service team. Based on the activities that have been carried out, participants already have an understanding of product photo techniques and are able to produce product photos using their smartphone. Thus, there was an increase in participants' understanding of marketing strategies. Another result is that participants managed to upload product photos to their e-commerce accounts.
Downloads
Download data is not yet available.
References
Afra, F. S., & Atmojo, M. E. (2022). Aktualisasi Pendampingan Foto Produk Sebagai Media Promosi Online UMKM 'Jamu Gendong Kiringan'Di Masa Pandemi Covid-19. Parabela: Jurnal Ilmu Pemerintahan & Politik Lokal, 2(2), 98–107. Andriyanto, I. (2019). Penguatan daya saing usaha mikro kecil menengah melalui e-commerce. BISNIS: Jurnal Bisnis dan Manajemen Islam, 6(2), 87-100.
Arsi, A. A., Melati, L. S., Savitri, D. W., Jatmiko, P. D., Choiriyah, N. L., Damayanti, J. E., ... & Sephiawardani, N. A. (2023). Upaya Pemberdayaan Masyarakat Melalui Pelatihan Digital Marketing bagi UMKM di Desa Kutuk. Jumat Ekonomi: Jurnal Pengabdian Masyarakat, 4(1), 24-32.
Desipriani, D., Suprianingsih, S., & Fahzurrahman, M. (2022). PELATIHAN BEAUTY SHOT PHOTOGRAPHY DENGAN KAMERA HANDPHONE PADA MURID TATARIAS PENGANTIN DI LKP LELLY MEDAN MARELAN. JOURNAL OF COMMUNITY DEDICATION, 2(3), 141-150.
Maulana, S. M. (2015). Implementasi E-Commerce Sebagai Media Penjualan Online. Jurnal Administrasi Bisnis, 29(1), 1-9.
Navastara, D. A., Suciati, N., Fatichah, C., Tjandrasa, H., Arifin, A. Z., Cahyaningtyas, Z. A., ... & Sari, F. I. E. (2022). Pemanfaatan E-commerce dan Media Sosial Guna Meningkatkan Ekonomi dan Proses Bisnis UMKM Koppontren NURILA Bangkalan. Sewagati, 6(4), 437-448.
Nurlaily, F., Asmoro, P. S., & Aini, E. K. (2021). Pelatihan teknik foto produk menggunakan smartphone untuk meningkatkan visual branding usaha rintisan. J-ABDI: Jurnal Pengabdian Kepada Masyarakat, 1(3), 347-356.
Purwanto, Y. S., & Veranita, M. (2018). Pelatihan fotografi dasar bagi pelaku usaha kecil dan menengah (UKM) Kecamatan Lengkong Kota Bandung. Jurnal Dharma Bhakti Ekuitas, 2(2), 205-211.
Puspitasari, N. P. D., Nabillah, A. D. A., Bahari, R., Damar, N., & Caksono, M. (2019). Penerapan Teknologi Digital Marketing Untuk Meningkatkan Strategi Pemasaran Snack Tiwul. Jurnal Muhammaddiyah Bengkulu, 2(2).
Saptiyono, A., Watie, E. D. S., & Febriana, K. A. (2021). Pelatihan Fotografi Produk Bagi UMKM Kelurahan Gebangsari. TEMATIK, 3(1), 6-10.
Sari, W. P., & Irena, L. (2021). Komunikasi Visual Melalui Foto Produk Untuk Meningkatkan Nilai Jual Produk Umkm. Jurnal Bakti Masyarakat Indonesia, 4(3), 633-642.
Servanda, I. R. S., Sari, P. R. K., & Ananda, N. A. (2019). Peran Ulasan Produk Dan Fot Produk Yang Ditampilkan Penjual Pada Marketplace Shopee Terhadap Minat Beli Pria Dan Wanita. Jurnal Manajemen Dan Bisnis, 2(2), 69-79.
Sidhartani, S., Pratama, D., Raden, A. Z. M., & Qeis, M. I. (2020). Pelatihan foto produk UMKM Wayang Golek sebagai upaya promosi pasca pandemi Covid-19. Dharma Raflesia: Jurnal Ilmiah Pengembangan dan Penerapan IPTEKS, 18(2), 180-189.
Suranto, S., Efita Sari, D., Narimo, S., Ulfatun, T., Hadi Mustofa, R., Suwandi, J., ... & Azhar Hendawan, H. (2022). Optimalisasi Penggunaan Digital Marketing Melalui Sosial Media Dan E-Commerce Pada Industri Kecil Menengah Di Desa Kingkang, Kabupaten Klaten. JABDIPAMAS (Jurnal Pengabdi. Kpd. Masyarakat), 6(1), 123-36.
Wijaya, A. L., Ariawan, S. A. P. S., & Latifah, N. N. (2022). Peningkatan Kualitas Foto Produk dan Tampilan Pengemasan Produk Susu Kambing Etawa pada Setia Aji Farm Madiun sebagai Usaha untuk Mendukung Pemasaran Produk secara Online. Jumat Ekonomi: Jurnal Pengabdian Masyarakat, 3(3), 165-171.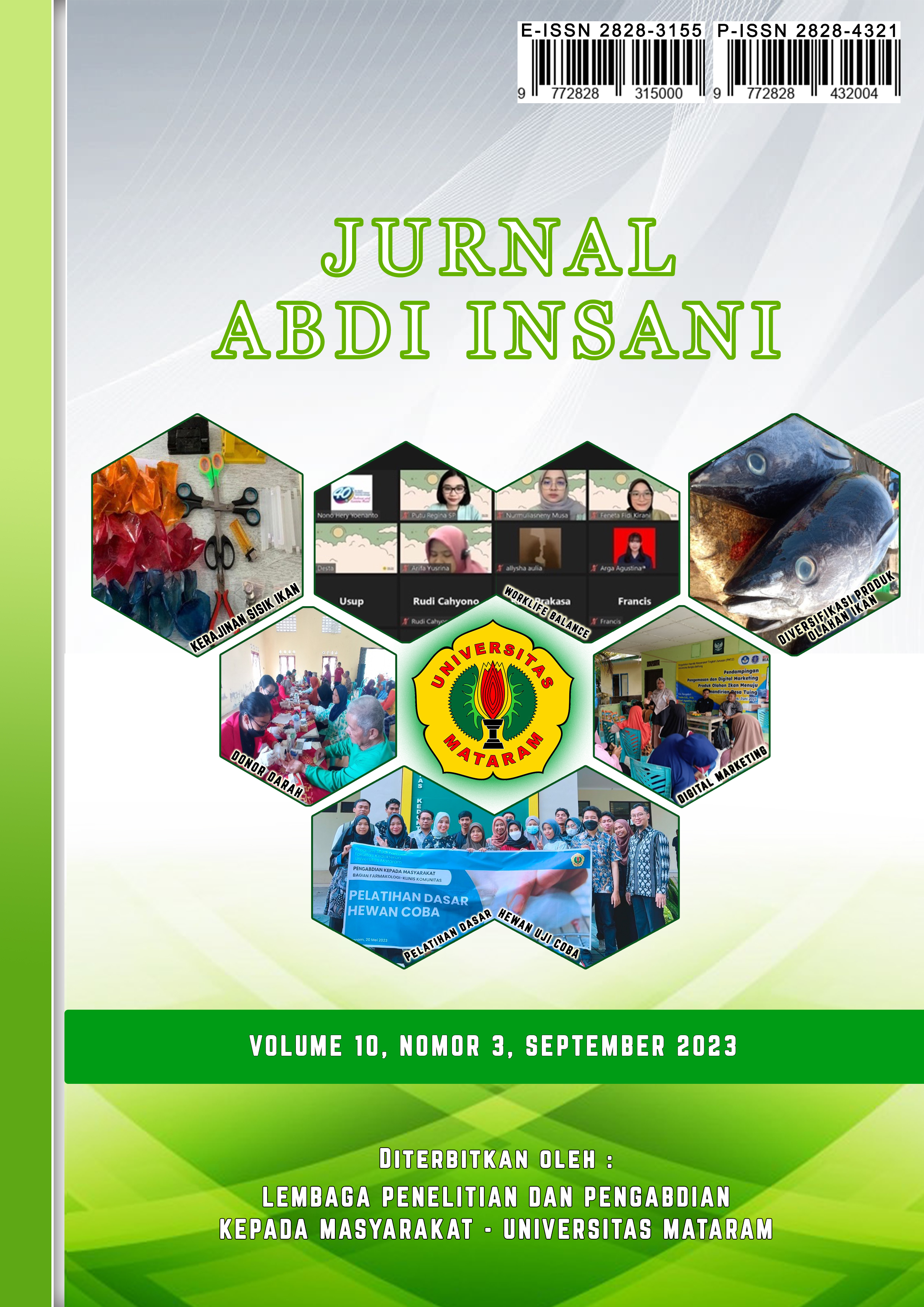 How to Cite
Taqiuddin, M., Yanuartati, B. Y. E., Febrilia, B. R. A., Diswandi, D., Sari, N. M. W., & Danasari, I. F. (2023). STRATEGI PENINGKATAN PEMASARAN MELALUI PELATIHAN FOTO PRODUK PADA UMKM DI DESA SETILING KABUPATEN LOMBOK TENGAH. Jurnal Abdi Insani, 10(3), 1361-1370. https://doi.org/10.29303/abdiinsani.v10i3.1023