PELAYANAN PENGELOLAAN LABORATORIUM MENGGUNAKAN QR CODE BERBASIS GOOGLE FORM
Hanna Nurul Husna

Program Studi Refraksi Optisi, Fakultas Ilmu Kesehatan, Universitas Bakti Tunas Husada

Syifa Nursiswanti

Program Studi Refraksi Optisi, Fakultas Ilmu Kesehatan, Universitas Bakti Tunas Husada

Iis Rahmawati

Program Studi Refraksi Optisi, Fakultas Ilmu Kesehatan, Universitas Bakti Tunas Husada

Cucu Nurpatonah

Program Studi Refraksi Optisi, Fakultas Ilmu Kesehatan, Universitas Bakti Tunas Husada

Ai Meri Yulianti

Program Studi Refraksi Optisi, Fakultas Ilmu Kesehatan, Universitas Bakti Tunas Husada

Itmam Milataka

Program Studi Refraksi Optisi, Fakultas Ilmu Kesehatan, Universitas Bakti Tunas Husada

Nurul Zakiatul Jannah Fitriani

Program Studi Refraksi Optisi, Fakultas Ilmu Kesehatan, Universitas Bakti Tunas Husada
Keywords:
Laboratory, google form, QR code
Abstract
QR code is a technology that is currently developing rapidly. Currently, laboratory services in the Refraction Optics Study Program are still carried out conventionally. The application of technology in laboratory management is needed to increase effectiveness and efficiency. The purpose of this activity is to create and implement a QR code in laboratory services. The QR code is used in the form of borrowing laboratory equipment; as well as record the use of equipment and laboratory space activities. The method used in this activity is the design method. The laboratory service form is created using Google Form and a QR code is created. Student responses to the application of the use of the QR code were obtained using a questionnaire. Data were analyzed descriptively. A total of five QR codes integrated with Google Form and Google Sheets have been created. The QR code includes a form for borrowing equipment and using the laboratory space. QR code in laboratory services has been successfully implemented. Some of the advantages of this laboratory digitization activity are unique, efficient, paperless, and easy to collect data. However, several shortcomings were found, such as high dependence on the internet, form displays that were still complex and less than simple. The use of QR codes in laboratory services raises pros and cons. The use of QR codes in the lab can be evaluated and integrated with other media to make it more attractive. Socialization and adaptation to the use of the QR code and in laboratory services are needed.
Downloads
Download data is not yet available.
References
Aldoobie, N. (2015). ADDIE Model. American International Journal of Contemporary Research, 5(6). https://doi.org/10.30845/aijcr
Anggraeni, F. K. A., Prastowo, S. H. B., & Prihandono, T. (2022). Development of Integrated QR Code Module on Physics Learning Module to Increase Learning Interest and Knowing Students' Digital Literacy. Jurnal Penelitian Pendidikan IPA, 8(5), 2203–2209. https://doi.org/10.29303/jppipa.v8i5.1874
Husna, H. N., & Ardi, A. K. (2020). Snake and Ladder Game for Eye Health Promotion : A Development Research. The 2nd BTH Health Science International Conference. Tasikmalaya.
Kemp, S. (2021). DIGITAL 2021: INDONESIA. Retrieved July 3, 2021, from Data Reportal website: https://datareportal.com/reports/digital-2021-indonesia
Law, C., & So, S. (2010). QR Codes in Education. Journal of Educational Technology Development and Exchange, 3(1). https://doi.org/10.18785/jetde.0301.07
Mahmudah, I. R., & Maulidah, R. (2021). Physics Laboratory Management: A Novel Use of QR Code Tag on Physics Equipment Storage Cabinet. Unnes Science Education Journal, 10(1), 18–23. https://doi.org/10.15294/usej.v10i1.40982
Mamin, R., Saenab, S., & Muhiddin, N. H. (2017). Inventarisasi Alat dan Bahan Laboratorium IPA dengan Fitur Quick Response Code (QR CODE). Jurnal IPA Terpadu, 1(1). https://doi.org/10.35580/ipaterpadu.v1i1.9660
Peraturan Pemerintah Republik Indonesia. (2005). Standar Nasional Pendidikan.
Pusat Pendidikan Tenaga Kesehatan. (2010). Standar Laboratorium Refraksi Optisi.
Rochmawati, N., Anistyasari, Y., Suyatno, D. F., & Kurniawan, I. F. (2018). A Responsive Web-Based QR Code for Laboratory Clearance Form. Journal of Physics: Conference Series, 1108, 012048. https://doi.org/10.1088/1742-6596/1108/1/012048
Shukran, M. A. M., Ishak, M. S., & Abdullah, M. N. (2017). Enhancing Chemical Inventory Management in Laboratory through a Mobile-Based QR Code Tag. IOP Conference Series: Materials Science and Engineering, 226, 012093. https://doi.org/10.1088/1757-899X/226/1/012093
Staehle, I. O., Chung, T. S., Stopin, A., Vadehra, G. S., Hsieh, S. I., Gibson, J. H., & Garcia-Garibay, M. A. (2016). An Approach To Enhance the Safety Culture of an Academic Chemistry Research Laboratory by Addressing Behavioral Factors. Journal of Chemical Education, 93(2), 217–222. https://doi.org/10.1021/acs.jchemed.5b00299
Traser, C. J., Hoffman, L. A., Seifert, M. F., & Wilson, A. B. (2015). Investigating the use of quick response codes in the gross anatomy laboratory. Anatomical Sciences Education, 8(5), 421–428. https://doi.org/10.1002/ase.1499
Uçak, E. (2019). Teaching Materials Developed Using QR Code Technology in Science Classes. International Journal of Progressive Education, 15(4), 215–228. https://doi.org/10.29329/ijpe.2019.203.16
Wangsa, W., & Prastyo, P. (2019). Implementasi Quick Response (QR) Code Pada Dokumen Instruksi Kerja Alat Laboratorium Kimia. Jurnal Pengelolaan Laboratorium Pendidikan, 1(2), 48–53. https://doi.org/10.14710/jplp.1.2.48-53
Yang, J., Xuan, S., Hu, Y., Liu, X., Bian, M., Chen, L., … Dou, Z. (2022). The framework of safety management on university laboratory. Journal of Loss Prevention in the Process Industries, 80, 104871. https://doi.org/10.1016/j.jlp.2022.104871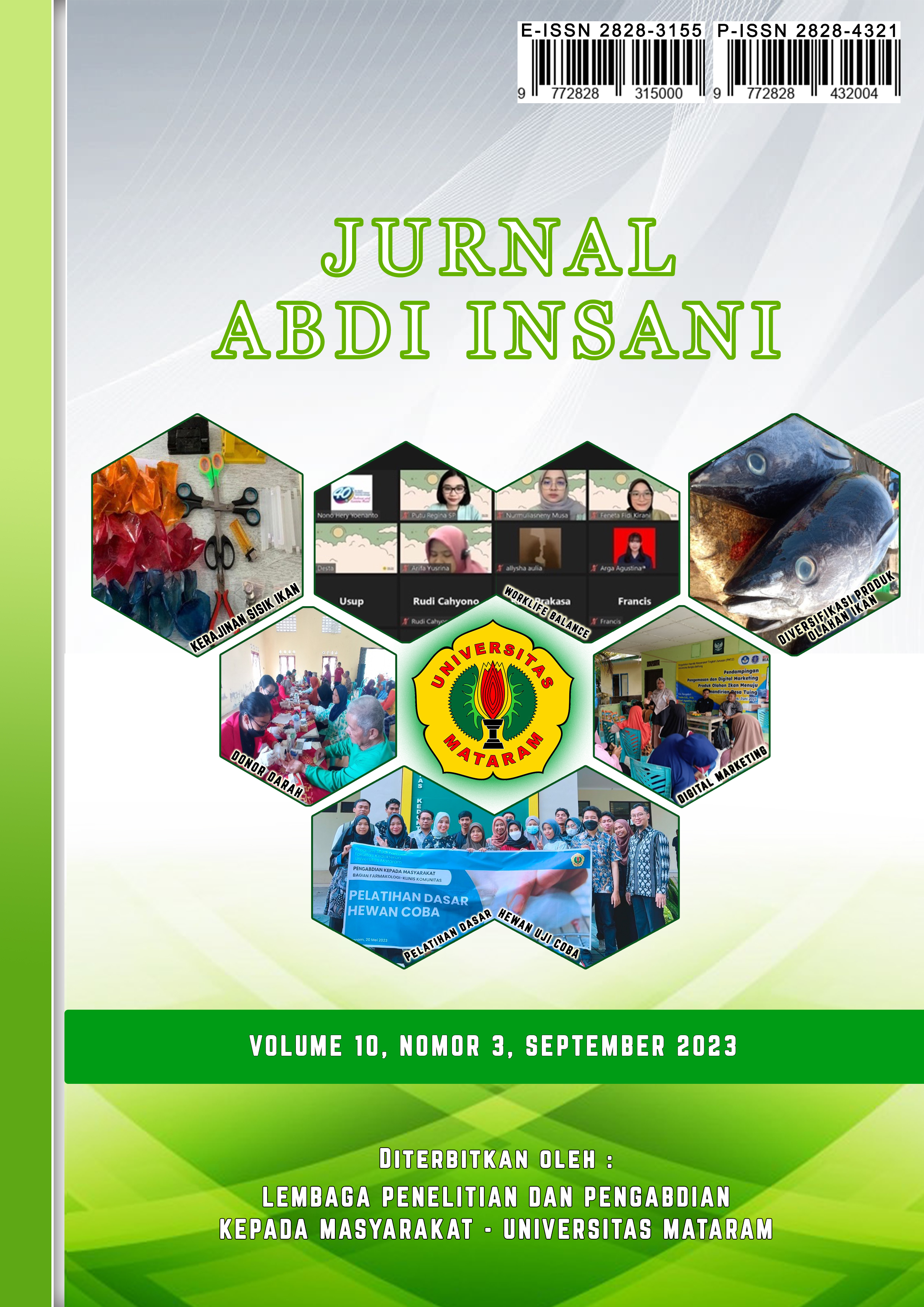 How to Cite
Husna, H. N., Nursiswanti, S., Rahmawati, I., Nurpatonah, C., Yulianti, A. M., Milataka, I., & Fitriani, N. Z. J. (2023). PELAYANAN PENGELOLAAN LABORATORIUM MENGGUNAKAN QR CODE BERBASIS GOOGLE FORM. Jurnal Abdi Insani, 10(3), 1803-1812. https://doi.org/10.29303/abdiinsani.v10i3.1022