PENGEMBANGAN MODUL KESEHATAN REPRODUKSI BERBASIS POSITIVE YOUTH DEVELOPMENT FRAMEWORK PADA POSYANDU REMAJA
Bani Bacan Hacantya Yudanagara

Departemen Psikologi, Fakultas Psikologi Universitas Airlangga

Rahmad Aji Prasetya

Departmen Farmasi Klinis, Akademi Farmasi Surabaya

Aphrodita Cahya Buwana

Departemen Psikologi, Fakultas Psikologi Universitas Airlangga

Putu Vidyastitha Wiguna

Departemen Psikologi, Fakultas Psikologi Universitas Airlangga
Keywords:
Positive Youth Development, Youth Posyandu, Reproductive Health, Youth Empowerment
Abstract
Risky sexual behavior is common among teenagers in Tosari, Pasuruan, and is caused by lack of access to reproductive health knowledge. Data from primary health care stated that 60% of mothers who had children under five married at too-young age of 15-19 years. However, Tosari has an active and routine Youth Integrated Health Post or Posyandu Remaja (PR). PR is a community-based youth health service that can potentially increase access to reproductive health services for youth around PR. During the development period, youth needs to prevent risks, including risky sexual behavior, as described in the Positive Youth Development (PYD) framework. Therefore, a reproductive health education modul was developed using the PYD framework. Modul was delivered to PR cadres and members in Tosari using modules compiled through literature studies and assessments from experts and stakeholders. After that, attitudes and knowledge were measured through pre-test and post-test. The results showed a significant change in knowledge and attitudes among participants after following the education program (p < 0.001, effect size 0.649). This module and educational model are expected to improve and help youths to face challenges during the development period so that risky sexual behavior can be avoided.
Downloads
Download data is not yet available.
References
Arat, G., & Wong, P. W. C. (2018). Integrating resilience and positive youth development for the promotion of positive health behaviours among ethnic minorities: A conceptual framework. Asia Pacific Journal of Social Work and Development, 28(4), 250–263. https://doi.org/10.1080/02185385.2018.1502679
Badan Penelitian dan Pengembangan Kesehatan Kemenkes RI. (2019). Laporan Nasional Riskesdas 2018 (A. Suprapto, J. Irianto, D. H. Tjandrarini, & B. A. Bowo, Eds.). Lembaga Penerbit Balitbangkes (LPB).
Boustani, M. M., Frazier, S. L., & Lesperance, N. (2017). Sexual health programming for vulnerable youth: Improving knowledge, attitudes, and behaviors. Children and Youth Services Review, 73, 375–383. https://doi.org/10.1016/j.childyouth.2017.01.013
Castro, F. de, Rojas-Martínez, R., Villalobos-Hernández, A., Allen-Leigh, B., Breverman-Bronstein, A., Billings, D. L., & Uribe-Zúñiga, P. (2018). Sexual and reproductive health outcomes are positively associated with comprehensive sexual education exposure in Mexican high-school students. PLOS ONE, 13(3), e0193780. https://doi.org/10.1371/journal.pone.0193780
Catalano, R. F., Skinner, M. L., Alvarado, G., Kapungu, C., Reavley, N., Patton, G. C., Jessee, C., Plaut, D., Moss, C., Bennett, K., Sawyer, S. M., Sebany, M., Sexton, M., Olenik, C., & Petroni, S. (2019). Positive Youth Development Programs in Low- and Middle-Income Countries: A Conceptual Framework and Systematic Review of Efficacy. Journal of Adolescent Health, 65(1), 15–31. https://doi.org/10.1016/j.jadohealth.2019.01.024
Fitriana, H., & Siswantara, P. (2019). Pendidikan Kesehatan Reproduksi Remaja di SMPN 52 Surabaya. The Indonesian Journal of Public Health, 13(1), 110.
Harris, L. W., & Cheney, M. K. (2018). Positive Youth Development Interventions Impacting the Sexual Health of Young Minority Adolescents: A Systematic Review. The Journal of Early Adolescence, 38(1), 74–117. https://doi.org/10.1177/0272431615578693
Johariyah, A., & Mariati, T. (2018). Efektivitas Penyuluhan Kesehatan Reproduksi Remaja Dengan Pemberian Modul Terhadap Perubahan Pengetahuan Remaja. Jurnal Manajemen Kesehatan Yayasan RS.Dr. Soetomo, 4(1), 38–46. https://doi.org/10.29241/jmk.v4i1.100
Lerner, R. M., Lerner, J. V., Bowers, E. P., & Geldhof, G. J. (2015). Positive youth development: A relational developmental systems model. In P. C. Molenaar & R. M. Lerner (Eds.), The handbook of child psychology and developmental science. Vol. 1: Theory and method (7th ed, pp. 607–651). Wiley.
Nainggolan, M., Baridwa, S., Fauzanin, I., Linadi, K., & Yudanagara, B. (2014). Laporan Pemetaan Kesehatan Keluarga Kecamatan Tosari Tahun 2014.
National Population and Family Planning Board (BKKBN), Statistics Indonesia (BPS), Ministry of Health (Kemenkes), & ICF. (2018). Indonesia Demographic and Health Survey 2017. BKKBN, BPS, Kemenkes, and ICF. https://dhsprogram.com/pubs/pdf/FR342/FR342.pdf
Nisman, W. A., Parmawati, I., Setyoharsih, T. W., Gita, R. V. F., & Annisa, R. (2020). How does health reproduction education based on gender equality influence knowledge, attitudes, and self-efficacy in adolescents? Enfermería Clínica, 30, 11–15. https://doi.org/10.1016/j.enfcli.2020.09.002
Nugroho, W. (2014). Kisah Tujuh Penjuru. Kompas Media Nusantara.
Oktarina, J., Marono, H. M., & Purnomo, W. (2017). Pengaruh Pendidikan Kesehatan Reproduksi oleh Sebaya terhadap Pengetahuan dan Sikap dalam Pencegahan Seks Pranikah di SMAN 1 Sukamara, Kabupaten Sukamara, Kalimantan Tengah. Buletin Penelitian Sistem Kesehatan, 20(1), 26–33.
Paksi, D., & Kartikawati, R. (2013a). Antara Kebutuhan dan Tabu: Pendidikan Seksualitas dan Kesehatan Reproduksi bagi Remaja SMA. Makara Seri Kesehatan, 17, 79–87.
Paksi, D., & Kartikawati, R. (2013b). Antara Kebutuhan dan Tabu: Pendidikan Seksualitas dan Kesehatan Reproduksi bagi Remaja SMA. Makara Seri Kesehatan, 17, 79–87.
Plourde, K. F., Fischer, S., Cunningham, J., Brady, K., & McCarraher, D. R. (2016). Improving the paradigm of approaches to adolescent sexual and reproductive health. Reproductive Health, 13(1), 72. https://doi.org/10.1186/s12978-016-0191-3
Putu Yayuk Widyani Wiradirani; Waode Sitti Asfiah Udu. (2014). PENGARUH INTERVENSI PENYULUHAN TERHADAP PENGETAHUAN DAN SIKAP REMAJA TENTANG KESEHATAN REPRODUKSI. MEDULA JURNAL ILMIAH FAKULLTAS KEDOKTERAN UNIVERSITAS HALU OLEO, Vol 1, No 2 (2014). http://ojs.uho.ac.id/index.php/medula/article/view/198/138
Rushing, S. N. C., Hildebrandt, N. L., Grimes, C. J., Rowsell, A. J., Christensen, B. C., & Lambert, W. E. (2017). Healthy & Empowered Youth: A Positive Youth Development Program for Native Youth. American Journal of Preventive Medicine, 52(3, Supplement 3), S263–S267. https://doi.org/10.1016/j.amepre.2016.10.024
Salam, R. A., Faqqah, A., Sajjad, N., Lassi, Z. S., Das, J. K., Kaufman, M., & Bhutta, Z. A. (2016). Improving Adolescent Sexual and Reproductive Health: A Systematic Review of Potential Interventions. Journal of Adolescent Health, 59(4, Supplement), S11–S28. https://doi.org/10.1016/j.jadohealth.2016.05.022
Sheehan, K., Bhatti, P. K., Yousuf, S., Rosenow, W., Roehler, D. R., Hazekamp, C., Wu, H.-W., Orbuch, R., Bartell, T., Quinlan, K., & DiCara, J. (2022). Long-term effects of a community-based positive youth development program for Black youth: Health, education, and financial well-being in adulthood. BMC Public Health, 22(1), 593. https://doi.org/10.1186/s12889-022-13016-z
UNFPA Indonesia. (2013). Annual Report 2013: Because Everyone Counts.
Walsh, S., Jenner, E., Qaragholi, N., Henley, C., Demby, H., Leger, R., & Burgess, K. (2022). The Impact of a High School-Based Positive Youth Development Program on Sexual Health Outcomes: Results from a Randomized Controlled Trial. Journal of School Health, n/a(n/a). https://doi.org/10.1111/josh.13216
World Health Organization, Commonwealth Medical Association Trust, & UNICEF. (2023). Orientation programme on adolescent health for health-care providers. https://www.who.int/publications-detail-redirect/9241591269
Yudanagara, B. (2020). Pendidik Sebaya Kesehatan Reproduksi Di Kecamatan Tosari, Pasuruan: Pemberdayaan Pemuda Untuk Keberlanjutan. Media Publikasi Promosi Kesehatan Indonesia (MPPKI), 3(2), Article 2. https://doi.org/10.56338/mppki.v3i2.1085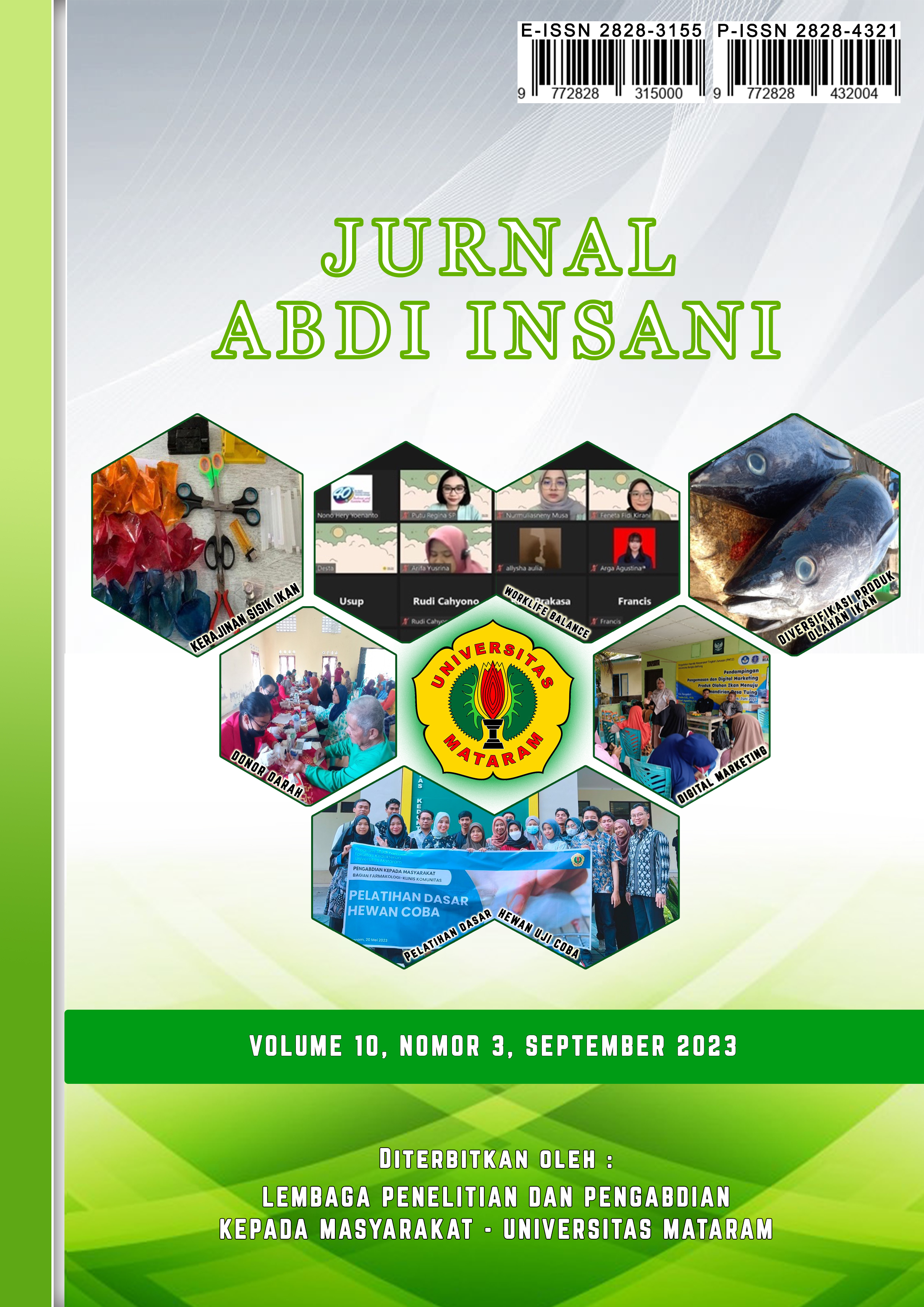 How to Cite
Yudanagara, B. B. H., Prasetya, R. A., Buwana, A. C., & Wiguna, P. V. (2023). PENGEMBANGAN MODUL KESEHATAN REPRODUKSI BERBASIS POSITIVE YOUTH DEVELOPMENT FRAMEWORK PADA POSYANDU REMAJA. Jurnal Abdi Insani, 10(3), 1698-1706. https://doi.org/10.29303/abdiinsani.v10i3.1020