PELATIHAN MENGGUNAKAN DIGITAL MARKETING UNTUK MEMASARKAN PRODUK UMKM PENGRAJIN TAS LOKAL CHESSY, DESA TEGALWARU KABUPATEN BOGOR
Dwi Mandasari Rahayu

Politeknik Negeri Media Kreatif

Yuyun Khairunisa

Politeknik Negeri Media Kreatif
Keywords:
Digital Marketing, Marketplace, UMKM Local Bags
Abstract
The Covid-19 pandemic situation affected the state of the economy, many companies were "laying off" their workers to cover losses. This situation underlies the establishment of the Chessy Local Bag UMKM in Tegal Waru District, Bogor Regency. Based on the results of interviews with Chessy Local Bag Craftsmen MSME owners that there have been problems so far using conventional marketing. This resulted in marketing that was carried out less than optimally so that the products sold experienced stagnation and even delays. The purpose of this activity is to increase the knowledge and skills of employees at UMKM Chessy Local Bags using Digital Marketing. The implementation method uses a qualitative approach. Activities are divided into six stages, namely; preparation, data collection, implementation, evaluation, preparation of results, and reporting of implementation results. The data collection techniques used are: interviews, questionnaires, observation and literature study. As for the survey results on the activity, namely that there were 66.67% of respondents who did not understand digital marketing at all after attending the training, they understood, 100% of respondents said that digital marketing training carried out in this activity could increase understanding. There are several types of digital marketing that have been explained and 100% of respondents are most comfortable using the marketplace to market their products because it can affect sales. The implementation of community service went smoothly, the participants enthusiastically participated in the series of activities until they were finished. Participants hope that more training will be held with different topics for Chessy Local Tas UMKM employees. The conclusion from this activity is that the training carried out can increase the knowledge and skills of Chessy Local Tas UMKM employees to use Digital Marketing.
Downloads
Download data is not yet available.
References
Aryaningsih, L. L., Tyas, S. S., & Cahyadi, R. (2021). Perancangan Media Penjualan Produk Pada Tina Tailor Berbasis Mobile Web. Jurnal Multi Media Dan IT, 5(2), 1–6.
Fahri., Jalil, A., & Kasnelly, S. (2019). Meningkatnya Angka Pengangguran Di Tengah Pandemi Covid-19. Al Mizan : Jurnal Ekonomi Syariah, 2(2),45-60.
Febriyantoro, M. T., & Arisandi, D. (2018). Pemanfaatan Digital Marketing Bagi Usaha Mikro, Kecil Dan Menengah Pada Era Masyarakat Ekonomi Asean. JMD: Jurnal Riset Manajemen & Bisnis Dewantara, 1(2), 61-76.
Harahap, H. S., Dewi, N. T., Ningrum, E. P. (2021). Pemanfaatan Digital Marketing Bagi UMKM. Jurnal Loyalitas Sosial, 3(2), 70-85.
Kannan, P. K., & Hongshuang, L. (2016). Digital Marketing: A Framework, Review And Research Agenda. International Journal of Research in Marketing, 34(1), 22-45.
Kurniawan, E., Nofriadi., & Maharani, D. (2021). Sosialisasi Digital Marketing Dalam Upaya Peningkatan Penjualan Produk UMKM. Jurnal Pemberdayaan Sosial dan Teknologi Masyarakat , 1(1), 31-36.
Naimah, R. J., Wardhana, M. W. (2020). Penerapan Digital Marketing Sebagai Strategi Pemasaran UMKM. Jurnal Impact : Implementation and Action, 2(2), 1-12.
Purwana, D., Rahmi, R., & Aditya, S. (2017). Pemanfaatan Digital Marketing Bagi Usaha Mikro, Kecil, Dan Menengah (UMKM) Di Kelurahan Malaka Sari, Duren Sawit. Jurnal Pemberdayaan Masyarakat Madani (JPMM), 1(1), 1-17.
Rahayu, D. M. (2021). The Influence of Social Media Marketing Efforts and Brand Equity on Customer Response. Jurnal Mediasi, 2(3), 163-180.
Ridwan, I. M., Fauzi. A. (2019). Penerapan Digital marketing Sebagai Peningkatan Pemasaran Pada UKM Warung Angkringan "WAGE" Bandung. Jurnal AbdimaS BSI (Jurnal Pengabdian Kepada Masyarakat), 2(1), 137-142.
Supratman, L. P., & Rachmansyah, M. (2020). Peran Media Instagram dalam Memasarkan Produk Fashion Dollies. Jurnal Studi Komunikasi Dan Media, 24(1), 73-90.
Wardana, A. (2018). Strategi Digital marketing Dan Implikasinya Pada Keunggulan Bersaing UKM Di Indonesia. Prosiding Seminar Nasional: Forum Keuangan dan Bisnis IV, Th 2015. ISBN : 978-602-17225-4-1.
Wardini, A. S., & Rahayu, D. M. (2023). Pembuatan Mobile Web Dinamis Sebagai Media Pemasaran Produk Jasa Kecantikan "Beaute By Mellenia." Jurnal Multi Media Dan IT, 6(2), 1–11.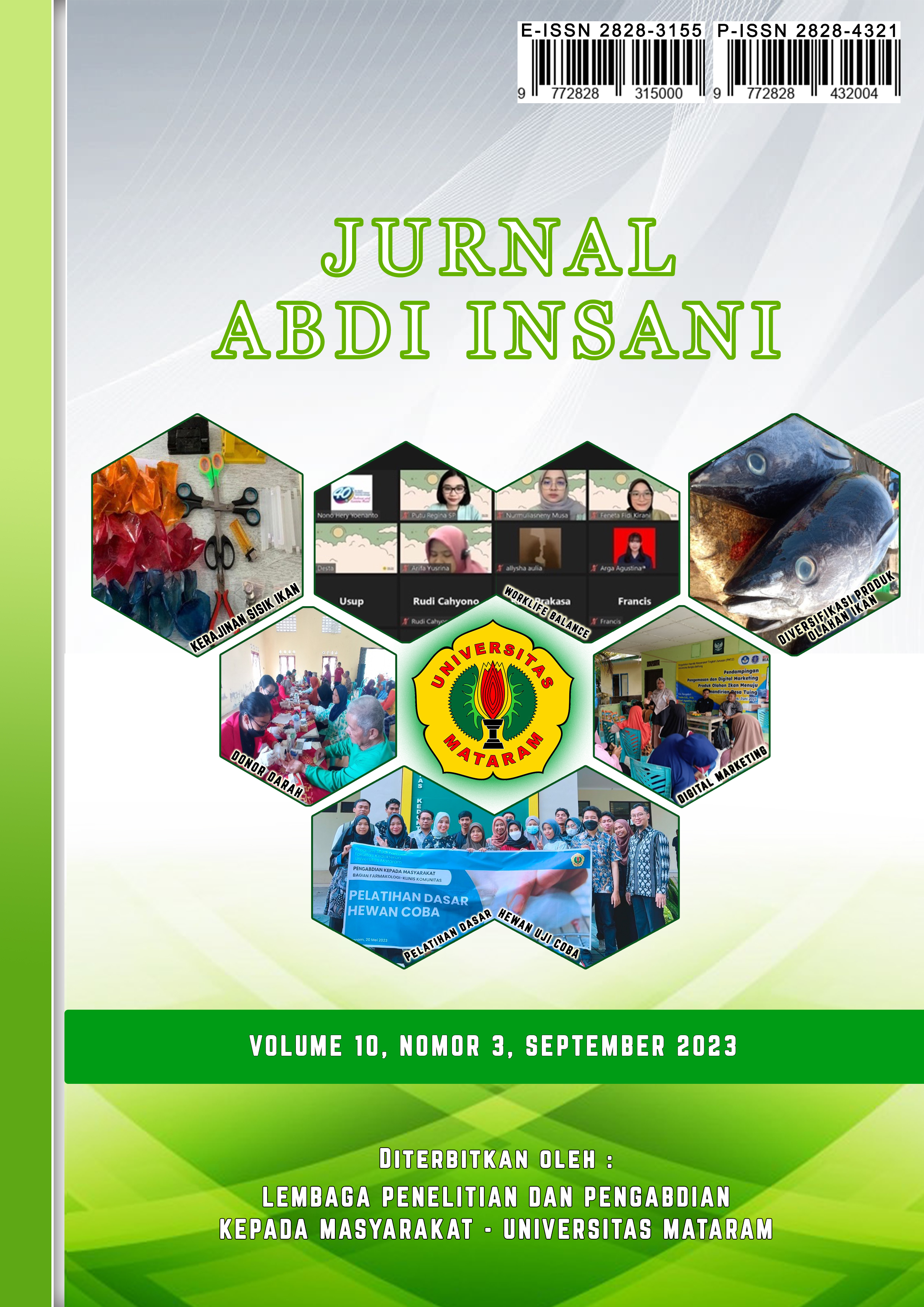 How to Cite
Rahayu, D. M., & Khairunisa, Y. (2023). PELATIHAN MENGGUNAKAN DIGITAL MARKETING UNTUK MEMASARKAN PRODUK UMKM PENGRAJIN TAS LOKAL CHESSY, DESA TEGALWARU KABUPATEN BOGOR. Jurnal Abdi Insani, 10(3), 1495-1505. https://doi.org/10.29303/abdiinsani.v10i3.1018