PELATIHAN PENGELOLAAN KEUANGAN RUMAH TANGGA BAGI WANITA NELAYAN DI DESA NENAS SIAM KABUPATEN BATU BARA
Azizah Mahary

Program Studi Budidaya Perairan, Universitas Asahan

Irham Huspa Siregar

Program Studi Biologi, Universitas Islam Labuhan Batu

Asep Gunawan

Dinas Perikanan Kabupaten Batu Bara
Keywords:
Fisherwomen, financial management, household
Abstract
Family financial management is a fundamental skill that must be owned by every household. The wife has an important role in managing family finances because the wife's job is to be the "finance minister" for her family. Financial problems generally occur when the amount of expenditure is greater than the amount of income, and the amount of income earned is irregular. This PKM activity was carried out on Wednesday-Thursday June 7-8 2023, 09.00 to 12.00 WIB at the Nenas Siam Village Hall, Batu Bara Regency with the target of 18 fishermen's wives or women with the aim that participants could identify sources of income and expenses , can determine between needs and wants, and understand how to control expenses according to the budget that has been compiled so that family needs are met. This PKM activity method is carried out in three stages, namely: 1) planning and preparation stage, 2) activity implementation stage, 3) final evaluation stage with lecture techniques, group discussions, and assignment assignments. As a result of this activity, the participants were very enthusiastic about participating in the training, which was marked by the participants following it until the event was over, the participants were able to prepare a family budget by making simple bookkeeping. Based on the results of the activity evaluation, participants hoped that there would be a follow-up program with a similar theme in order to better understand family planning specifically.
Downloads
Download data is not yet available.
References
Adil, M. S. (2017). Strategi dlam Pengelolaan Keuangan Rumah Tangga. PARAMETER, 2(2). https://doi.org/https://doi.org/10.37751/parameter.v2i2.15.
Akbar, M., Maulina, A., & Chifziah, V. (2019). Penyuluhan Pengelolaan Keuangan Rumah Tangga Di Masa Pandemi Covid-19 Di Kampung Buaran Cakung Jakarta Timur. 2(1), 4.
Alfina, P. Y. (2020), "Pengaruh Gaya Hidup, Kecerdasan Spiritual dan Jenis Kelamin Terhadap Perilaku Pengelolaan Keuangan Keluarga", Hal: 01-20.
Budiantoro, H., Sari, I., Hukama, L. D., Zain, E., & Simon, Z. Z. (2019). Pelatihan Pengelolaan Keuangan Bagi Ibu-Ibu Rumah Tangga dan Kader PKK RT 16 RW 04 Kelurahan Cempaka Putih Timur. SELAPARANG Jurnal Pengabdian Masyarakat Berkemajuan, 2(2), 24. https://doi.org/10.31764/jpmb.v2i2.882.
Dewi, M. W., Kusuma, I. L., & Kristiyanti, L. (2021). Sosialisasi Pengelolaan Keuangan Rumah Tangga Di Masa Pandemi Covid -19. 03(01), 5.
Marlina, T. M., & Nugraheni, M. (2018). Peran Ibu Rumah Tangga Dalam Meningkatkan Kesejahteraan Keluarga. Sosio Informa, 4. https://doi.org/10.33007/inf.v4i2.1474
Novianti, L., & Denziana, A. (2010). Manajemen Keuangan Keluarga. Jurnal Perempuan, Agama, dan Gender, 9(2), 1-11.
Putri, L. (2019), "Pengaruh Gaya Hidup dan Literasi Keuangan Terhadap Pengelolaan Keuangan Tenaga Kerja Muda di Jakarta". 1(1).
Ridwan. (2015). The Handbook of Family Financial Planning Mengelola Keuangan Keluarga Secara Islami. Medan (ID): FEBI UIN-SU Press. Univesitas Islam Negeri Sumatera Utara.
Rodhiyah. (2012). Manajemen Keuangan Keluarga Guna Menuju Keluarga Sejahtera. FORUM: Majalah Pengembangan Ilmu Sosial, (1), 28–33.
Siagian, S. P. (2018). Manajemen Sumber Daya Manusia. Jakarta (ID): Bumi Aksara.
Sina Peter Garlans. (2014). Tipe Kepribadian dalam Personal Finance. Jurnal JIBEKA, 8(1). Februari 2014. Institute Transformasi Indonesia NGO.
Sukirman, H, R. (2019). Pengelolaan Keuangan Keluarga dalam Rangka Peningkatan Masyarakat Mandiri dan Berperan dalam Peningkatan Literasi Keuangan Indonesia (Otoritas Jasa keuangan). Jurnal Abdimas, 165-169.
Triningsih, S., & Widyasari, F. (2010). Manajemen Pengelolaan Dan Perencanaan Keuangan Keluarga Pada Ibu Rumah Tangga Di Kawasan Siwalan Kerto Surabaya. Jurnal Strategi Akuntans,. 2(1). Januari 2010.
Wahyu, N. (2012). Peran dan Potensi Wanita Dalam Pemenuhan Kebutuhan Ekonomi Keluarga Nelayan. Journal of Educational Social Studies, 1(2), 104–111.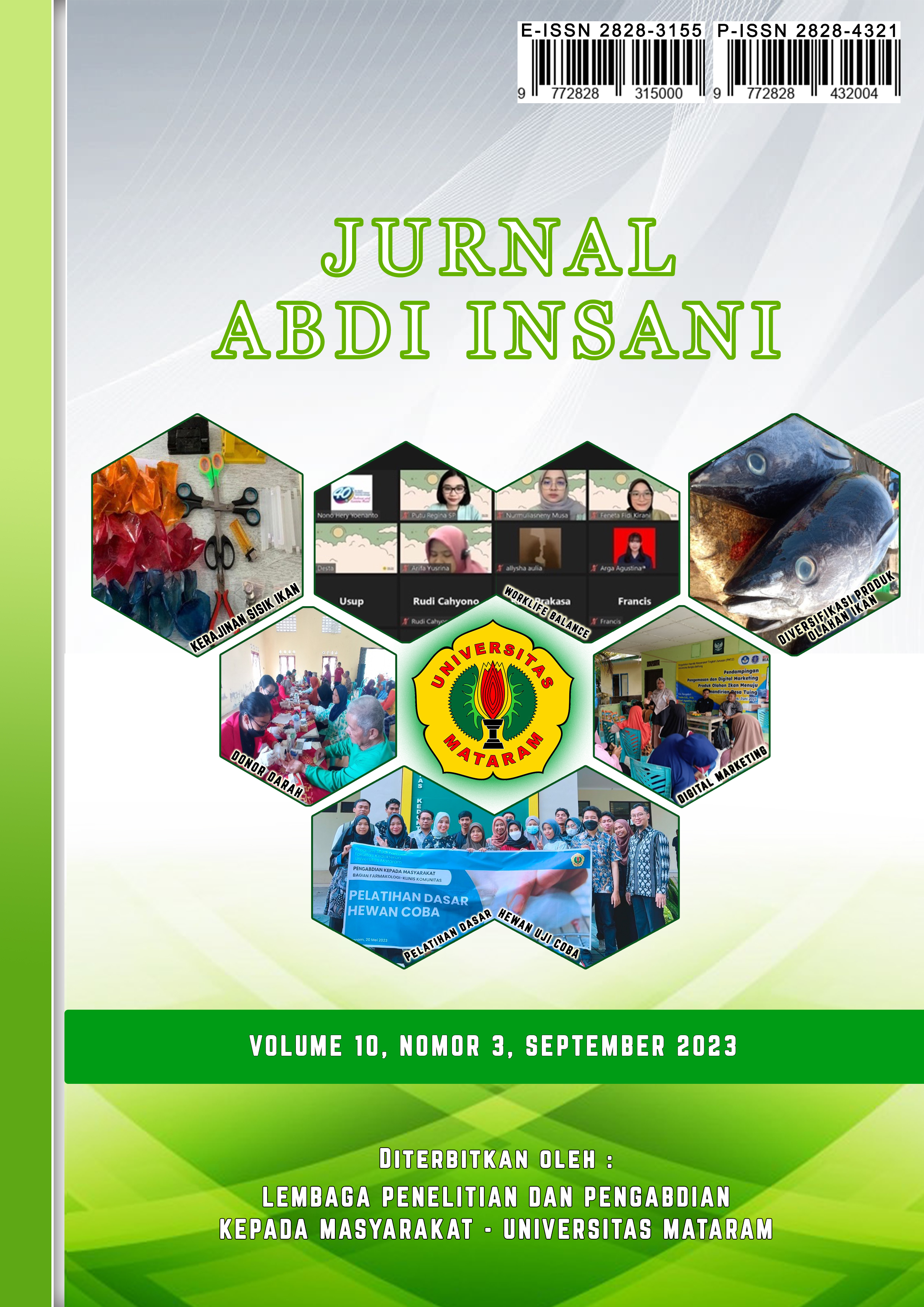 How to Cite
Mahary, A., Siregar, I. H., & Gunawan, A. (2023). PELATIHAN PENGELOLAAN KEUANGAN RUMAH TANGGA BAGI WANITA NELAYAN DI DESA NENAS SIAM KABUPATEN BATU BARA. Jurnal Abdi Insani, 10(3), 1348-1360. https://doi.org/10.29303/abdiinsani.v10i3.1002