INCREASING PRODUCTION OF FISH CONSUMPTION BASED ON LOCAL WISDOM WITH CULTURE BASED FISHERIES (CBF) TECHNOLOG
Rahma Mulyani

Program Studi Budi Daya Ikan Universitas PGRI Palembang

Sumantriyadi Sumantriyadi

Program Studi Budi Daya Ikan Universitas PGRI Palembang

Lia Perwita Sari

Program Studi Budi Daya Ikan Universitas PGRI Palembang

Yulia Puspita Sari

Program Studi Budi Daya Ikan Universitas PGRI Palembang

Santi Mayasari

Program Studi Budi Daya Ikan Universitas PGRI Palembang

Humairani Humairani

Program Studi Budi Daya Ikan Universitas PGRI Palembang
Keywords:
CBF, Fish, MA Bahrul Ulum, fisheries, banyuasin
Abstract
One of the aquaculture techniques is Culture Based Fisheries (CBF). CBF or Cultivation-Based Capture Fisheries is a capture fishery activity where the caught fish come from cultured fish seeds that are spread into water bodies, and the stocked fish seeds will grow by utilizing available natural food in increasing consumption fish production based on local wisdom. The purpose of this activity is to add insight and information for teachers and students about aquaculture using the CBF technique. The method used is the observation and preparation stage, the coordination stage, the tool and material preparation stage, and finally the implementation stage. The results of PKM activities The target audience in this Community Service activity is the community in general, but specifically it is addressed to the Santri/Students and Teachers at MA Bahrul Ulum Muliasari Tanjung Lago, Banyuasin Regency, which specifically has been attended by 41 people. During the PKL implementation, activities were carried out in 3 activities, the first was a speech from the head of MA Bahrul Ulum and also the PKL Team Leader, in the second session followed by a presentation session of 6 materials and the last was a demonstration activity or practice of measuring water quality as well as socialization of aquaculture study programs. fish. The results of this PKM are used to increase the willingness and knowledge of the community through students/teachers in developing their area to apply CBF technology to develop the fisheries sector in the area which looks quite promising.
Downloads
Download data is not yet available.
References
Aisyah, Triharyuni, S., Prianto, E., Purwoko, R. M., & Husnah. (2019). Culture Based Fisheries (CBF) As an effort to increase dish production in Reservoir. Jurnal Kebijakan Perikanan Indonesia, 11(1), 53–63.
De Silva, S. ., Ingram, B. A., & Wilkinson, S. (eds. . (2015). Perspectives on culture-based fi sheries developments in Asia. Australia (AU) : . NACA Monograph Series.
Effendi, I. (2004). Pengantar Akuakultur. Jakarta (ID): Penebar Swadaya.
Fajarina, A. (2022). Pencapaian kematangan emosi pada siswa kelas XII MAN 2 Bojonegoro. Jurnal Pendidikan Dasar, 6(1), 26–34.
FAO. (2015). Report of the APFIC/FAO regional consultation: improving the contribution of culture-based fisheries and fishery enhancements in inland waters to blue growth. Bangkok (TH) : FAO Regional Office for Asia and the Pacific.
Harmilia, E. D. (2020). Penyuluhan kualitas air yang baik untuk budidaya ikan (parameter fisikan kimia). Jurnal Ilmiah Pengabdian Kepada Masyarakat, 2(1), 37–40.
Kartamihardja, E., Purnomo, K., Tjahjo, D. W. H., Umar, C., Sunarno, M. . D., & Koeshendrajana, S. (2010). Petunjuk teknis pemulihan sumber daya ikan di perairan umum daratan Indonesia. Jakarta (ID) : Pusat Penelitian Pengelolaan Perikanan dan Konservasi Sumberdaya Ikan.
Kartamihardja, E. S. (2015). Potential of culture-based fisheries in Indonesian inland waters. Bangkok (TH) : Network of Aquaculture Centres in Asia-Pacific.
Kementerian Kelautan dan Perikanan. (2016). Angka konsumsi ikan 2010–2015. Paper diunduh dalam bentuk pdf pada http ://statistik.kkp.go.id/sidatik-dev/index.php?m=3&id=2, 2 Oktober 2020. p.2.
Kementerian Kelautan dan Perikanan. (2018). Produktivitas perikanan Indonesia. Bahan presentasi pada Forum Merdeka Barat 9 Kementerian Komunikasi dan Informatika, Jakarta,19 januari 2018. (https://kkp.go.id/wp-content/uploads/2018/01/KKP-Dirjen-PDSPKP-FMB-Kominfo-19-Januari-2021.pdf).
Koniyo Y. 2020. Analisis kualitas air pada lokasi budidaya air tawar di kecamatan Suwawa Tengah. Jurnal Technopreneur, 8(1), 52-58.
Oktorina, P., Novita, M. Z., Kustiawan, B., & Nurabeti, N. (2020). Potensi Situ bekas galian pasir untuk usaha perikanan system Culture Based Fisheries (CBF) dan Keramba Jaring Apung (KJA). Limnotek Perairan Darat Tropis di Indonesia, 24(1), 44-51.
Paul, T. ., Palaniswamy, R., Manoharan, S., Unnithan, U., & Sarkar, U. K. (2017). Management Strategiesfor Reservoirs Fisheries. Journal of Aquacultur; Research and Development, 8(6), 1–4. https://doi.org/10.4172/2155-9546.1000492.
Umar, C., Aisyah., & Kartamihardja, E. S. (2016). Strategi pengembangan perikanan tangkap berbasis budidaya di waduk: studi kasus introduksi ikan bandeng (Chanos chanos) di Waduk Sempor, Kabupaten Kebumen, Jawa Tengah. J.Kebijak.Perikan.Ind. 8(1), 21-28. http:// dx.doi.org/10.15578/jkpi.8.1.2016.21-28.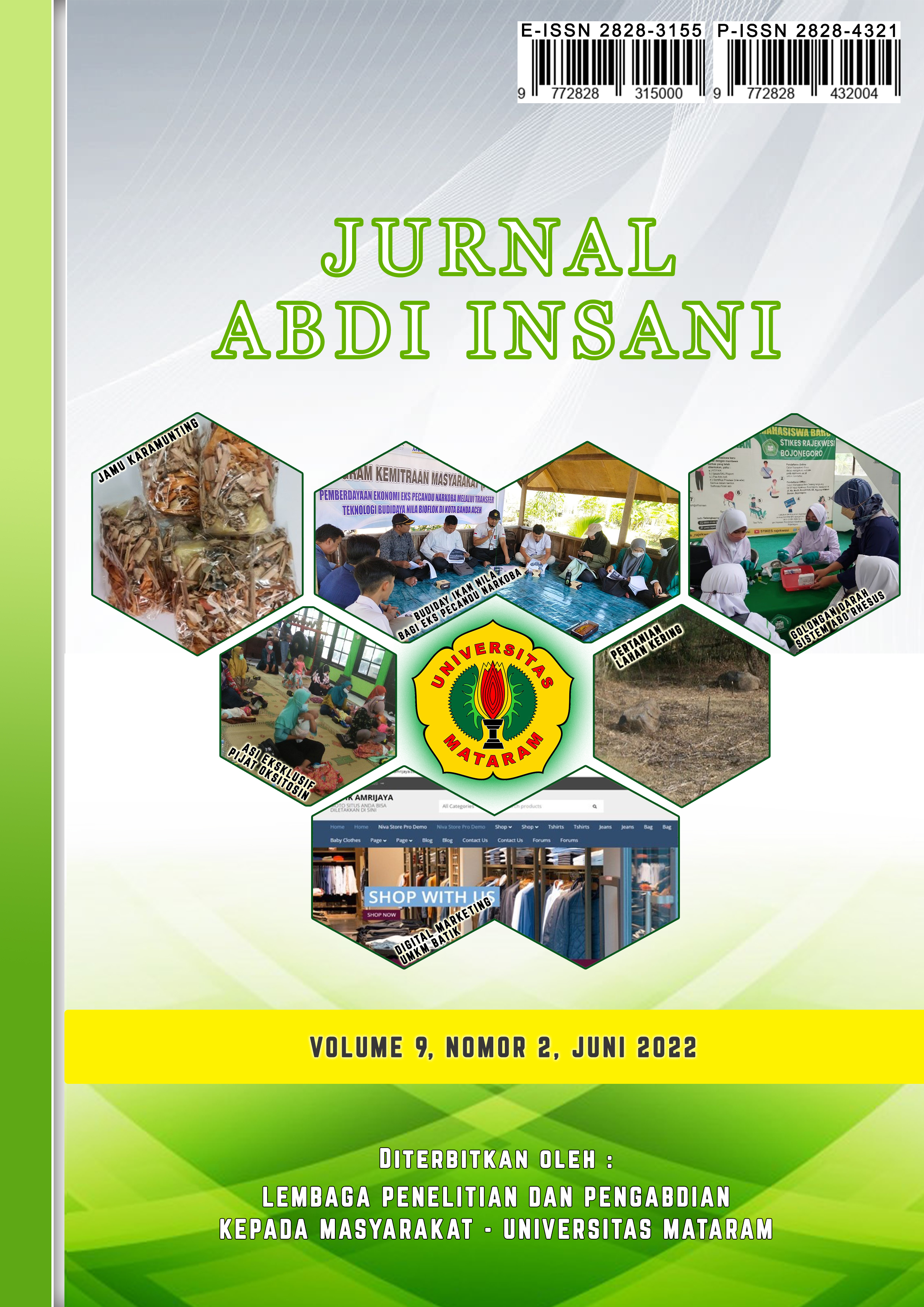 How to Cite
Mulyani, R., Sumantriyadi, S., Sari, L. P., Sari, Y. P., Mayasari, S., & Humairani, H. (2022). INCREASING PRODUCTION OF FISH CONSUMPTION BASED ON LOCAL WISDOM WITH CULTURE BASED FISHERIES (CBF) TECHNOLOG. Jurnal Abdi Insani, 9(2), 590-597. https://doi.org/10.29303/abdiinsani.v9i2.626