INNOVATION OF BUSINESS INTEGRATION BASED ON COLLABORATION IN THE "BANYU PINARUH" FRESHWATER FISH CULTIVATION GROUP, TABANAN DISTRICT
Made Kembar Sri Budhi

Program Studi Ekonomi Pembangunan, Universitas Udayana

Putu Yudy Wijaya

Program Studi Manajemen, Universitas Hindu Indonesia

I Putu Fery Karyada

Program Studi Akuntansi, Universitas Hindu Indonesia

Kadek Oki Sanjaya

Program Studi Sistem Informasi, Universitas Hindu Indonesia
Keywords:
tilapia cultivation, ex-drug addict community, empowerment, fisheries, banyu pinaruh group
Abstract
The freshwater fish farming group "Banyu Pinaruh" located in Rejasa Village, Penebel, Tabanan Regency, Bali Province is one of the businesses that was negatively affected by the COVID-19 pandemic. The problems faced include business managerial aspects (bookkeeping), group development development, capital, and aspects of marketing/distribution technology. The purpose of this service activity is to increase the competitiveness of partners by efforts to overcome partner problems, which involve business managerial aspects, aspects of group development development, aspects of capital, and aspects of marketing/distribution technology. This service activity is carried out by applying technology (IT) in managing partner businesses. The implementation stages carried out are: identification, system design, system creation, system operational assistance, and system implementation. Training activities are also provided to provide understanding for partners, as well as assistance aimed at ensuring partners are able to manage independently so that the results of the activities are sustainable. The implementation team of this service activity was carried out through education through lectures on group management in a professional manner. The team has also prepared a managerial application (bookkeeping) that can be used by partners in financial records. In addition, a website called Direcs has also been prepared, which has a marketplace and crowdfunding menu for the capital aspect. Partners have been given training and assistance to be able to use the application and website in a sustainable manner. The existence of this community empowerment program has had an impact on increasing business capacity for partners, such as increasing the number of productive ponds, frequency and number of harvests, as well as turnover and profits obtained by partners. Activities are carried out through providing education, training, and mentoring for partners. In addition to lectures on professional business management, managerial applications (bookkeeping) and websites (marketplace and crowdfunding) are prepared which are then used by partners.
Downloads
Download data is not yet available.
References
Agrawal, A., Catalini, C., & Goldfarb, A. (2014). Some simple economics of crowdfunding. Innovation Policy and the Economy, 14(1), 63–97.
Akbar, D. S. F. (2018). Konsep Crowdfunding untuk Pendanaan Infrastruktur di Indonesia. (Https://Www.Kemenkeu.Go.Id/Media/4402/Konsep-Crowdfunding-Untuk-Pendanaan-Infrastruktur-Di-Indonesia.Pdf).
Apriadi, D., & Saputra, A. Y. (2017). E-Commerce Berbasis Marketplace Dalam Upaya Mempersingkat Distribusi Penjualan Hasil Pertanian. Jurnal RESTI (Rekayasa Sistem Dan Teknologi Informasi), 1(2), 131–136.
Bouncken, R. B., Komorek, M., & Kraus, S. (2015). Crowdfunding: The Current State of Research. International Journal of Economics and Business Research, 14(3), 407–416.
Budhi, I. M. K. S., Lestari, N. P. N. E., Suasih, N. N. R., & Wijaya, P. Y. (2020). Strategies and policies for developing SMEs based on creative economy. Management Science Letters, 10, 2301–2330. https://doi.org/https://doi: 10.5267/j.msl.2020.3.005
Fajrina. (2019). Identifikasi Peran Modal Sosial Dalam Aktivitas Lembaga Crowdfunding (Studi pada Crowdfunding KitaBisa.com). Jurnal Ilmiah Mahasiswa FEB Universitas Brawijaya, 7(2).
Irfan, M. (2016). Crowdfunding sebagai pemaknaan energi gotong royong terbarukan. Share: Social Work Journal, 6(1).
Marco, R., & Ningrum, B. T. P. (2017). Analisis Sistem Informasi e-marketplace pada Usaha Kecil Menengah (UKM) Kerajinan Bambu Dusun Brajan. Jurnal Ilmiah DASI, 18(2), 48–53.
Marsudi, A. S., & Widjaja, Y. (2019). Industri 4.0 dan Dampaknya Terhadap Financial Technology serta Kesiapan Tenaga Kerja di Indonesia. Ikraith Ekonomika, 2(2), 1–10.
Nasution, D. A. D., Erlina, & Muda, I. (2020). Dampak Pandemi COVID-19 terhadap Perekonomian Indonesia. Jurnal Benefita, 5(2), 212–222. https://doi.org/DOI: 10.22216/jbe.v5i2.5313
Nugroho, A. Y., Rachmaniyah, F., & Ekonika. (2019). Fenomena Perkembangan Crowdfunding di Indonesia. EKONIKA Jurnal Ekonomi Universitas Kadiri, 4(1). https://doi.org/DOI: 10.30737/ekonika.v4i1.254.
Schwartz, A. A. (2013). Rural Crowdfunding. UC Davis Business Law Journal, 13(2), 283–294.
Wijaya, P. Y., Kawiana, I. G. P., Wibawa, I. P. S., Paramita, I. G. A., Karyada, I. P. F., & Swara, N. N. A. A. V. (2022). Leading Sector Analysis and Economic System Linkage of Custom Village in Bali Province, Indonesia (Study on Bali Anyar Custom Village). Scientific Papers Series Management, Economic Engineering in Agriculture and Rural Development, 22(1), 713–722.
Wijaya, P. Y., Kawiana, I. G. P., Wimba, I. G. A., Astrama, I. M., & Hartati, N. P. S. (2022). Penguatan Branding Produk Madu Pada UMKM Madu YBS Melalui Media Website. Jurnal Sewaka Bhakti, 8(1), 17–28. https://doi.org/doi.org/10.32795/jsb.v8i1.2217
Wijaya, P. Y., & Suasih, N. N. R. (2020). Peran Local Celebrity Endorsement Pada Iklan di Media Sosial Terhadap Pembelian Produk Kuliner di Provinsi Bali Pada Masa Stay Home Akibat Pandemi Covid-19. JURNAL BISNIS STRATEGI, 29(2), 119–133. https://doi.org/https://doi.org/10.14710/jbs.29.2.119-133
Wijaya, P. Y., Wibawa, I. P. S., Suasih, N. N. R., & Kawiana, I. G. P. (2021). Perluasan Market Share UMKM DNK Selumbung Melalui Media Website Dan Fasilitasi Legalitas Produk. Bhakti Persada Jurnal Aplikasi IPTEKS, 7(2), 88–93. https://doi.org/https://doi.org/10.31940/bp.v7i2.88-93
Yudha, I. M. E. K., Haryanti, N. P. P., Suhartika, I. P., & Suasih, N. N. R. (2022). Penguatan Bisnis UMKM "Madu YBS" Melalui Pendampingan Manajemen Usaha dan Fasilitas Dokumen Legalitas Produk. Jurnal Abdi Insani, 9(1), 114–122.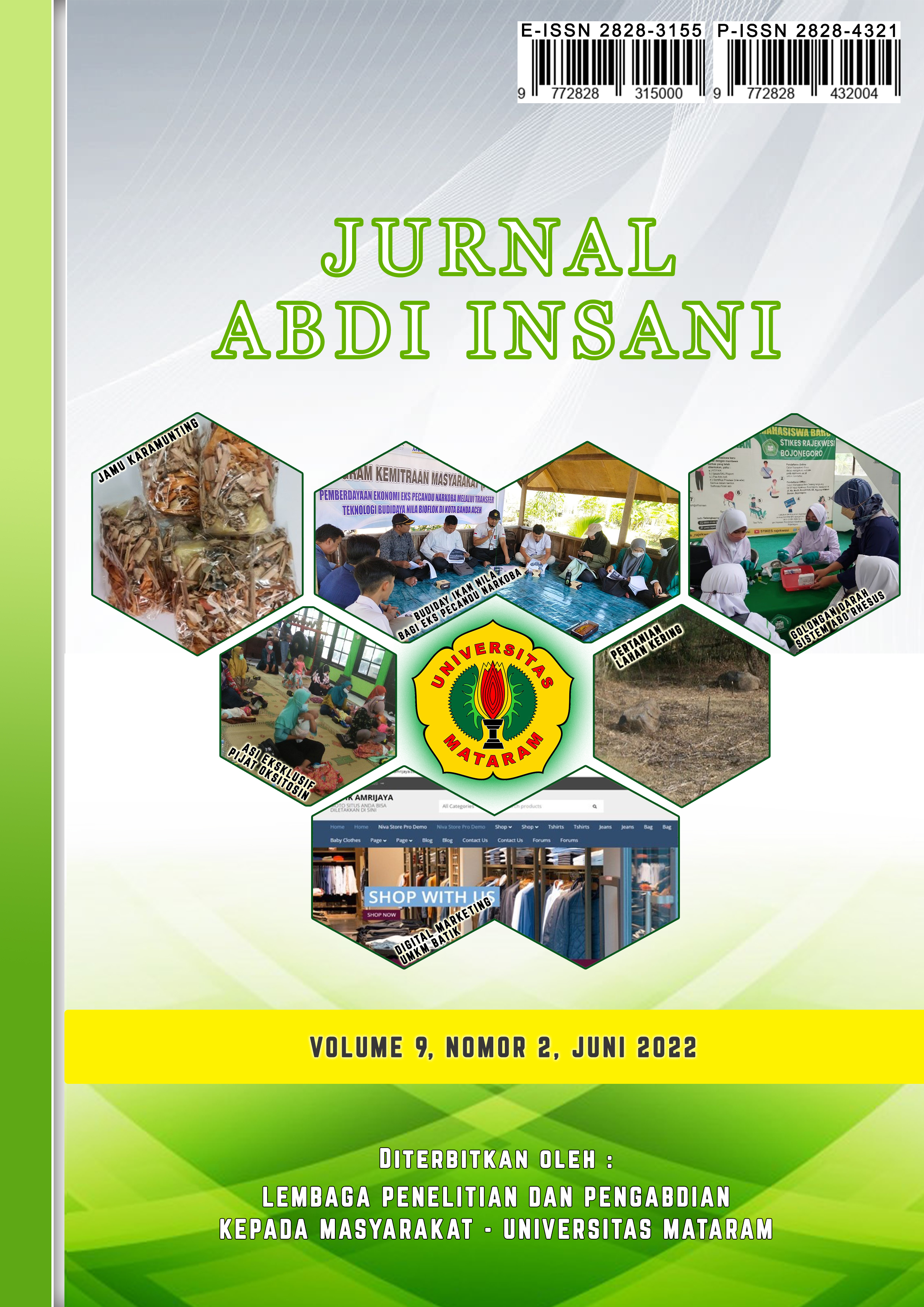 How to Cite
Budhi, M. K. S., Wijaya, P. Y., Karyada, I. P. F., & Sanjaya, K. O. (2022). INNOVATION OF BUSINESS INTEGRATION BASED ON COLLABORATION IN THE "BANYU PINARUH" FRESHWATER FISH CULTIVATION GROUP, TABANAN DISTRICT. Jurnal Abdi Insani, 9(2), 448-459. https://doi.org/10.29303/abdiinsani.v9i2.554