UTILIZATION OF THE PLAY AREA TO IMPROVE MOTOR AND SENSORIC ABILITY CHILDREN OF TK PERTIWI DUSUN SEMAYA, KARANGLEWAS
Yudi Suryadi

Program Studi Sastra Jepang Universitas Jenderal Soedirman

https://orcid.org/0000-0002-3785-3045

Diana Puspitasari

Program Studi Sastra Jepang Universitas Jenderal Soedirman

Heri Widodo

Program Studi Sastra Jepang Universitas Jenderal Soedirman
Keywords:
Semaya Village, Motor Skills, Sensory Abilities, Playground
Abstract
TK Pertiwi is the only kindergarten in Semaya hamlet which is located under the slopes of Mount Slamet, which is about 18 km from downtown Purwokerto. Geographically, the hamlet is bordered by a protected forest area so Semaya seems to be separated from urban civilization. This also has an impact on the lack of learning support facilities. The lack of infrastructure to support creativity and children's motor and sensory abilities encourages the service team to use land in the kindergarten area. The purpose of this service is to provide a vast space for children to move and explore creative abilities to support children's motor and sensory development. The method used consists of 3 stages, namely 1) pre-preparation includes identification of the target audience, collection, and analysis of needs. 2) Preparation includes identification of procurement of goods, purchases, and determination of time and accommodation. 3) Implementation of activities in accordance with the activity plan that has been formulated.The activities carried out in the service are the installation of outdoor game equipment on the vacant land of the kindergarten area in the form of trampolines and slides. The second activity is land use for gardening areas where 1 child gets vegetable seeds and gardening equipment consisting of pots, fertilizer soil media, mini shovels, and mini plant waterers. The last activity is a musical activity where children learn to recognize the notation in the piano by blowing and pushing the keys. Besides aiming to help children's motor and sensory development from an early age, it also instills a love and sensitivity to the environment in one of its activities. The implementation of this activity provides great benefits for kindergarten and children. For children, the facilities provided can help motor and sensory development through the activities carried out.
Downloads
Download data is not yet available.
References
Campbell, D. (2001). Efek Mozart Memanfaatkan Kekuatan Musik Untuk Mempertajam Pikiran, Meningkatkan Kreativitas, Dan Menyehatkan Tubuh. Jakarta (ID): Gramedia Pustaka Utama.
Decaprio, & Ricahrd. (2013). Aplikasi Teori Pembelajaran Motorik di Sekolah. Yogyakarta (ID): Divapress.
Faizah, F. (2019). Pengembangan Kreativitas Anak Melalui Kegiatan Eksplorasi. Thufuli: Jurnal Ilmiah Pendidikan Islam Anak Usia Dini, 1(1), 1–10. https://doi.org/http://dx.doi.org/10.33474/thufuli.v1i1.2689
Hantono, D., Purwantiasning, & Dkk. (2020). Pengadaan Taman Bermain Anak Untuk Peningkatan Kualitas Pendidikan di Madrasah Ibtidaiyah Nurul Huda II Dusun Gunung Leutik Kabupaten Bogor. Dinamisia: Jurnal Pengabdian Kepada Masyarakat, 4(2), 236–241. https://doi.org/https://doi.org/10.31849/dinamisia.v4i2.3897
Hasan, & Maimunah. (2019). Pendidikan Anak Usia Dini. Jakarta: Diva Press.
Hayati, F. (2017). Peningkatan kreativitas bermain musik anak usia 5-6 tahun dengan menggunakan barang bekas. Bunayya: Jurnal Pendidikan Anak, 1(2), 84–99.
Larasati, A., Alsaudi, A. T., & Evayenny, E. (2019). Upaya Meningkatkan Kemampuan Motorik Kasar melalui Bermain Gerak dan Lagu. In Prosiding Seminar Nasional Pendidikan STKIP Kusuma Negara.
Mutiah, D. (2015). Psikologi Bermain Anak Usia Dini. Jakarta (ID): Kencana.
Nurnafisa, & Shafa. (2021). Asah Kreativitas dan Soft Skill Anak Lewat Bermain. Dilansir Dalam Laman Https://Id.Theasianparent.Com/Mengasah-Kreativitas-Anak. Diakses 31 Mei 2022.
Patmonodewo, & Soemiarti. (2000). Pendidikan Anak Prasekolah. Jakarta (ID): Rineka Cipta.
Pratiwi, Y., & Kristanto, M. (2014). Upaya Meningkatkan Kemampuan Motorik Kasar (Keseimbangan Tubuh) Anak Melalui Permainan Tradisional Engklek Di Kelompok B Tunas Rimba II Tahun Ajaran 2014/2015. PAUDIA: Jurnal Penelitian Dalam Bidang Pendidikan Anak Usia Dini, 3(2), 18–39. https://doi.org/https://doi.org/10.26877/paudia.v3i2%20Oktober.513
Prehatiningsih, A., Palupi, W., & Syamsudin, M. M. (2018). Pengaruh permainan musikal terhadap kreativitas musik anak usia 5-6 tahun. Kumara Cendekia, 6(4), 282–289. https://doi.org/https://doi.org/10.20961/kc.v6i4.35359
Sujiono, & Yuliani. (2009). Konsep Dasar Pendidikan Anak Usia Dini. Jakarta (ID): Macanan Jaya Cemerlang.
Susilowati, E., Mujiastuti, R., Ambo, S. N., & Sugiartowo, S. (2019). Stimulasi, Deteksi Dan Intervensi Dini Tumbuh Kembang (Sdidtk) Anak Pada Posyandu Kelurahan Penggilingan Jakarta Timur. Jurnal Pengabdian Masyarakat Teknik, 1(2), 59–68. https://doi.org/https://doi.org/10.24853/jpmt.1.2.59-68
Yuniati, R., & Andriani, P. S. (2017). Peningkatan Kemampuan Sensori Integrasi Melalui Pemberian Stimulasi Neurokinestetik Pada Anak 6-8 Tahun. Intuisi: Jurnal Psikologi Ilmiah, 9(1), 39–46. https://doi.org/https://doi.org/10.15294/intuisi.v9i1.9570
Yus, A. (2015). Penilaian Perkembangan Belajar Anak Taman Kanak-Kanak. Jakarta (ID): Kencana.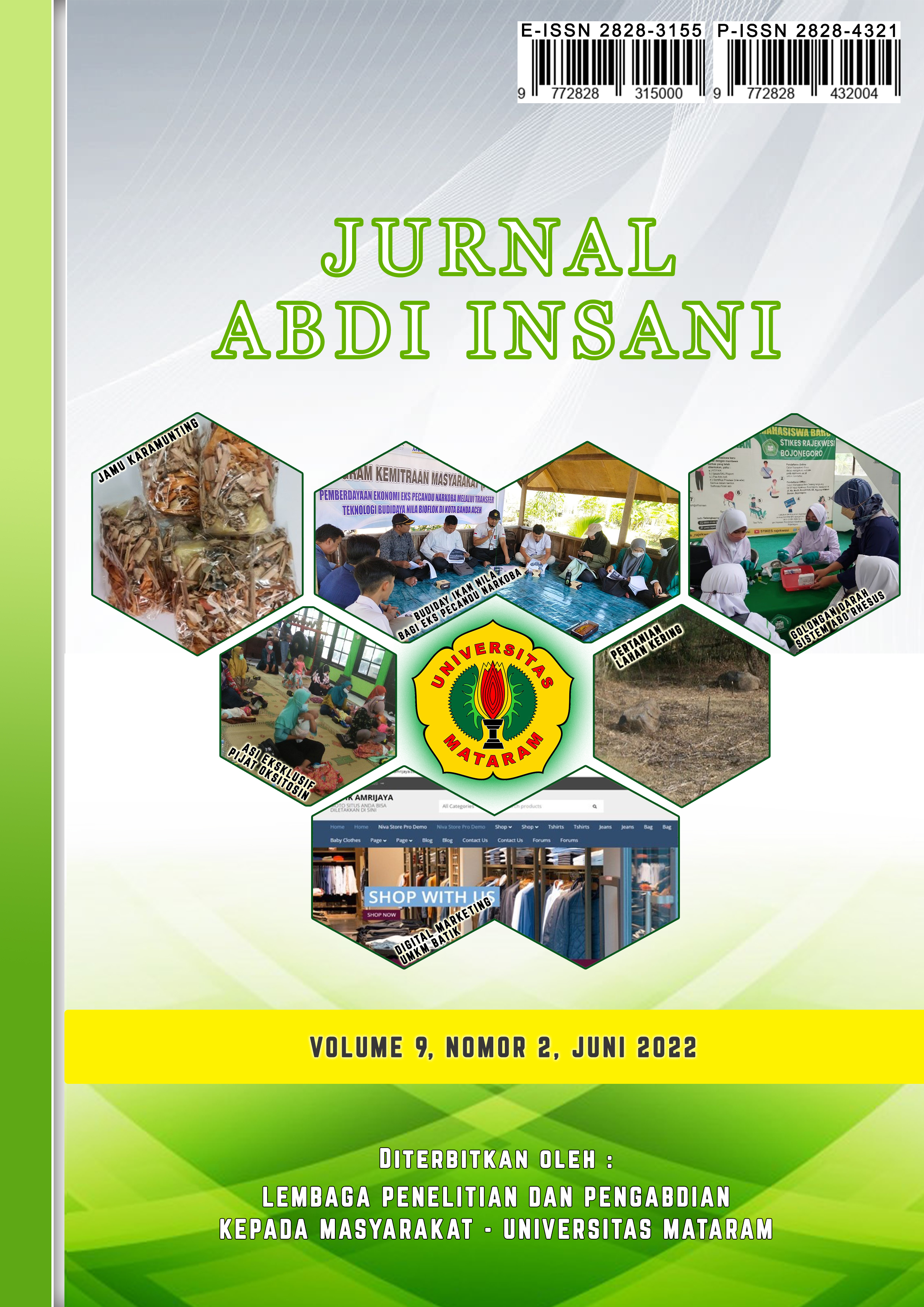 How to Cite
Suryadi, Y., Puspitasari, D., & Widodo, H. (2022). UTILIZATION OF THE PLAY AREA TO IMPROVE MOTOR AND SENSORIC ABILITY CHILDREN OF TK PERTIWI DUSUN SEMAYA, KARANGLEWAS. Jurnal Abdi Insani, 9(2), 438-447. https://doi.org/10.29303/abdiinsani.v9i2.551