EFFORTS TO INCREASE THE CAPACITY OF MICRO BUSINESS "NASI UDUK KAK UWIR" THROUGH RE-BRANDING, RE-PACKING, AND RE-PROMOTING
Abdul Rachman

Program Studi Perbankan Syariah, Sekolah Tinggi Ekonomi Syariah Islamic Village

Arie Haura

Program Studi Perbankan Syariah, Sekolah Tinggi Ekonomi Syariah Islamic Village

Karmila Firdaus

Program Studi Perbankan Syariah, Sekolah Tinggi Ekonomi Syariah Islamic Village

Muhammad Fadilah

Program Studi Perbankan Syariah, Sekolah Tinggi Ekonomi Syariah Islamic Village

Muhammad Khairurredha

Program Studi Perbankan Syariah, Sekolah Tinggi Ekonomi Syariah Islamic Village

Idha Azizah

Fakultas Ekonomi dan Bisnis Islam, Universitas Cendekia Abditama
Keywords:
Covid-19, Nasi uduk, Packaging, Branding, Digital Marketing
Abstract
Crisis conditions caused by Coronavirus Disease 2019 (Covid-19) which spread widely to the Tangerang area. Various policies to prevent the spread of COVID-19 actually have bad implications for various other sectors, especially in the economic sector. The Covid-19 pandemic has made everything that was originally done offline/offline now turns into an online/online system, including the business activities carried out by the UKM "Nasi Uduk Kak Uwir" in Binong Village, Tangerang Regency. This community service activity aims to assist business actors "Nasi Uduk Kak Uwir" in the context of re-branding, re-packing, and re-promoting in order to increase business attractiveness so that it becomes a leading micro-enterprise. The activity is carried out using the PAR (Participatory Action Research) method, which is a method that actively involves all relevant parties (stakeholders) in reviewing ongoing actions. Through this method, nasi uduk business actors take part in re-branding, re-packing, and re-promoting activities in increasing the attractiveness of nasi uduk. The result of this activity is an effort to realize a futuristic business branding image, innovative and creative product packaging and digitalization of the marketing of "Nasi Usuk Kak Uwir" in the form of Go-food, Grab-food, Google maps and Instagram as digital marketing media so that "Nasi Uduk Kak Uwir" can compete and develop significantly into a leading micro-enterprise. Digitalization of marketing is carried out to facilitate transactions between sellers and buyers without any time and place limits and to assist SMEs in marketing their products online.
Downloads
Download data is not yet available.
References
Davis, M. (2017). The Fundamentals of Branding. New York (USA) : Bloomsbury Publishing.
Hutagalung, S. S., Hermawan, D., & Indrajat, H. (2021). Penguatan Kapasitas Masyarakat Dalam Perumusan Branding Value Berbasis Kearifan Lokal di Desa Wisata. CARADDE: Jurnal Pengabdian Kepada Masyarakat, 3(3), 414–421. https://doi.org/10.31960/caradde.v3i3.596
Kanetro, B., Pujimulyani, D., & Aiman, U. (2021). Diversifikasi Produk Stik Substitusi Kunir Putih di Karang Taruna Yodha Desa Argomulyo. Abdihaz: Jurnal Ilmiah Pengabdian Pada Masyarakat, 3(2), 55–62. https://doi.org/10.32663/abdihaz.v3i2.2348
Manalu, K., & Rasyidah, R. (2021). Pelatihan Pemanfaatan Enceng Gondok Menjadi Pupuk Kompos Bagi Masyarakat Desa Jentera Kecamatan Wampu Kabupaten LangKAT. JURNAL PENGABDIAN KEPADA MASYARAKAT, 27(4), 393–399. https://doi.org/10.24114/jpkm.v27i4.32705
Miftahuddin, M., Syahrial, H., & Sunaryo, S. (2020). Pembinaan Usaha Rumah Tangga Di Desa Sei Rotan Kecamatan Percut Sei TuaN. JURNAL PENGABDIAN KEPADA MASYARAKAT, 26(4), 215–220. https://doi.org/10.24114/jpkm.v26i4.20592
Padmasari, ayung C., Rostika, D., Permana, F. C., & Firmandyah, F. H. (2021). Pelatihan Technopreneurship melalui Social Commerce dan Branded Content Management bagi Mahasiswa Pendidikan Multimedia. CARADDE: Jurnal Pengabdian Kepada Masyarakat, 3(3), Article 3. https://doi.org/10.31960/caradde.v3i3.644
Primadewi, A., Anwar, T. M., Yustin, Y., Sani, A. H., & Fauzi, M. (2020). Penguatan Pemasaran Produk Umkm Ashfa Madu Borobudur Melalui Strategi Product Branding. JURNAL PENGABDIAN KEPADA MASYARAKAT, 26(3), 154–161. https://doi.org/10.24114/jpkm.v26i3.17683
Putri, R., & Juhroni, H. (2021). Pelatihan Pembuatan Keju untuk Memenuhi Kebutuhan Nutrisi Tulang dan Gigi Anak Masa Golden age. Abdihaz: Jurnal Ilmiah Pengabdian Pada Masyarakat, 3(2), 87–95. https://doi.org/10.32663/abdihaz.v3i2.2433
Rahmat, A., & Mirnawati, M. (2020). Model Participation Action Research Dalam Pemberdayaan Masyarakat. Aksara: Jurnal Ilmu Pendidikan Nonformal, 6(1), 62. https://doi.org/10.37905/aksara.6.1.62-71.2020
Seftiono, H., Maulidian, M., Sumiasih, I. H., & Puspitawati, M. D. (2021). Program Pendampingan Kemasan Pangan bagi Tenant melalui Pusat Pengembangan Wirausaha Bioindustri. Abdihaz: Jurnal Ilmiah Pengabdian Pada Masyarakat, 3(2), 49–54. https://doi.org/10.32663/abdihaz.v3i2.1472
Setiawan, D. G. E., & Hamzah, S. N. (2020). Pemberdayaan Ekonomi Masyarakat Pesisir Danau Limboto Melalui Pengolahan Ikan Nila (Oreochromis Niloticus) Menjadi Produk Unggulan Kkn-Ppm. Jurnal Pengabdian Kepada Masyarakat, 26(4), 266–270. https://doi.org/10.24114/jpkm.v26i4.19559
Soedjiwo, N. A. F. (2019). Implementasi Mata Kuliah PAR (PARTICIPATORY ACTION RESEARCH) di TPQ AL-MAGFIROH Denpasar Bali. Widya Balina, 4(2), 9–19. https://doi.org/10.53958/wb.v4i2.36
Sugianto, N., & Utama, F. P. (2021). E-COmmerce Untuk Optimalisasi Pemasaran Produk Di Era Digital Bagi Usaha Mikro Kelompok Tani Pangestu Rakyat Desa Barumanis Kabupaten Rejang Lebong. JURNAL PENGABDIAN KEPADA MASYARAKAT, 27(1), 14–20. https://doi.org/10.24114/jpkm.v27i1.23656
Sumarno, S., Gimin, G., Mujiono, M., & Pernantah, P. S. (2021). Pembinaan Diversifikasi Produk Untuk Pengembangan Usaha Mikro. Jurnal Pengabdian Kepada Masyarakat, 27(4), 366–373. https://doi.org/10.24114/jpkm.v27i4.27003
Yantih, N., Aulena, D. N., Prasetyo, A., & Yamin, M. (2021). Peningkatan Daya Saing Minuman Belimbing Wuluh Produksi Santri Pondok Pesantren Minhajusshobirin Melalui Penerapan Sanitasi dan Higiene. CARADDE: Jurnal Pengabdian Kepada Masyarakat, 3(3), 552–556. https://doi.org/10.31960/caradde.v3i3.881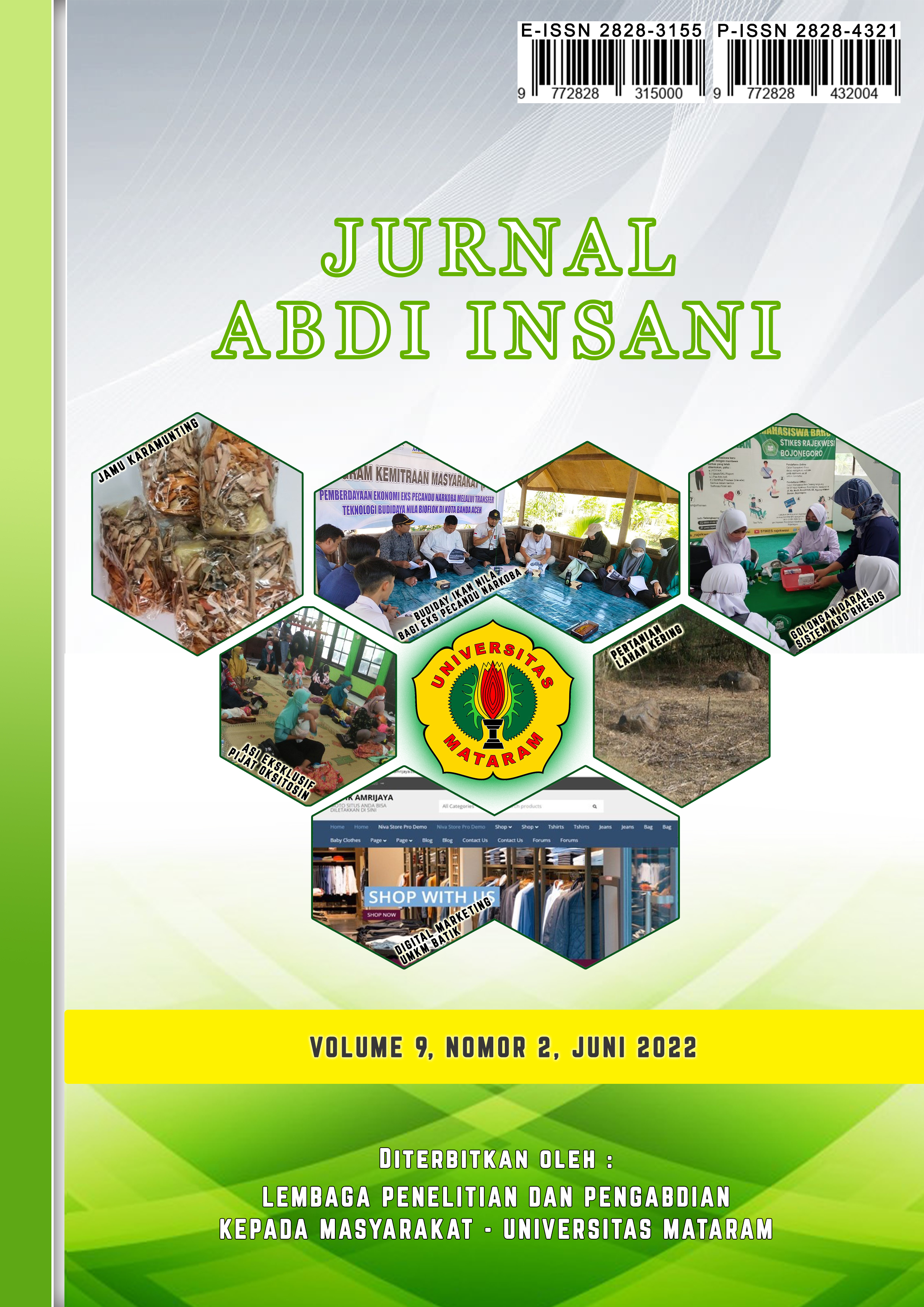 How to Cite
Rachman, A., Haura, A., Firdaus, K., Fadilah, M., Khairurredha, M., & Azizah, I. (2022). EFFORTS TO INCREASE THE CAPACITY OF MICRO BUSINESS "NASI UDUK KAK UWIR" THROUGH RE-BRANDING, RE-PACKING, AND RE-PROMOTING. Jurnal Abdi Insani, 9(2), 343-354. https://doi.org/10.29303/abdiinsani.v9i2.531