EDUCATION OF CASSAVA CHIPS PROCESSING WITH VARIOUS FLAVORS AT PONDOK PESANTREN DARUL MUKHLISIN, KENDARI CITY
Irmawatty Paula Tamburaka

Jurusan Ekonomi Pembangunan Universitas Halu Oleo

Romy Suryaningrat Edwin

Program Studi Teknik Sipil Universitas Halu Oleo

Wali Aya Rumbia

Jurusan Ekonomi Pembangunan Universitas Halu Oleo

Fatmawati Fatmawati

Jurusan Ekonomi Pembangunan Universitas Halu Oleo

Rizal Rizal

Jurusan Ekonomi Pembangunan Universitas Halu Oleo
Keywords:
Cassava Chips, Flavor Variants, Business Opportunities, Islamic Boarding School darul mukhlisin, kota kendari
Abstract
Cassava chips are one of the popular snacks in Indonesia which can be processed into various variants of derivative products. The cassava chips business line provides income for the Darul Mukhlisin Islamic Boarding School and educates students to become reliable entrepreneurs. The purpose of the activity is to provide education to Darul Mukhlisin Islamic Boarding School in processing cassava raw materials into cassava chips with various flavors and methods of product packaging and labeling. The chosen partner is the Darul Mukhlisin Islamic Boarding School, Kendari City. Partners provide place facilities as parties who are ready to receive education. Due to the Covid-19 pandemic, this activity still uses prokes. The supporting materials and tools have been prepared in advance. The educational activity began by explaining the potential and benefits of cassava/cassava raw materials to be processed into cassava chips with various flavors, namely original taste, sweet and spicy taste. Next is the manufacturing process and ends with the packaging of cassava chips and labeling. In general, this tourism activity is of interest to the participants. Education and mentoring are considered useful, this knowledge does not exist in the curriculum, it is hoped that the education and mentoring PKM Team can provide knowledge for participants to process cassava raw materials into cassava chips with various flavors as business opportunities and create reliable young entrepreneurs. Education on processing cassava into cassava chips with various flavors, packaging and labeling has been carried out, participants followed well, this additional knowledge makes it a future business opportunity.
Downloads
Download data is not yet available.
References
Ahmad Shobari., G. N. T. (2018). Pemanfaatan Hasil Lokal KP Poncol Untuk Pengembangan Usaha Rumahan (Pembuatan Keripik Singkong). Jurnal ABDI DOSEN, 4(2).
Amaliah, N., Setyawati, R., Farida, Suriana, I., & Gafur, A. (2019). Diversifikasi Produk Pangan Olahan Berbasis Buah Pepaya Dalam Meningkatkan Kesejahteraan Masyarakat kelurahan Karang Joang Balikpapan Kalimantan Timur. Jurnal ABDINUS : Jurnal Pengabdian Nusantara, 2(2), 108–114. https://doi.org/https://doi.org/10.29407/ja.v2i2.12471
Ety Widhi Astuti, Mely D, H. & N. O. (2021). Pendampingan UMKM Keripik Singkong Wijaya Baturetno. Prosiding Seminar Nasional Pengabdian Masyarakat LPPM UMJ.
Indardi. (2018). Peningkatan Ekonomi Masyarakat Melalui Pembuatan Keripik Singkong di Semuluh Kidul, Semanu Gunung Kidul. Berdikari, 6(1). https://doi.org/http://doi.org/10.18196/bdr.6133
Ira Rukayah, Shorea K, S. E. (2015). Strategi Pengembangan Agroindustri Keripik Singkong Primadona Di Kecamatan Tenayan Raya Kota Pekanbaru. Jom Faperta, 2(1).
Isna wardiah, Subandi, Siti Kustin, M. H. N. (2020). Meningkatkan Daya Saing Produk Usaha Rumahan Keripik Singkong. Implementasion and Action, 2(2), 1–9.
Jaka Sriyana & Chythia Prafdhita Sari. (2018). Pengembangan Usaha Kecil Menengah Produsen Makanan Berbahan Baku Lokal. JPPM, 2(1).
Legowo, H. W. & O. (2017). Pelatihan Pengemasan Produk Wingko Ungu Hasil Produksi kelompok Usaha Wingko Ungu Desa Banjararum, Kecamatan Kalibawang Kabupaten Kulon Progo. Pengabdian Dan Pengembangan Masyarakat, 2(1), 91–96.
Mareta, R. & Sari, F. . (2018). Pemberdayaan masyarakat di Kawasan Menoreh Desa Pagerharjo dan sekitarnya dalam Penggunaan Smartphone berbasis Android. Pengabdian Dan Pengembangan Masyarakat, 2(2), 109–114.
Muntoha, Jamroni, & Ummayah, R. U. (2015). Pelatihan Pemanfaatan Dan Pengolahan Singkong Menjadi Makanan Ringan Tela Rasa. Jurnal Inovasi Dan Kewirausahaan, 4(3), 188–193.
Nela Nofira Dewi. (2018). Metode Pengembangan Jiwa Kewirausahaan Santri Pondok Pesantren Al-Mawadah Kudus.
Rosmiati, M., Maulani, R. R., & Dwiartama, A. (2018). Efisiensi Usaha Dan Nilai Tambah Pengolahan Ubi Kayu Menjadi Modified Cassava Flour (Mocaf) Pada Kelompok Wanita Tani Medal Asri, Desa Sukawangi Kecamatan Pamulihan Kabupaten Sumedang. Jurnal Sosioteknologi, 17(1), 14–20.
Rum Van Royensya, S. (2014). Analisis Kelayakan Industri Rumah Tangga Keripik Singkong di Desa Kasarangan Labuan Amas Utara. Jurnal Sains STIPER Amuntai, 4 (1), 41–47.
Setyawati, R., Suriana, I., & Gafur, A. (2021). Pengolahan Singkong Menjadi Produk Pangan Dalam Meningkatkan Kesejahteraan Kelompok Tani Bakti Karya Karang Joang Balikpapan. Jurnal Karya Abdi, 5(1), 102–108.
Sujianto, K. (2018). Pedoman praktis budidaya singkong. Bogor (ID): Masyarakat Singkong Indonesia.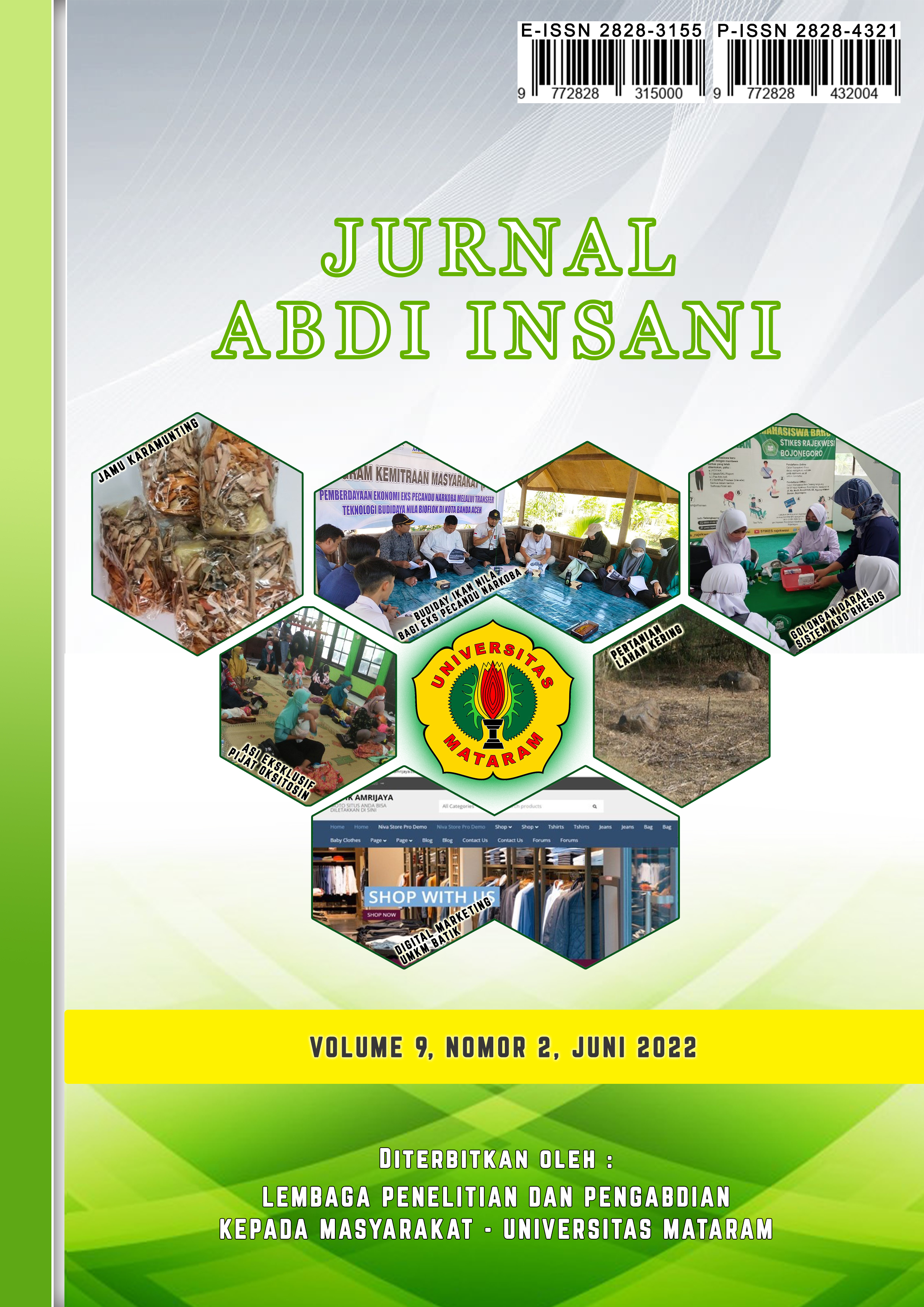 How to Cite
Tamburaka, I. P., Edwin, R. S., Rumbia, W. A., Fatmawati, F., & Rizal, R. (2022). EDUCATION OF CASSAVA CHIPS PROCESSING WITH VARIOUS FLAVORS AT PONDOK PESANTREN DARUL MUKHLISIN, KENDARI CITY. Jurnal Abdi Insani, 9(2), 366-372. https://doi.org/10.29303/abdiinsani.v9i2.484